New Shows Opening on Broadway - Fall 2019 Season
All Of The Upcoming Broadway Show Openings In Fall 2019, With Information On Preview And Opening Dates, Show Descriptions, And Ticket Information.
---
The List of the Broadway Show Openings in the New Fall 2019 Broadway Season
The Fall 2019 Broadway season is jam-packed with new theatrical content, making for one of the most impressive new seasons in recent history. The upcoming season offers 17 new Broadway show openings, covering all genres from jukebox musicals to gritty, dramatic plays about heartbreak and loss. Below is a list of all the upcoming Broadway shows to debut during the Fall 2019 season with information on preview and opening dates, brief plot summaries, and ticket information.
Previews Begin: October 4, 2019
Show Opens: October 20, 2019
A theatrical pop-art performance based on the 2018 David Byrne album American Utopia, it also includes songs from his solo career and from the Talking Heads band.
Ticket Information: Tickets to American Utopia
Previews Begin: August 14, 2019
Show Opens: September 5, 2019
The story of a forbidden affair that is told in reverse chronological order, starting from the end of a marriage to the first spark of the relationship.
Ticket Information: Tickets to Betrayal
Previews Begin: September 6, 2019
Show Opens: September 15, 2019
Enchanting magic performance by UK's Darren Brown, who challenges the physical world with miraculous illusions and his supernatural mind-reading abilities.
Ticket Information: Tickets to Derren Brown: Secret
Previews Begin: September 13, 2019
Show Opens: October 2, 2019
Limited run, improvised, interactive Freestyle Rap and Hip-Hop show from the world renowned creator of Hamilton, Lin-Manuel Miranda.
Ticket Information: Tickets to Freestyle Love Supreme
Previews Begin: To Be Announced
Show Opens: To Be Announced
All-female-cast version of David Mamet's Tony/Pulitzer Play delivers real estate den-of-thieves in a 1983 backdrop of intense high pressure selling.
Ticket Information: Tickets to Glengarry Glen Ross
Previews Begin: December 20, 2019
Show Opens: January 23, 2020
After fifty years of marriage, a loving couple head towards calling it quits after moving into their new home at the retirement community of Grand Horizons.
Ticket Information: Tickets to Grand Horizons
Previews Begin: December 2019
Show Opens: To Be Announced
Modern presentation of legendary Broadway composer Cole Porter's treasured musical catalog, presented by Harry Connick Jr in his signature style.
Ticket Information: Tickets to Harry Connick Jr, A Celebration of Cole Porter
Previews Begin: November 3, 2019
Show Opens: December 5, 2019
Featuring music by Alanis Morissette, this show depicts a picture-perfect family that must choose between their fake status quo or face harsh realities of life that include a loveless marriage and addiction.
Ticket Information: Tickets to Jagged Little Pill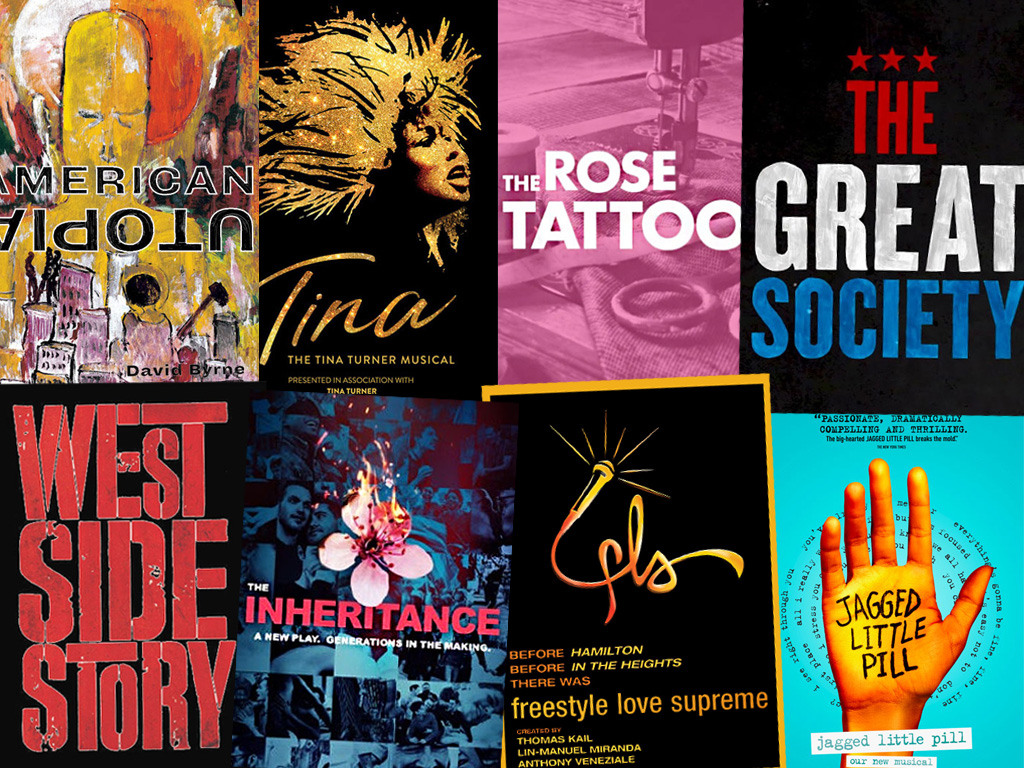 Previews Begin: September 19, 2019
Show Opens: To Be Announced
A 50-year-old divorced man is dealing with a classic mid-life downward spiral and he attempts to figure out blind dating, old friends and find new love, in the most unexpected ways.
Ticket Information: Tickets to Linda Vista
Previews Begin: September 10, 2019
Show Opens: October 6, 2019
Satirical yet sophisticated play, with a modern twist, about the sexual experiences of three interracial couples during the civil war era of slavery.
Ticket Information: Tickets to Slave Play
Previews Begin: September 6, 2019
Show Opens: To Be Announced
Historical play detailing Lyndon B. Johnson's second term as US President, and the actions he took during the Civil Rights Movement and The Vietnam War.
Ticket Information: Tickets to The Great Society
Previews Begin: September 27, 2019
Show Opens: November 17, 2019
A two-part American Premiere by Matthew Lopez which tells the story about life in the gay community in Y2K in New York after the peak of the AIDS crisis.
Ticket Information: Tickets to The Inheritance
Previews Begin: September 19, 2019
Show Opens: October 15, 2019
Marisa Tomei stars in a revival of Tennessee Williams' Tony winning play that depicts a woman's spiritual rebirth following the death of her husband.
Ticket Information: Tickets to The Rose Tattoo
Previews Begin: September 14, 2019
Show Opens: October 17, 2019
A play about an isolated Ivy League professor and how her unexpected friendship with a mysterious student blossoms into a deeply moving relationship.
Ticket Information: Tickets to The Sound Inside
Previews Begin: September 10, 2019
Show Opens: September 24, 2019
A family is shocked when a seemingly happy couple of 50 years hits the rocks at full speed.
Ticket Information: Tickets to The Height of the Storm
Previews Begin: October 12, 2019
Show Opens: November 7, 2019
Jukebox musical of the story of Tina Turner, her rise to stardom while facing the odds of age, gender and race, and a malevolent husband filled with violence and rage.
Ticket Information: Tickets to Tina
Previews Begin: December 10, 2019
Show Opens: February 6, 2019
Musical revival set in the school-of-hard-knocks of the Upper West Side in New York City during the mid-1950s where street gangs battle for turf but don't anticipate that cross gang romance could blossom.
Ticket Information: Tickets to West Side Story