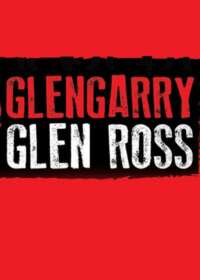 Glengarry Glen Ross (2022)
Broadway Show Tickets: Not Currently Available
Discount Broadway Tickets For Glengarry Glen Ross (2022) - This Show Is Now Shelved
Glengarry Glen Ross (2022)

Summary
Show Status: Shelved

Genre: Play

Glengarry Glen Ross (2022) is 1 Hour 40 Minutes long, including an intermission of 15 Minutes

8 Shows per week

Show Closes: Open ended
All-female-cast version of David Mamet's Tony/Pulitzer Play delivers real estate den-of-thieves in a 1983 backdrop of intense high pressure selling
Glengarry Glen Ross (2022)

on Broadway Background
Glengarry Glen Ross is David Mamet's Tony/Pulitzer Award winning play that has had great success on both film and Broadway. The is the third incarnation of the play on Broadway, where the show originally debuted on Broadway in 1984, and won the Pulitzer Prize for Drama. The 1992 movie starred Al Pacino, Jack Lemmon and Alec Baldwin and received an Oscar nomination.
The 2012 Broadway show revival had Al Pacino switch his role from Ricky Roma to the down-on-his-luck Shelley Levene, a lot more interesting character, which was originally played by Jack Lemmon in the movie.
The 2019 version of the play is now an all-women star cast, but the story remains the same despite the role reversal.
What's
Glengarry Glen Ross (2022)

Like?
The play is set in an all-women Chicago real estate office in the early nineteen eighties where the high pressure of selling worthless properties to unsuspecting buyers is starting to take its toll. The sales manager has set up a new challenge for the top saleswoman to win a new car; while the saleswoman in last place gets fired.
The desperate women will do anything to keep their jobs and this is the original shark tank, with the amount of theft and deception that takes place, for all the wrong reasons. When the office is robbed of its cash stored in the safe, it's up to the sales manager to figure who did it, but with a den of thieves it really could be any of them.
Is
Glengarry Glen Ross (2022)

Good for Kids?
This show is suitable for children 12 and older.
Hudson Theatre
145 West 44th Street
New York, NY 10036
Entrance:
44th Street Between 7th Ave and 6th Ave
Theatre Information