How To Get Discount Broadway Tickets
The Most Popular Methods of Getting Discount Broadway Tickets Include Discount Codes, Ticket Lotteries, RUSH Tickets and Student Rush Tickets. Popular Tickets Can Also Be Sourced From Ticket Brokers and Other 3rd Party Ticket Sellers.
---
The popular methods to get discount Broadway tickets include ticket lotteries, RUSH tickets, student rush tickets and discount codes
Other ways to get discount tickets second acting, group discounts, loyalty programs, partial view, standing room only (SRO), Kids Night On Broadway, Wednesday matinee discounts, email offers, box seats and student and charity discount tickets.
Click here to see the current list of BROADWAY SHOW TICKET OFFERS

Broadway Discount Codes
Discount ticket codes and coupons are available for most Broadway shows and are distributed for marketing purposes to generate ticket sales and buzz for the show. This is the most popular method of getting a discount to Broadway tickets and you can get them well in advance of the show date. It is a great way to avoid the TKTS stand and most Broadway shows participate.
The discount is usually up to 50% of the regular ticket price. The offer expiration can run from eight weeks to five months. Tickets are purchased in the normal way and the buyer is made aware of the exact seat location that they are buying during the transaction. Credit cards can be used and the tickets can be mailed (if there is adequate time before the show) or they can be picked up at the theatre.
Tickets can also be bought directly at the theatre using the discount offer and this will avoid the Telecharge and Ticketmaster charges that are incurred from online or telephone sales with both those entities.
To see the list of current BROADWAY SHOW DISCOUNT OFFERS For more information about Broadway Discount Codes

Face Value Ticket Purchases
If no discount codes are available for a certain show, then the next best thing is buying a ticket for face value, especially if the show has a big star in it or is selling out all of its seats, there is no motivation for the producers of the show to discount their tickets. Face value tickets are best purchased at the box office itself, as they often do not post all their tickets on the web and you also save on booking fees by buying directly at the box office. Buying Tickets For Face Value

Private Party and Broker Ticket Reseller Websites
Websites like Stubhub.com and ebay.com allow both "civilian" ticket holders and ticket brokers to both sell their tickets on here. The prices of tickets will be usually be higher then the face value, but once in a while people get desperate and sell below face value, especially if the show is not in the top-ten list of Broadway shows. These environments are very good at establishing a "market price" on tickets, as the amount of inventory is much higher than anywhere else.
These environs can be manipulated though, when inventory is low, ticket brokers ask insane prices for popular tickets during the holidays and they are often successful. Ticket Reseller Websites

Ticket Broker Purchases
The most expensive way to buy Broadway tickets is through a ticket broker, but you are getting service that you may not have time to do yourself. You are paying for the convenience of having someone else do your research for you and that is built in to the price of the tickets. They often lack inventory themselves, so they go out to the broader market and other ticket brokers to find the right tickets for you.
This is perfect for corporations who not have the time or inclination to find a cheaper ticket. A ticket broker famously sold one pair of Hamilton tickets for $25k in July 2016, for Miranda's last show, those tickets originally cost just $400. Broadway Ticket Brokers


Corporate Discount Programs

CorporateOffers.com offers reduced price Broadway show tickets to employees of approved organizations. Broadway producers can afford to be more generous in terms of discounts to these types of organizations as they do not run the risk of diluting the value of their tickets for their show or affect regular or premium priced ticket sales. The ticket prices on these types of corporate programs can vary from day to day and show to show. Corporate Offers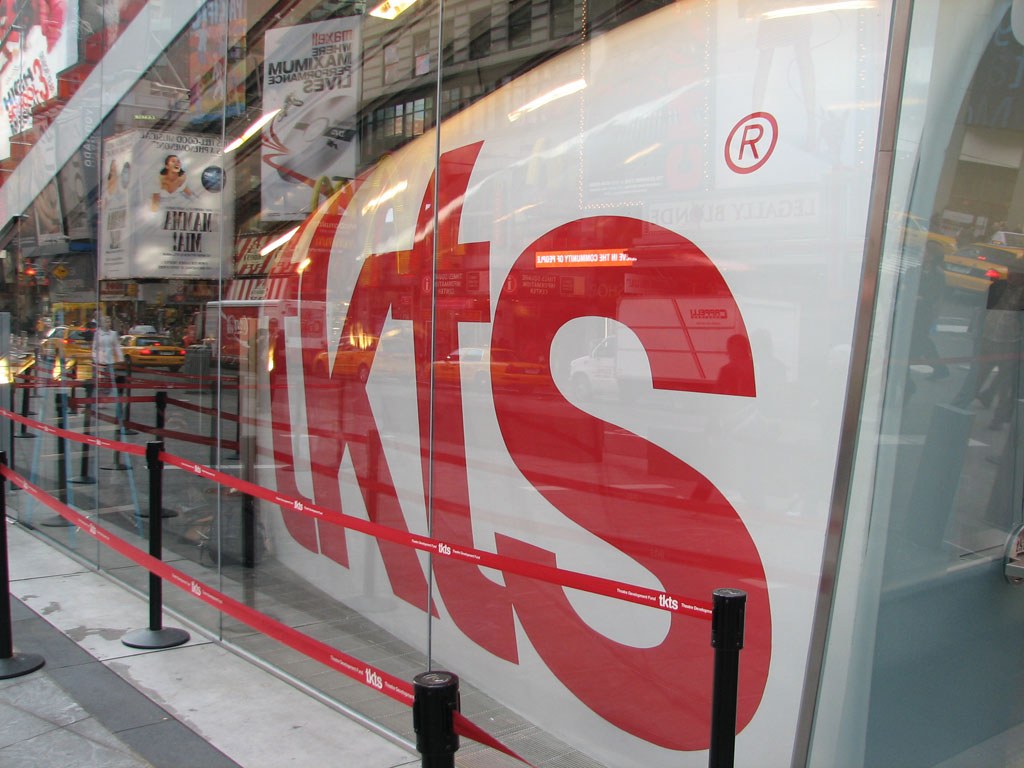 The TKTS Booth - Half Price Ticket Stand

Discount Broadway tickets are available at the TKTS booth run by the TDF. Tickets are for the same day of purchase and it is only good for whatever tickets are left after all the discount Broadway ticket options are exhausted. There are three discount ticket stands across the City. Tourists often arrive 2 hours prior to opening and although it's not always a 50% discount, it is still a bargain and can be fun waiting in line. TKTS TICKETS BOOTH

Broadway Ticket Offers In Email
Broadway shows send out discount promotions for tickets via e-mail. There are a variety of email lists to get on to get these offers. Often, these offers are email only and the various companies are asked not to post them on a static web page, so you will need to be on the list to get the deal. Daily deal web sites like Groupon and LivingSocial also have these types of offers but we recommend these services EMAIL TICKET OFFERS

Broadway Show Ticket Lottery
The top Broadway shows sell some of their best orchestra tickets at bargain prices to members of the public who turn up at the theatre for their ticket lottery on the day of the show. The prices of the tickets are between $25 and $40, but often the original ticket value can be well over $200 per ticket.
The seats are often the front two rows in the orchestra rows and producers often include other unsold house seats into the ticket lottery for good measure. The ticket lottery provides value to the show itself as it rewards loyal fans and creates a great deal of good-will and buzz around the show from fans. The ticket lottery only happens on the day of the show and the odds are winning are not strong (often 250 people vying for 25 tickets), but the savings on ticket are quite substantial.
Because the times of many of the ticket lotteries are split up, It is possible to do a few lotteries on the same day, which increases your odds of winning dramatically. The schedule link below identify which Broadway shows have ticket lotteries and at what time they happen. Broadway Lottery Tickets and the Broadway Ticket Lottery Schedule

General RUSH
Started by the Broadway show Rent many years ago, rush tickets are available to anyone who has the time to go and wait on line at the theatre on the day of the show. These discount tickets are often for the top Broadway Shows. They create a marketing buzz and reward true fans of the show. They are usually very good seats and offered at around $25, on the day of the show. However, not all Broadway shows participate. Broadway Rush Tickets and the General RUSH Schedule

Student RUSH Tickets
These discount Broadway tickets are only for full-time students. Students are allowed to buy two tickets to a Broadway show and the second person that goes with them does not have to be student. These tickets are usually around $25. These are often good seats with great views of the stage. The inventory is often not very high, so ticket availability is limited. A valid current student ID is required. These tickets must be paid for in cash and they can only be bought on the day of the show. Student Rush Tickets

Partial View Tickets
Because many of the Broadway theatres are over 100 years old, they weren't designed with average modern theatergoers in mind. Seats can often be cramped, have poor viewing angles, physical and visual obstructions or even poor audio. The show producers often recognize this failing in the seating and may discount the ticket an appropriate amount to compensate for the less-than-stellar experience. These tickets will be less price than the normal view price but may not be the bargain that is hoped for. Ticket brokers have been known to repackage these "Partial View" tickets and resell them for full price on eBay, which is not very nice. Fortunately the tickets are usually marked "PARTIAL VIEW." and brokers should make that clear when the resell them. Partial View Tickets

Charity Tickets
There are specially discounted (or sometimes free) Broadway tickets given to charity groups affiliated with certain agencies and other Broadway related charities. These charities then resell or auction the ticket to their members to raise proceeds for their charity. It is not always for the Broadway top shows, but these discount tickets are very well priced. Charity Tickets and Charity Discounts

Wednesday Matinee Discounts
Broadway tickets were traditionally heavily discounted on Wednesday matinees, usually at 2pm. This was done to bring in senior citizens from Long Island, Connecticut and New Jersey into the City to Broadway shows. The age restriction was lifted and now anyone can get these discounted tickets, so the actual discount isn't that big anymore - if at all. The one advantage is they do not discount a Broadway show for the Wednesday matinee, then their will be greater ticket inventory available. Wednesday Matinee Discounts

Starving Artist Tickets
Out of work actors and other "creative" types in New York City can still get these kinds of discount Broadway tickets. These tickets are usually distributed through art and cultural institutions, but associate members can also get them. Participating groups include FIT, NYU Tisch School of the Arts, New York Film Academy and other NYC acting schools. Starving Artist Tickets

Cancelled or Refunded Tickets
Officially speaking, Broadway shows do not offer refunds on Broadway tickets. However, there are a few ways to get a ticket refunded and when they do allow it, the tickets go back to the box office, which then has to try to resell them. Sometimes, the box office will have to resort to discounting the ticket to sell it. This is most often seen with a premium ticket, which is then resold for regular ticket price. This can sometimes be a difference of hundreds of dollars in price. Refunded / Cancelled Tickets

Loyalty Programs / Audience Rewards
Regular theatergoers will find that there are a couple of audience loyalty programs available. Both programs provide points for every dollar spent on Broadway show tickets. The programs allow the user to use their points to get free tickets. The catch is that these discount Broadway tickets can only be used by the buyer, are not transferable and the points expire. The real-world cash value of these programs is about 1% discount, so unless you are buying a large amount of tickets, these kind of programs are not worth the time. Broadway Loyalty Programs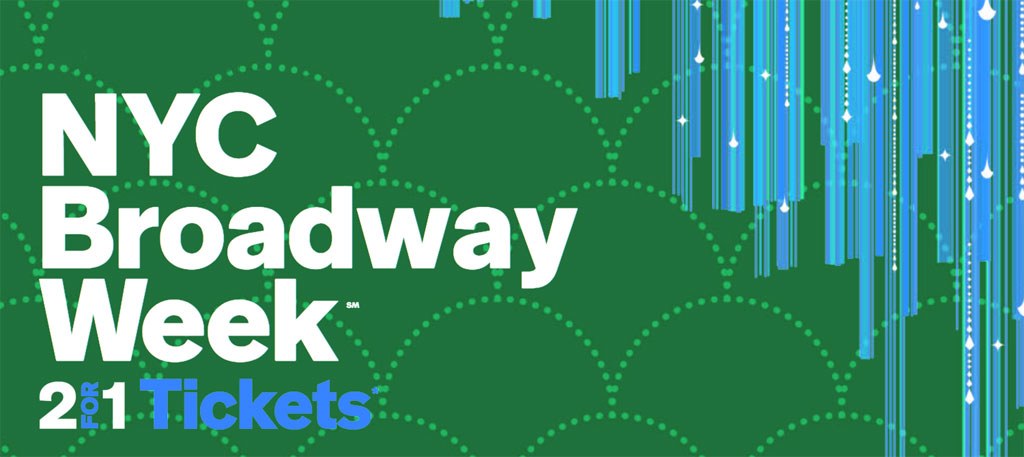 Broadway Week - 2 for 1 Tickets
The Broadway League works with New York City and Company to offer Broadway show tickets at a 2 for 1 price (which is essentially a 50% discount on Broadway tickets) at least twice a year. The promotions run twice a year during Broadway Week, which is set during the slowest Broadway sales periods at the end of January and late September. These ticket discounts are popular and inventory runs out quite quickly. Broadway Week Discounts

House Seats Resold as Regular Tickets
House seats are tickets that have been reserved by the Broadway theatre for their own use. They are usually the best seats in the house and if they were sold normally, they would be classified as a premium ticket. The users of these tickets can include show producers, agency staff, actors or their families. If the tickets have not been allocated by curtain-up time, then the box office will sell these tickets at the regular ticket price, a potential savings of hundreds of dollars over the premium ticket price. House Broadway Tickets

Group Discounts
Groups of 10 people or more can get discounts on Broadway tickets ranging from $5 - $20 off each ticket, even for the sold-out top shows when no other discounts are being offered anywhere. Also, groups have a unique benefit of not having to pay for their tickets until closer to the show date, a benefit that no other Broadway patron can get. This means that groups can get the tickets first, before paying for them and then they can round up their troops to pay for them. Of course, if payment isn't made by an agreed date, the group tickets will be cancelled, but its a great way to get a discount in advance without having to pay for them first. Group Discount Broadway Tickets and Group Discounts Versus Discount Codes


Premium Tickets Sold for Regular Price
To stop ticket brokers buying up the best tickets and reselling for more, Broadway show producers now offer "premium tickets" which are the best seats in the theatre, with a much higher price point than the regular ticket price. The only problem is that sometimes the premium seat goes unsold, which means the box office will have to sell the ticket on the day of the performance for the regular face value, which is significantly less than the premium price.
Sometimes the difference can be hundreds of dollars. If they still don't sell, they may drop the price even further, below face value, which is even more of a bargain for the public , but a loss for the show. The show may often not sell the premium seat at all, with the fear that they will devalue the show. Premium Broadway Tickets

Credit Card Exclusive Offers
Credit card companies, including American Express, Visa and MasterCard, leverage their relationship with the Broadway theatres and pre-reserve blocks of Broadway tickets that go on sale only to their card holders at big discounts or when there is limited inventory. The programs include: American Express - Preferred Seating /Presale and MasterCard Broadway Membership. The credit companies can afford to take a loss-leader on the ticket sales as it provides the appearance of exclusivity.

Second Acting
Much to the chagrin of Broadway Show theatre managers everywhere, Jim Halpert and his "then" girlfriend Karen Filippelli, in NBC's The Office, season three in 2007, demonstrates how to do "Second Acting" - the art of getting into a Broadway show for free during the intermission by following in the smokers as they return to the theatre. "Second Acting" can also be done by becoming friendly with the ushers, who may let you sit in a seat that was not occupied in the first act. Second Acting


Kids Night On Broadway
Kids can get free tickets to kid-friendly Broadway shows on the monthly event Kids Night on Broadway. The deal is run by The Broadway League. The only catch is that the accompanying adult has to buy the full price Broadway show ticket (for the same show) to get the free ticket for a child. It's really a 50% overall discount on the ticket price masquerading as a free ticket deal. Nonetheless, it is still a bargain for families that is not to be missed and it runs every month. Kids Night on Broadway

TDF Membership
The TDF (Theatre Development Fund) is a non-profit organization that develops the theatrical arts and provides services to theatres, playwrights and Broadway patrons. By becoming a member, this will provide you access to discounts on Broadway tickets that are not advertised or published anywhere else. The TDF also offers discounts to Off-Broadway shows. The current cost of membership is $40 per year. TDF Membership

Papering Services
When Broadway shows need audience badly (a new show, a new lead in a show or even a box-office disaster), Broadway producers will turn to "papering" services to distribute free tickets to their show. The service doesn't promote these tickets online to protect the regular ticket sales from the box office, but they can fill the theatre with willing and engaged Broadway fans, who usually get the tickets for free, or pretty close to free. Broadway Papering Services can be found at the bottom

Standing Room Only - SRO
A cheap way to see a Broadway show is to go "standing room only." You may have to stand for the whole show and there is no guarantee of getting an actual seat, but these ticket discounts are often quite large and they are for popular Broadway shows. Often seats get freed up during the show and the usher will seat you. Expect to pay around $25, its only suitable for those who can stand for two hours, so buyer beware. Standing Room Only Tickets