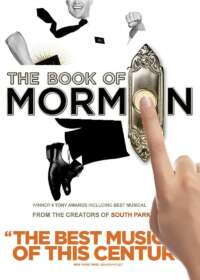 The Book of Mormon
Discount Broadway Tickets
Discount Broadway Tickets For The Book of Mormon
Rush Tickets Tonight
The Book of Mormon

Summary
Show Status: Currently playing at the Eugene O'Neill Theatre

Genre: Musical

The Book of Mormon is 2 hours and 30 minutes long, including an intermission of 15 minutes

8 Shows per week

Previews Began: February 24, 2011

Show Opened: March 24, 2011

Show Closes: Open ended
The Book of Mormon is a satirical and raunchy musical about two young Mormon missionaries who travel to Uganda to captivate new African converts with disastrous results.
The Book of Mormon

on Broadway Background
The Book of Mormon is a rollicking and irreverent musical written by "South Park" creators Trey Parker and Matt Stone.
The musical composer is Bobby Lopez, best known for his work on Avenue Q and Frozen. When the show began at the Eugene O'Neill Broadway theatre in March 2011, audiences and critics claimed it was a riotous phenomenon causing laughter and tears throughout the show.
Andrew Rannells' debut as Elder Price on The Book of Mormon helped carry along the plot of the musical, as Rannells had the stage chops to pull off this hilarious characater, that ultimately won him the Tony Award.
Prior Knowledge About Mormonism Helps to Understand the Jokes
It helps to know something about Mormonism to see this show, as there are countless jokes that only those of that religious persuasion will understand. Despite being on Broadway for some time, the show is still a very hot ticket. It won the 2011 Tony Award for Best Musical and has been consistently sold out at the box office ever since. The show is consistently in the top 5 Broadway shows currently on Broadway and has gone on to great success on its national and international tours.
What's
The Book of Mormon

Like?
Full of "South Park" style "potty humor" and some clever wit, The Book of Mormon has been surprisingly well-received by a wide audience.
Although admittedly offensive, the show strikes a balance that manages to cause much more laughter than offense, even to Mormon audience members. Ultimately, it is good-natured and fun-loving show, and the musical numbers are extremely entertaining.
The sets and costumes are elaborate, and the choreography is impressive. The show has made stars of its original leads, Andrew Rannells and Josh Gad, both in Hollywood and Broadway. The casting on the show is consistently top-notch because the previous players had set such a high bar. The audience does not stop laughing from the first "Hello!" as the Mormon missionary rings a doorbell and a string of hilarity continues.
Is
The Book of Mormon

Good for Kids?
There is a parental advisory for this show, primarily due to its explicit language as well as adult themes. It is most likely inappropriate for children under the age of 12, and even those older should be brought with caution. As always, children under the age of 4 are not permitted inside the theatre.
The Book of Mormon

Ticket Lottery and Rush Schedule

Every day there are discounted Broadway show tickets sold as part of the Broadway ticket lotteries or as Rush Tickets Tonight. Tickets are only valid on-the-same-day of the drawing. The following is the daily schedule of the ticket lottery and RUSH ticket pricing.
Online Lottery
Monday, 12:00am
Tuesday, 12:00am
Wednesday, 12:00am
Thursday, 12:00am
Friday, 12:00am
Saturday, 12:00am
Sunday, 12:00am
Eugene O'Neill Theatre
230 West 49th Street
New York, NY 10019
Entrance:
49th Street, between 8th and Broadway
Theatre Information
The Book of Mormon Marquee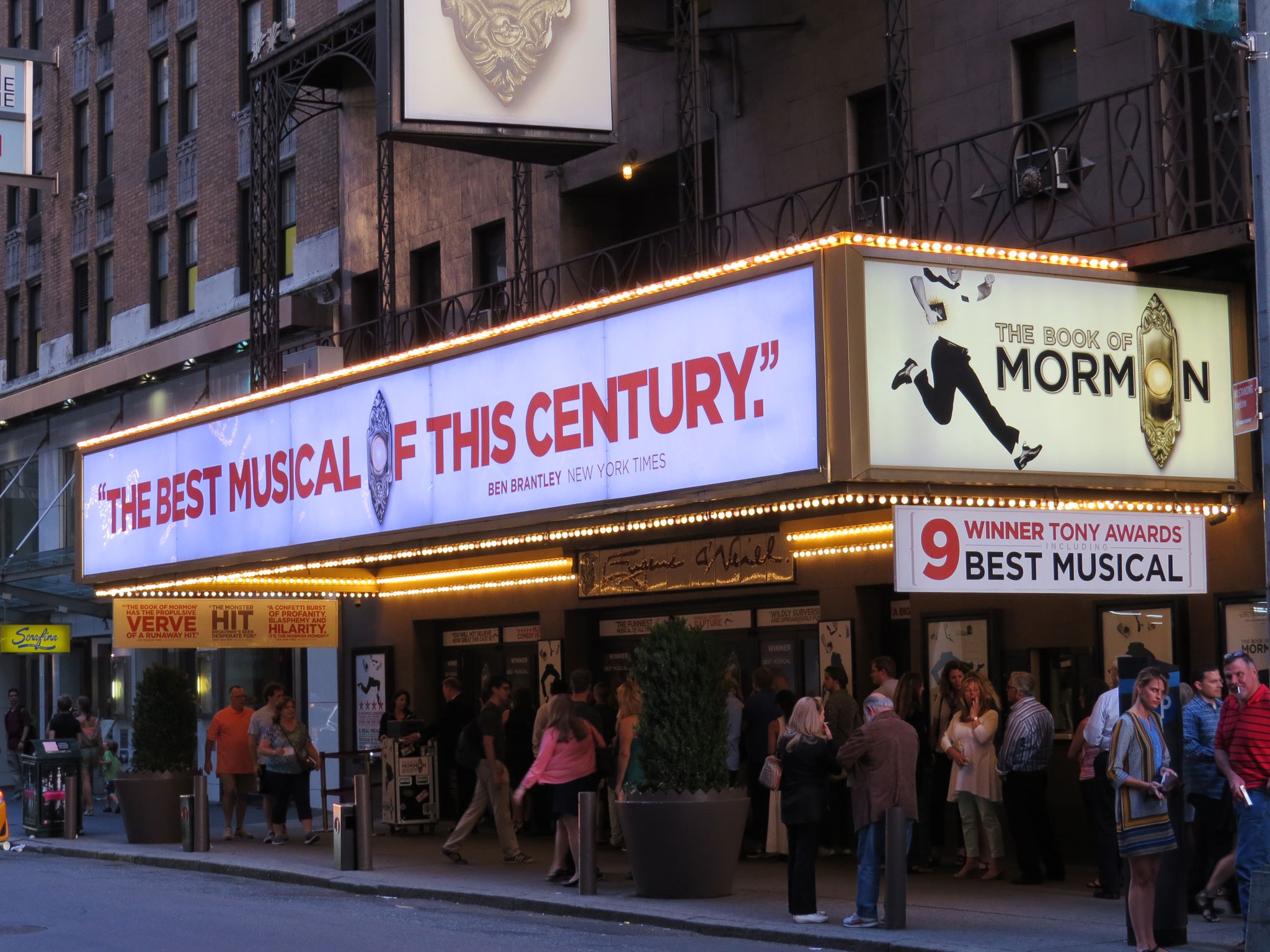 Elder Price

Dave Thomas Brown
Elder Cunningham

Cody Jamison Strand
Elder McKinley

Stephen Ashfield
Mafala Hatimbi

Sterling Jarvis
Joseph Smith

Lewis Cleale
Elder Cunningham

Chris O'Neill
Mafala Hatimbi

Daniel Breaker
Stuart Thompson (Executive Producer)
Sonia Friedman Productions
General Manager

David Turner
Company Manager

James Lawson
Production Manager

Aurora Productions
Casting Director

Carrie Gardner
Advertising Representative

SPOTCo
Press Agent

The Press Room
Production Stage Manager

Karen Moore
Book Music & Lyrics

Trey Parker
Book Music & Lyrics

Matt Stone
Book Music & Lyrics

Robert Lopez
Choreographer

Casey Nicholaw
Musical Supervisor

Stephen Oremus
Orchestrations

Larry Hochman
Musical Director

Justin Mendoza