Discount Broadway Tickets For Hadestown
Hadestown is 2 hours 30 minutes long, including an intermission of 15 minutes

8 Shows per week

Previews Began: March 22, 2019

Opened April 17, 2019

Show Closes: Open ended
This dramatic story tells of two intertwining love stories taking the audience on a journey to the underworld and back again.
Hadestown

on Broadway Background
Created by Anaïs Mitchell developed by Rachel Chavkin, the show is performed by an energetic cast of actors and dancers who deliver a great theatrical experience. The show first ran off Broadway in 2016 before playing at in Edmonton last year and is currently plating in the London England at the National Theatre. The Broadway shows will start in March of 2019 and the cast is yet to be announced.
This tale is two parts of a classic Greek myths linked together and now set in modern times. The two stories follow the different paths of eternal love. The first part is the tale of the songwriter Orpheus where he meets and falls in love with his one-true-love Eurydice and they bask in the warmth of love and song. The second part is where Eurydice is tempted to travel to Hadestown, which is run by King Hades and his wife Persephone, in search of fame and fortune, but she arrives to find a post-apocalyptic world. Orpheus then travels to be with her and their true love is then put to a test.
This classic folk opera takes the audience and the protagonists on a grand journey to the dark underbelly of another world and back again, with it's entrancing music and poetic melodies the show brings the audience imagination to life.

Is
Hadestown

Good for Kids?
This show is suitable for children over the age of 12, although some of the Greek mythology scenes may be upsetting to younger children and the timid
Hadestown

Ticket Lottery and Rush Schedule

Every day there are discounted Broadway show tickets sold as part of the Broadway ticket lotteries or as RUSH tickets. Tickets are only valid on-the-same-day of the drawing. The following is the daily schedule of the ticket lottery and RUSH ticket pricing.
Online Lottery
Monday, 12:00am
Tuesday, 12:00am
Wednesday, 12:00am
Thursday, 12:00am
Friday, 12:00am
Saturday, 12:00am
General Rush
Monday, 10:00am
Tuesday, 10:00am
Wednesday, 10:00am
Thursday, 10:00am
Friday, 10:00am
Saturday, 10:00am
Walter Kerr Theatre
219 West 48th Street
New York, NY 10019
Entrance:
48th Street, between 8th Ave and Broadway. North side of the street.
Theatre Information
Hadestown Marquee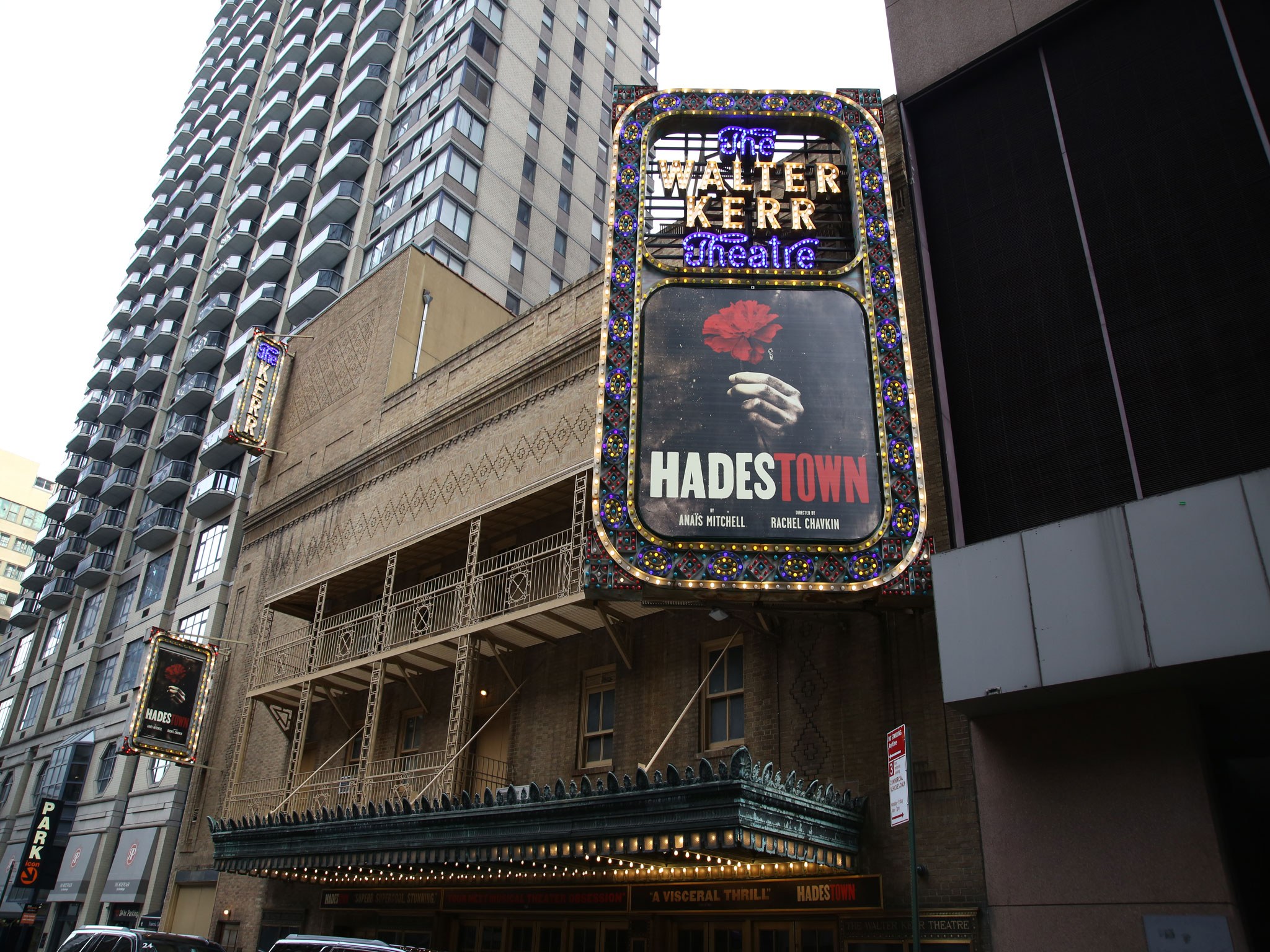 General Manager:

RCI Theatricals Casting
Casting Director:

Stewart/Whitley Casting
Choreographer:

David Neumann
Sound:

Jessica PazNevin Steinberg
Musical Director:

Liam Robinson