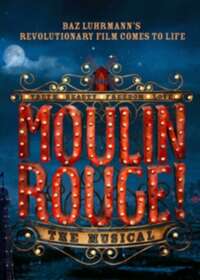 Moulin Rouge
Discount Tickets and Show Information
Show Status: Currently playing at the Al Hirschfeld Theatre

Genre: Musical

Moulin Rouge is 2 hours and 35 minutes long, including an intermission of 15 minutes

8 Shows per week

Previews Began: June 28, 2019

Show Opened: July 25, 2019

Show Closes: Open ended
Baz Luhrmann's revolutionary 2001 film of the same name, comes to life on Broadway. A young English poet falls in love with a beautiful courtesan in Paris.
Moulin Rouge

on Broadway Background
The Broadway stage version of Baz Luhrmann's revolutionary 2001 film comes to the Great White Way at the Al Hirschfeld Theatre. Although the show is depicted as a "jukebox musical" as it does not have any original songs written specifically for it, the show still feels quite original in nature and the mash-up style of the music still feels fresh and new.

The three leads in the show have a bevy of Broadway experience among them including West Side Story, Catch Me If You Can, In the Heights, Rent, Brooklyn the Musical, Next to Normal, Wicked and Hair­spray

The 2001 movie was nominated for eight Academy Awards at the March 24, 2002 Oscars but only won for the somewhat-paltry "costume design" and "art direction", due to the fierce competition that year with some other amazing films. Along with the original songs from the movie, some newer songs have also been brought in to beef up the show, and the show may be the beneficiary of many Tony Award nominations.
What's
Moulin Rouge

Like?
Set in 1900's Paris, The Moulin Rouge is a popular cabaret and a young English poet falls in love with a beautiful courtesan, who is also the star of the show. The show is an upbeat musical with comedic interludes and a serious subject matter of impending death, a common ailment back in 1900's Paris when Tuberculous was still called "consumption". The show is a beautiful recreation of an early Paris set, but set in a very dark time, and resonates with the audiences. The show has cabaret seating available on stage and the whole theatre and seating has been designed to make the audience feel that it is actually in the original Moulin Rouge in Paris, evoking the glamour of the period.

Is
Moulin Rouge

Good for Kids?
Despite being an upbeat show, Moulin Rouge may not be appropriate for children under 12 years old due to its adult themes of sex, death, murder and corruption.
Moulin Rouge

Ticket Lottery and Rush Schedule

Every day there are discounted Broadway show tickets sold as part of the Broadway ticket lotteries or as Rush Tickets Tonight. Tickets are only valid on-the-same-day of the drawing. The following is the daily schedule of the ticket lottery and RUSH ticket pricing.
Online Lottery
Tuesday, 12:00am
Wednesday, 12:00am
Thursday, 12:00am
Friday, 12:00am
Saturday, 12:00am
Sunday, 12:00am
Al Hirschfeld Theatre
302 West 45th Street
New York, NY 10036
Entrance:
45th Street, between 8th and 9th Ave
Theatre Information
Moulin Rouge Marquee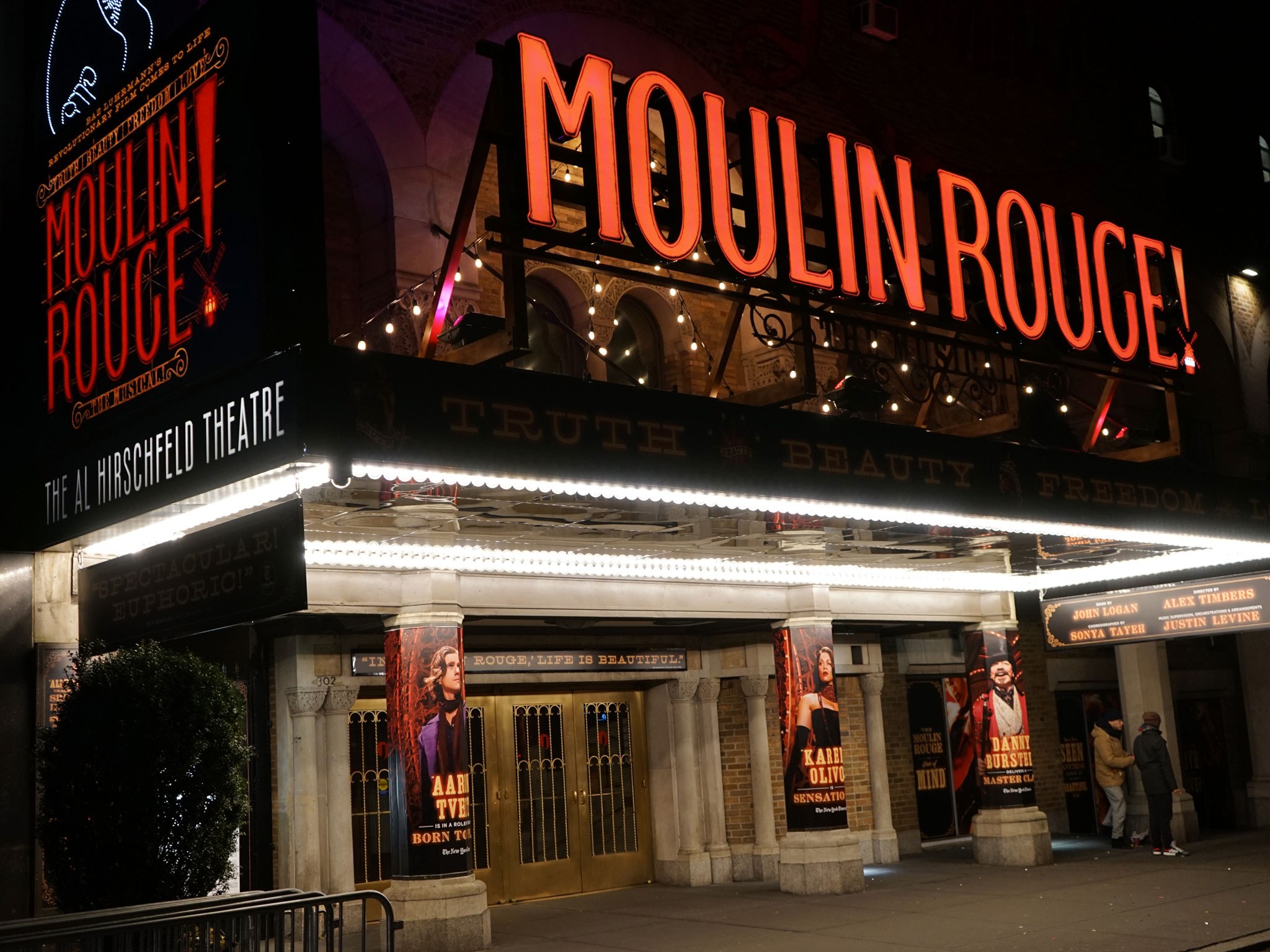 Harold Zidler

Danny Burstein
Toulouse-Lautrec

Sahr Ngaujah
The Duke of Monroth

Tam Mutu
Bill Damaschke (Executive Producer)
Desantis-Baugh Productions
Tulchin/Bartner Productions
International Theatre Fund
General Manager

Foresight Theatrical LLC
Company Manager

Marc Borsak
Production Manager

Juniper Street Productions
Casting Director

Stephen Kopel
Advertising Representative

RPM
Press Agent

Boneau/Bryan-Brown
Production Stage Manager

Michael J Passaro
Choreographer

Sonya Tayeh
Music Supervisor/Arrangements

Justin Levine