Times Square TKTS Ticket Stand
---
Times Square TKTS Ticket Booth Address:
The Times Square ticket booth is located underneath the red steps in Times Square, New York, NY, 10036.
Located between Broadway and Seventh Avenue at 47th Street.

Updated: Thu 1st of December 2022 12:20 PM
TKTS Times Square Ticket Booth Hours
For Evening Show Performances:
Monday: 3:00pm - 8:00pm
Tuesday: 2:00pm - 8:00pm
Wednesday: 3:00pm - 8:00pm
Thursday: 3:00pm - 8:00pm
Friday: 3:00pm - 8:00pm
Saturday: 3:00pm - 8:00pm
Sunday: 3:00pm - 7:00pm

For Matinee Show Performances:
Wednesday: 10:00am - 2:00pm
Thursday: 10:00am - 2:00pm
Saturday: 10:00am - 2:00pm
Sunday: 11:00am - 3:00pm
5 Reasons Why You Should NOT Buy Tickets At The TKTS Booth
You can only buy tickets on the day of the show (no advance tickets sales)
You can get better discounts by visiting our Discount Broadway Ticket List
The TKTS ticket inventory is whatever the Broadway show has left to sell
The lines at the booth are often long and are outside - which is cold in Winter and hot in the Summer
You cannot choose your seats, you only get offered the next set of tickets on the stack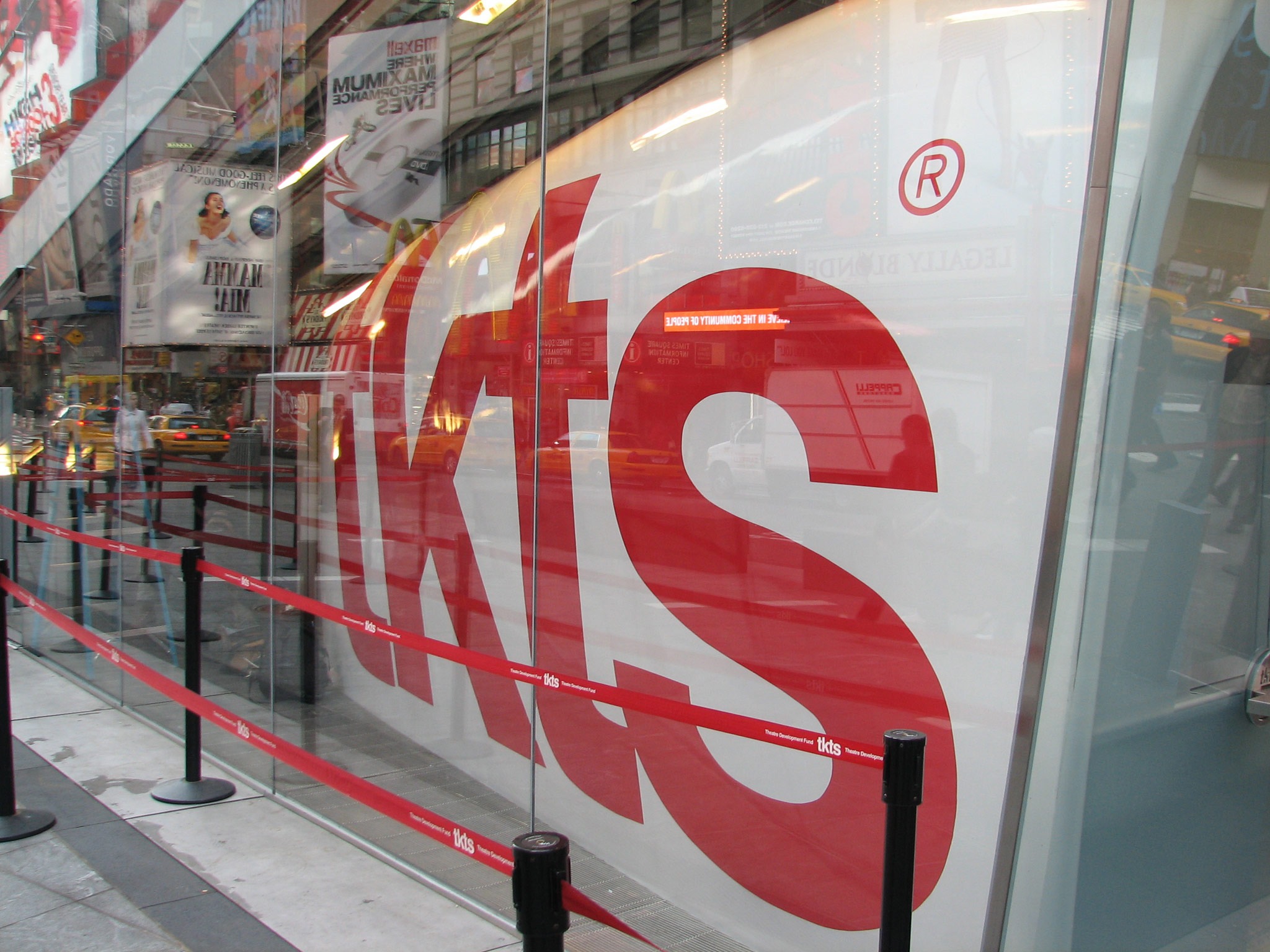 Ticket Services At This Location:
Same-day discount Broadway tickets are the primary reason most people are here. The TKTS booth also offers:

- Same-Day Full Price Tickets to Non-Discounted - Shows
- Full Price Tickets to Future Performances
- "Play Express" Window Same-Day Broadway Ticket Sales

Advance Broadway Show Ticket Sales:
To buy discount Broadway tickets in advance please CLICK HERE
The Length Of The Lines At The TKTS Booth at Times Square
The Times Square Broadway TKTS ticket booth gets busy an hour before it opens and the lines can be quite long. You should make sure you allow for enough time. There are twelve counters at the booth, but TDF does not have enough people to man all the counters, so six or seven counters are normally open.
This booth also has a ticket line for "Plays only" which can be significantly shorter, just make sure you are in the correct line if you want a play.
Ticket Payment Options
The Times Square TKTS ticket booth would only take cash for ticket sales, but Everything changed following the robbery at the ticket booth in 2001, where $2.1 Million in cash was stolen during a broad-daylight raid and the thieves were never caught. Now, for its own protection, the TKTS booth in Times Square accepts all forms of payment, including:

- Cash
- All Major Credit Cards
- TDF Gift Certificates
- Travelers Checks
- Bitcoin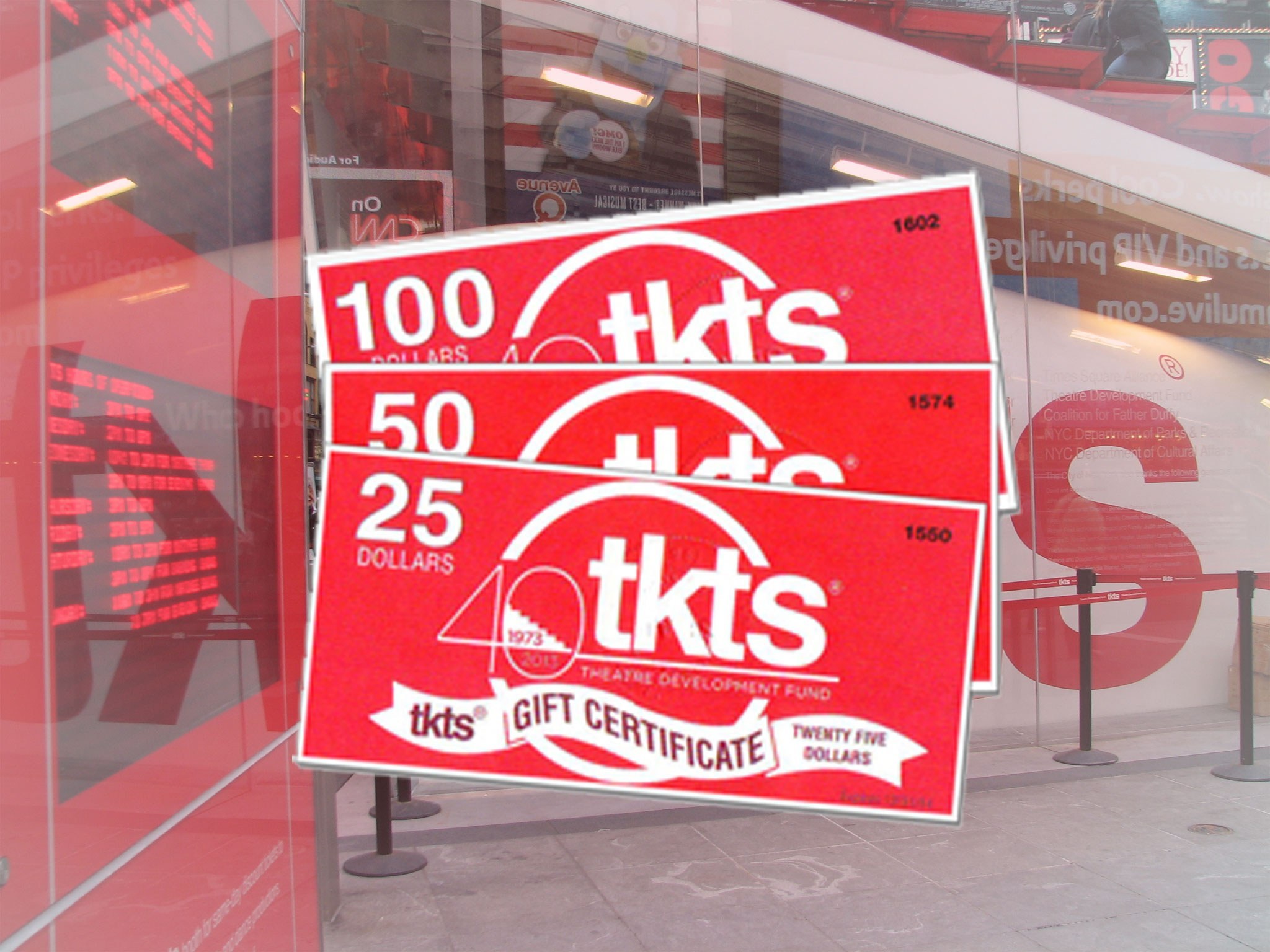 TDF Gift Certificates and Gift Cards
The Theatre Development Fund (TDF) sells gift certificates that you can use at any of the ticket booths in New York City. The certificates can be used for same-day discount tickets, same-day full price tickets and future full-price tickets.TKTS gift certificates are available in denominations of $25, $50 and $100. You can order gift certificates by phone or in person at the booth. TDF Gift Certificates and Gift Cards

Order By Phone:
Call 212-912-9770, ext. 374 Mastercard, Visa and American Express accepted.

Order In Person:
Visit any TKTS Discount Booth during normal hours of operation. Mastercard, Visa and American Express accepted in Times Square. Go straight to the advance ticket line.

Buying Tickets At The TKTS Booth
There is a purchase limit of six tickets per person at the TKTS booth. If you need more, don't worry! Just have more than one person with you. Patron Services Representatives are wearing red shirts at the booth and will assist you in getting additional tickets if you still don't have enough people. The patron Services team are constantly trying to weed out ticket brokers from buying all the best tickets up and selling the tickets back to people near the back of the line.

TKTS 7-Day Fast Pass
The TDF TKTS Fast Pass allows TKTS patrons to return to the Times Square ticket booth within 7 days of their TKTS purchase and walk right up to window #1 with their TKTS ticket stub, thereby avoiding the longer lines at peak hours! Everyone who purchases a ticket at the booth is given a fast-pass by default. Often the line for Fast-pass is not very fast, as many other ticket buyers are trying to use it too.

Hawkers, Pitchers and Other Distractions at The Booth
The line at the TKTS booth in Times Square has traditionally been a location where visitors have been pitched all kinds of deals and offers while they wait in line to buy tickets. Stories of fake, stolen or scam tickets have been circulated by TDF, but none have ever panned out to be real problems. Most Broadway ticket scams nowadays are internet based, usually from Craigslist. Most people who are trying to resell their Broadway tickets at face value at the TKTS line are usually fine with taking a picture with you and thus have a great deal more credibility.

Using Public Transportation To Get To The Times Square TKTS
You can get to the TKTS ticket booth in Times Square in the following ways:

By Subway: The subway lines 1, 2, 3, 7, N, Q, R, S all stop at the Times Square station, which is close to the TKTS ticket booth.
By Bus: Crosstown buses M42 and M50 both stop on West 42nd Street
By Cab: It is not recommended to take a cab to Times Square due to heavy traffic and pedestrianization.
It is better to take a cab to the North, South, East and West points of Times Square and walk and not enter any of the Times Square intersections.

Discount Broadway Tickets
---
---