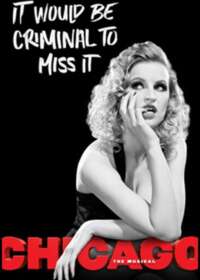 Chicago
Discount Broadway Tickets
Show Status: Currently playing at the Ambassador Theatre

Genre: Musical

Chicago is 2 hours and 30 minutes long, including an intermission of 15 minutes

8 Shows per week

Previews Began: October 23, 1996

Show Opened: November 14, 1996

Show Closes: Open ended
Chicago is the sexy, sensational show that is set in its namesake city during the mid-1920's when the mob and liquor reigned supreme. The show is a timely satire on judicial corruption and features the concept of the "celebrity criminal"
Chicago

on Broadway Background
Originally premiering on Broadway in 1975, this outstanding revival production has been running continuously on Broadway since 1996.
With a book by Fred Ebb and Bob Fosse, music by John Kander, and lyrics by Fred Ebb, this show is classic contemporary Broadway. A film based on the musical was released in 2002 and won much acclaim, igniting a string of popular musical-to-movie adaptations in its wake.
Opened in 1996, Chicago Moved to a New Theatre in 2003
The current version of Chicago opened on November 14, 1996, at the Richard Rodgers Theatre. This is the same theatre where the original production had played during the period May 1975 to August 1977.
On January 29, 2003, more than six years into its run at the Richard Rogers, they were kicked out by the Shubert Organization and the show was moved to the Ambassador Theatre, where it has played ever since.
Anti-Heroines and Heinous Murders
The show chronicles the tribulations of the two anti-heroines both accused of heinous murders. Both women find themselves in the same prison, vying against one another for the attention of smooth-talking lawyer Billy Flynn while capitalizing on their pseudo-celebrity like notoriety and infamy their actions have garnered them. The show is a non-stop romp of sexual intrigue, spectacular pizzazz, and hilarious storytelling.
Chicago tells the timeless tale of the insatiable lure of fame and the questionable lengths that people will go to, for their own 15 minutes of fame.
Pamela Anderson Made Her Broadway Debut in Chicago in 2022
The former "Baywatch" star and played Roxie Hart from April 12, 2022 through June 5, 2022. Her Broadway experience is being recorded for an ambitious Netflix documentary about her path to Broadway.
Anderson, who is a Canadian-American actress had previously spoken about her love of Bob Fosse's & Gwen Verdon's work. This opportunity is a perfect fit for her.
"Playing Roxie Hart is a dream fulfilled," Anderson said in the press release. "Performing Fosse, you don't have time to get in your head. You can't dance, sing and think at the same time. There is a freedom, a unique joy in knowing it's all about the work. Playing Roxie Hart is a sweet escape for me."

No discount tickets will be available during the time that Anderson appeared in the show.
Pamela Anderson Followed a Strange Path to Broadway
Anderson originally became famous through her modelling career in Playboy magazine in 1990. Her acting and comedic talents got her on the ABC comedy series Home Improvement. She then used that fame to get a role on action-drama TV series Baywatch, that further cemented her status as an international sex symbol.
The Pamela Anderson and Tommy Lee sex video also helped propel her career rather than hinder it. Anderson has also appeared in a number of B-Movies, but Hollywood never loved her as much as TV and movie success has eluded her.
Towards the end of her career, Anderson attempted to stay in the public vernacular by appearing in many TV reality shows and a lot of activism with PETA, which has further engaged her career death spiral.
Stunt Casting at Chicago on Broadway
The role of Roxie Hart in Chicago on Broadway is part of a stunt-casting format that this show uses to generate interest in the long-running show that has been on Broadway since 1996. Some of the non-Broadway celebrities that have appeared in the show in various roles have included cabaret legend Liza Minelli, model Christie Brinkley, daytime TV show host Jerry Springer and actor Taye Diggs.
Discount tickets at these times of stunt casting have been available, but some A -List celebrity stunt-casting has kept the ticket pricing artificially high and a lack of discounts.

This long-running Broadway show incorporates classic Fosse choreography and contains a multitude of familiar tunes such as "All That Jazz," "Cell Block Tango," "Razzle Dazzle," "When You're Good to Mama," "Mr. Cellophane," "I Can't Do It Alone," "Nowadays" and '"Funny Honey," just to name a few.
The story centers on Roxie Hart, who murders her husband after catching him cheating on her, and then goes to Cook County Jail where she meets fellow murderess Velma Kelly. She also meets the corrupt matron of the prison "Mama" Morton. Roxie hires a lawyer named Billy Flynn who specializes in such cases, and who usually wins by winning over the press.

Is
Chicago

Good for Kids?
Due to themes of sex and violence, the show may be inappropriate for children under the age of 12. Children under the age of 4 are not permitted in the theatre.
Chicago

Ticket Lottery and Rush Schedule

Every day there are discounted Broadway show tickets sold as part of the Broadway ticket lotteries or as Rush Tickets Tonight. Tickets are only valid on-the-same-day of the drawing. The following is the daily schedule of the ticket lottery and RUSH ticket pricing.
General Rush
Tuesday, 10:00am
Wednesday, 10:00am
Thursday, 10:00am
Friday, 10:00am
Saturday, 10:00am
Sunday, 10:00am
Ambassador Theatre
219 West 49th Street
New York, NY 10019
Entrance:
49th Street, between 8th and Broadway
Theatre Information
Chicago Marquee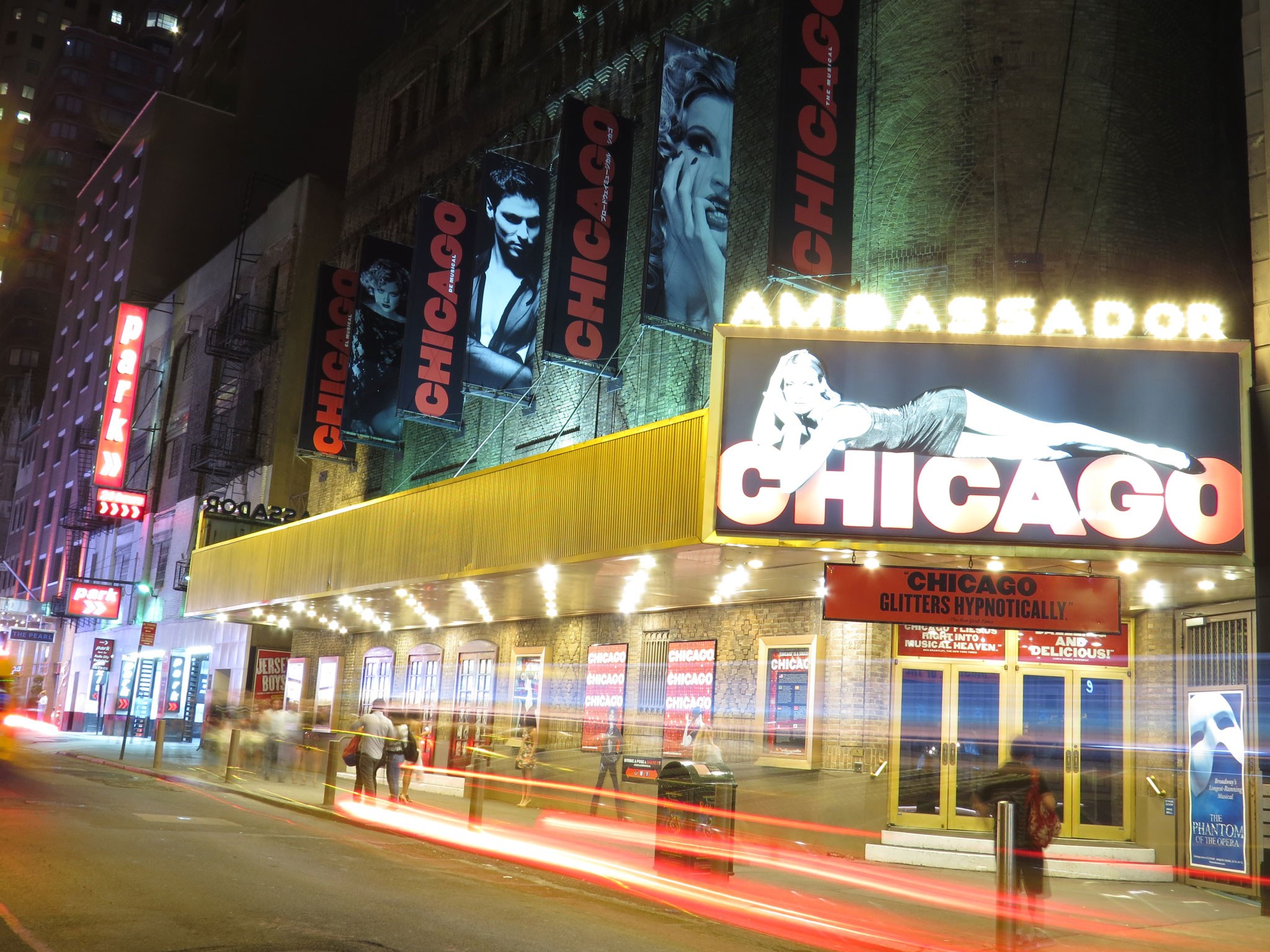 Roxie Hart

Charlotte d'Amboise
Billy Flynn

Max von Essen
Amos Hart

Raymond Bokhour
Velma Kelly

Amra-Faye Wright
Matron "Mama" Morton

Haley Swindal
Billy Flynn

Ryan Silverman
Roxie Hart

Brooke Shields
Roxie Hart

Ruthie Henshall
Roxie Hart

Ashlee Simpson
Roxie Hart

Melanie Griffith
Roxie Hart

Bianca Marroquin
Roxie Hart

Samantha Harris
Roxie Hart

Michelle Williams
Roxie Hart

Christie Brinkley
Roxie Hart

Brandy Norwood
Velma Kelly

Lana Gordon Wright
Matron "Mama" Morton

Natasha Yvette Williams
Kardana Productions (Associate Producer)
Company Manager

Dave Harris
Technical Supervisor

Arthur Siccardi
Casting Director

Duncan Stewart
Advertising Representative

RPM
Press Agent

Boneau/Bryan-Brown
Production Stage Manager

David Hyslop
Choreographer

Ann Reinking
Script Adaptation

David Thompson
Costumes

William Ivey Long
Musical Supervisor

Rob Fisher
Orchestrations

Ralph Burns