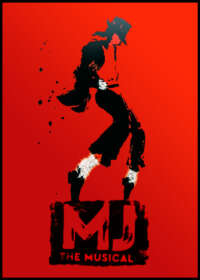 MJ: The Musical
Discount Tickets and Show Information
Show Status: Opening Soon

Genre: Musical

MJ: The Musical is 2 Hours 35 Minutes long, including an intermission of 15 Minutes

8 Shows per week

Previews Begin: December 6, 2021

Show Opens: February 1, 2022

Show Closes: Open ended
A biographical retelling of Michael Jackson's life as told through many of his greatest hit songs, while he prepares for the 1992 "Dangerous Tour"
MJ: The Musical

on Broadway Background
MJ: The Musical is a jukebox musical about the life of Michael Jackson and is written by Lynn Nottage, who is a notable playwright and the first (and only) woman to have won the Pulitzer Prize two times, Nottage achieved these accolades for her previous Broadway plays Ruined and Sweat, both tales of hardship that focus on themes of identity and discrimination.
Show Known Under Many Other Names
MJ: The Musical has been formerly known under various other monikers including MJ: The Michael Jackson Musical, Don't Stop 'Til You Get Enough and MJ: Going All The Way. MJ: The Musical has incorporated many of Michael Jackson's iconic dance moves into its set pieces thanks to the addition of director and choreographer Christopher Wheeldon. It is Wheeldon, who is a Tony Award winning contemporary ballet choreographer known for his work with the New York City Ballet and the musical An American in Paris, that really sets the tone for this show.
Show Problems Before Opening
The show experienced a rocky start due to the cancellation of its pre-Broadway premiere at the James N. Nederlander Theatre in Chicago in 2018 and subsequent alleged financial problems in 2019. The show is not without other problems either. Ephraim Sykes quit the show in June 2021, before its opening on Broadway and he was replaced with with Myles Frost, who will now star as the lead role in "MJ. Sykes gave a weak response for the reason to quit citing "scheduling conflicts" but he failed to identify what they were. The real reason for his departure may be due to the show material being a whitewash of the sexual misconduct allegations levied against Michael Jackson. MJ: The Musical was originally scheduled to begin performance July 6, 2020 and was delayed due to COVID-19.
New Opening Night on Broadway
Opening night for "MJ" was scheduled for Feb. 1, 2022. The musical begins previews at the Neil Simon Theatre on Dec. 6, 2021.
Chicago Test Run Was Cancelled in 2019
The decision to call off the Chicago test run was allegedly made by the Michael Jackson estate due to alleged scheduling difficulties caused by the alleged Actors Equity strike in early 2019, but this was allegedly seen by many as a delaying tactic for a show that faces much criticism for its poor handling of the allegations of sexual abuse made against Jackson over the years both before and after his death. The show avoids touching on any of these allegations and intends to focus the show on the musical repertoire of the artist and not his complete backstory.
Sexual Allegations are Not Addressed in the Show
The show has been heavily criticized for including a reference to the alleged childhood trauma that Jackson suffered at the hands of his own father, Joe Jackson, but not for covering the alleged trauma that Jackson may have prescribed on children in his own life. Critics lament that you cannot pick and choose which parts of child abuse that you want to use to provide texture to the narrative.
What's
MJ: The Musical

Like?
The musical follows the late King of Pop as he prepares for his 1992 Dangerous World Tour. As Michael and his colleagues rehearse their iconic choreography and world famous songs, the audience is transported back in time to the many creative and defining moments in the star's life. Many of the icons most popular traits make it into the show including the famous Moonwalk dance (which he allegedly stole from Jeff Daniels), his single sparkling glove and his love of chimps. The show is heavy on music and light on plot, making it another classic jukebox musical, but is still a crowd-pleaser. With its rendition of many old MJ favorites and some songs that may have been forgotten, the show is a fun distraction from reality, even if only for a short time.
Is
MJ: The Musical

Good for Kids?
This show is entertaining for children of all ages as it is jam packed with recognizable songs that have inspired generations of kids to chase their dreams.
Neil Simon Theatre
250 West 52nd Street
New York, NY 10019
Entrance:
52nd Street between Broadway and 8th Avenue.
Theatre Information
MJ: The Musical Marquee
Michael Jackson

Ephraim Sykes
General Manager

Devin Keudell
Casting Director

Rachel Hoffman
Director

Christopher Wheeldon
Choreographer

Christopher Wheeldon
Musical Supervisor

David Holcenberg