Neil Simon Theatre
250 West 52nd Street, New York, NY 10019
Neil Simon Theatre Information, Shows and Tickets
Directions:

Take the C, E, or 1 trains to 50th Street. Walk north to 52nd Street, then east to the Neil Simon Theatre. It is across the street from the August Wilson Theatre.

Entrance:

52nd Street between Broadway and 8th Avenue.

The Neil Simon Theatre is located on the south side of 52nd Street, between Broadway and 8th Avenue.

Box Office Hours:

Monday - Saturday:

10am - 8pm

Sunday:

12pm - 6pm
The best seats in the theatre are located in orchestra rows C thru K as well as the first the front mezzanine rows.
Neil Simon Theatre Seating Chart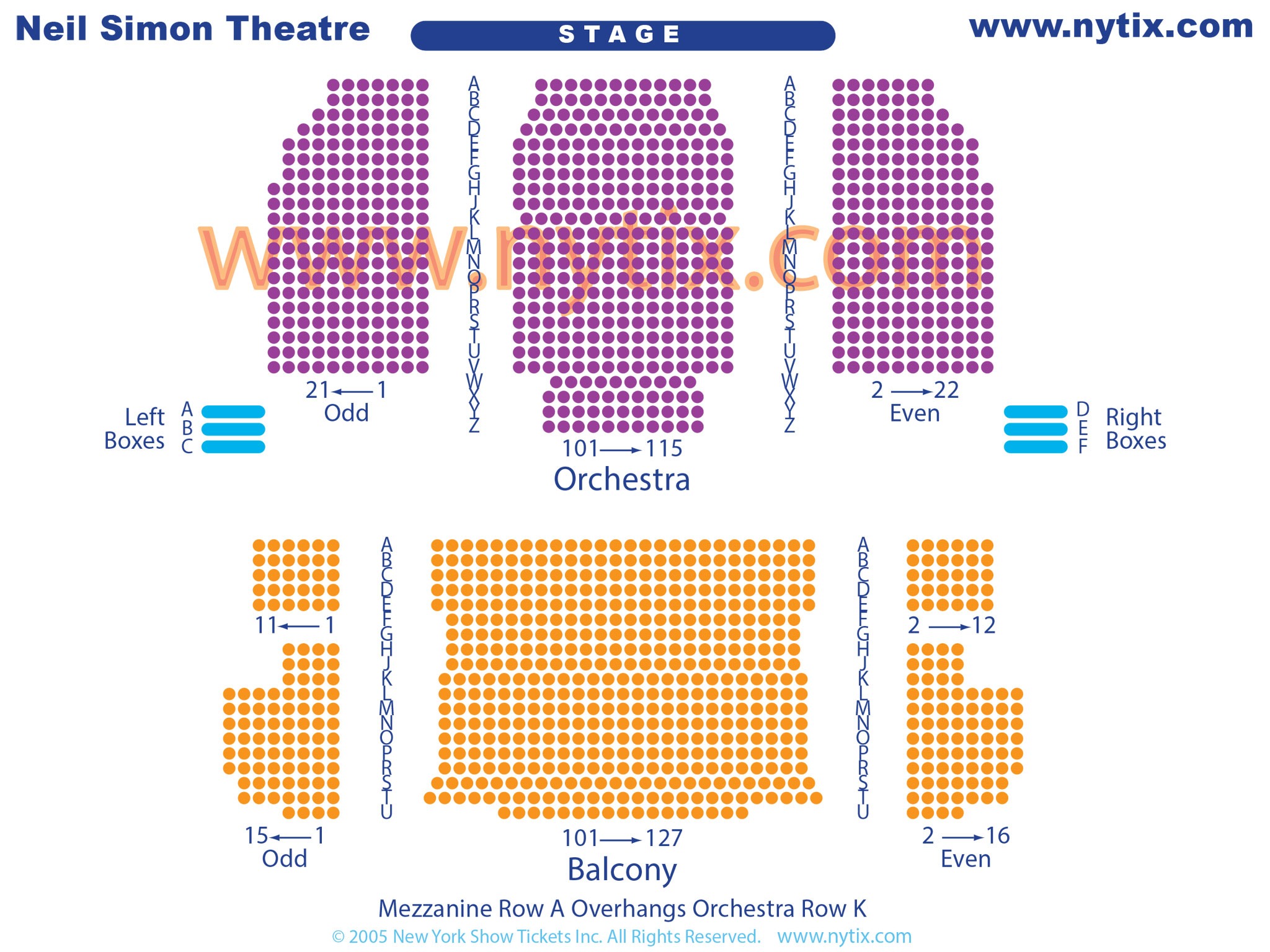 Parking for Neil Simon Theatre
The closest parking garages for Neil Simon Theatre are located at:
52 Broadway Garage Corp.

233 West 52nd Street
New York, NY 10019
212-245-2125
CHAMPION 53

159 West 53th Street
New York, NY 10019
212-245-1299
The closest parking is not always the best as it often takes longer to park and retrieve your vehicle as fellow theatre goers have the same idea. A better choice of parking may be the second choice or further away by a couple of Avenues.
Additional Notes
The are restrooms at the Neil Simon Theatre located both upstairs and downstairs, however, there are no facilities on the orchestra level.
Landlord: Nederlander Organization
Official Ticketer: Ticketmaster
Notes:
The theatre is named after one of Broadway's most successful playwrights, Neil Simon, who's career was at its zenith from 1963 to 1985 and included such shows as Barefoot in the Park, The Odd Couple, Plaza Suite and The Sunshine Boys. This theatre has suffered in recent years with a lack of hit shows and poor attendance.
Elevator: No
Escalator: No
Disabled Access Notes:
The theatre has no elevators or escalators and the main bar of the concession stand is located on the lower lounge making accessibility often a challenge.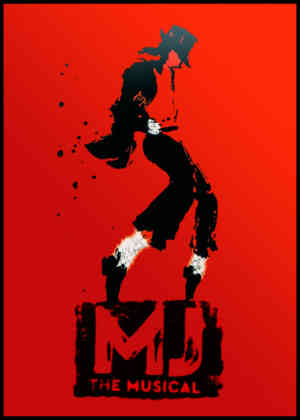 Previews Began: December 6, 2021

Opens: February 1, 2022

Show Closes: May 26, 2024
Jukebox musical about Michael Jackson preparing for his 1992 "Dangerous Tour" amid his pain killer drug addiction and during the time of the allegations of child molestation
…more
Get Tickets
Neil Simon Theatre History
The Alvin Theatre (later renamed to the Neil Simon Theatre) was opened in 1927 and named for Alex Aarons and Vinton Freedley who produced a string of hits such as Lady Be Good, Tip Toes and Oh Kay, with scores by George and Ira Gershwin. The producers lost control of the Alvin Theatre in 1932, due to the failure of the show Pardon My English and the Great Depression that engulfed the U.S. in the early thirties. The Shubert Organization purchased the Alvin Theatre, and in 1983 named it the Neil Simon Theatre for one of the world's most successful playwrights. Neil Simon has four Tony Awards, two Emmys, a Screen Writers Guild Award, and a Pulitzer Prize. Neil Simon had back to back productions at the theatre in the 1980s and the Neil Simon Theatre is now part of the Nederlander Organization.
Neil Simon Theatre Design
The Neil Simon Theatre has a red brick facade, dominated by three double height arched windows. It was built with a spacious lobby in black marble. The auditorium is wide and deep with a single balcony.