Betrayal
Broadway Show Tickets: Show Closed No Longer Available
Betrayal on Broadway: Show Is Now Closed
Show Status: Closed

Genre: Play - Revival

Betrayal is 1 hour and 30 minutes long, including an intermission of 15 minutes

8 Shows per week

Previews Began: August 14, 2019

Show Opened: September 5, 2019

Show Closed: December 8, 2019
The story of a forbidden affair that is told in reverse chronological order, starting from the end of a marriage to the first spark of the relationship.

Betrayal

on Broadway Background
The play Betrayal was first penned in 1978 and is often regarded as one of the late playwright Harold Pinter's quintessential dramatic works. The plot follows a seven year long extramarital affair and the layers of betrayal performed by both of the cheating spouses from two families. Pinter drew much of the play's inspiration from his own life, as he too was involved in a seven year long extramarital affair with the married BBC Television presenter Joan Bakewell. The play made its world premiere in 1978 at the National Theatre Hall with the assistance of the legendary English director Sir Peter Hall. Two years later, Hall would direct the play once more during its Broadway debut in 1980 at the Trafalgar Theatre (now the Nederlander Theatre). Since Betrayal's world premiere, the play has been revived on four separate occasions throughout the London theatre scene and once on Broadway. The show has also been translated and performed for audiences across the globe, having had adaptations in countries such as Israel, Argentina, and Italy and has even been performed in China, albeit in Hong Kong. The 2019 London revival featured an all-star cast of actors including the likes of Tom Hiddleston, Charlie Cox, and Zawe Ashton. This rendition of the dramatic play was met with critical success in the UK and has now transferred to the Broadway stage landing at the Bernard B Jacobs Theatre, with the same creative team and cast of actors behind the London revival.
Betrayal tells the tale of an extramarital affair that spanned seven years and the deterioration of the relationships of its key players, all told in reverse chronological order. The play starts in 1977, two years after the lovers Jerry and Emma have decided to end their affair. The two have not spoken since their break-up and Emma reveals that she has begun a new affair with one of Jerry's agency clients and that she and her husband Robert have now gotten a divorce. Later that day, Jerry meets with Robert and it is confessed that Robert knew of Emma's infidelity for years. Starting at this bleak moment in the lives of everyone involved, time begins to rewind year by year, giving the audience an innovative glimpse into the inner workings of Emma and Jerry's affair. Their years of betrayal to their own spouses, each other and even themselves, set the scene for the events to come.
Is
Betrayal

Good for Kids?
This play discusses many adult topics such as infidelity and the betrayal of loved ones. The show also may be confusing to some younger viewers due to the reverse chronology of the plot, thus the show is not recommended for children under the age of 13.
Bernard B Jacobs Theatre
242 West 45th Street
New York, NY 10019
Entrance:
45th Street, between 8th and Broadway
Theatre Information
Betrayal Marquee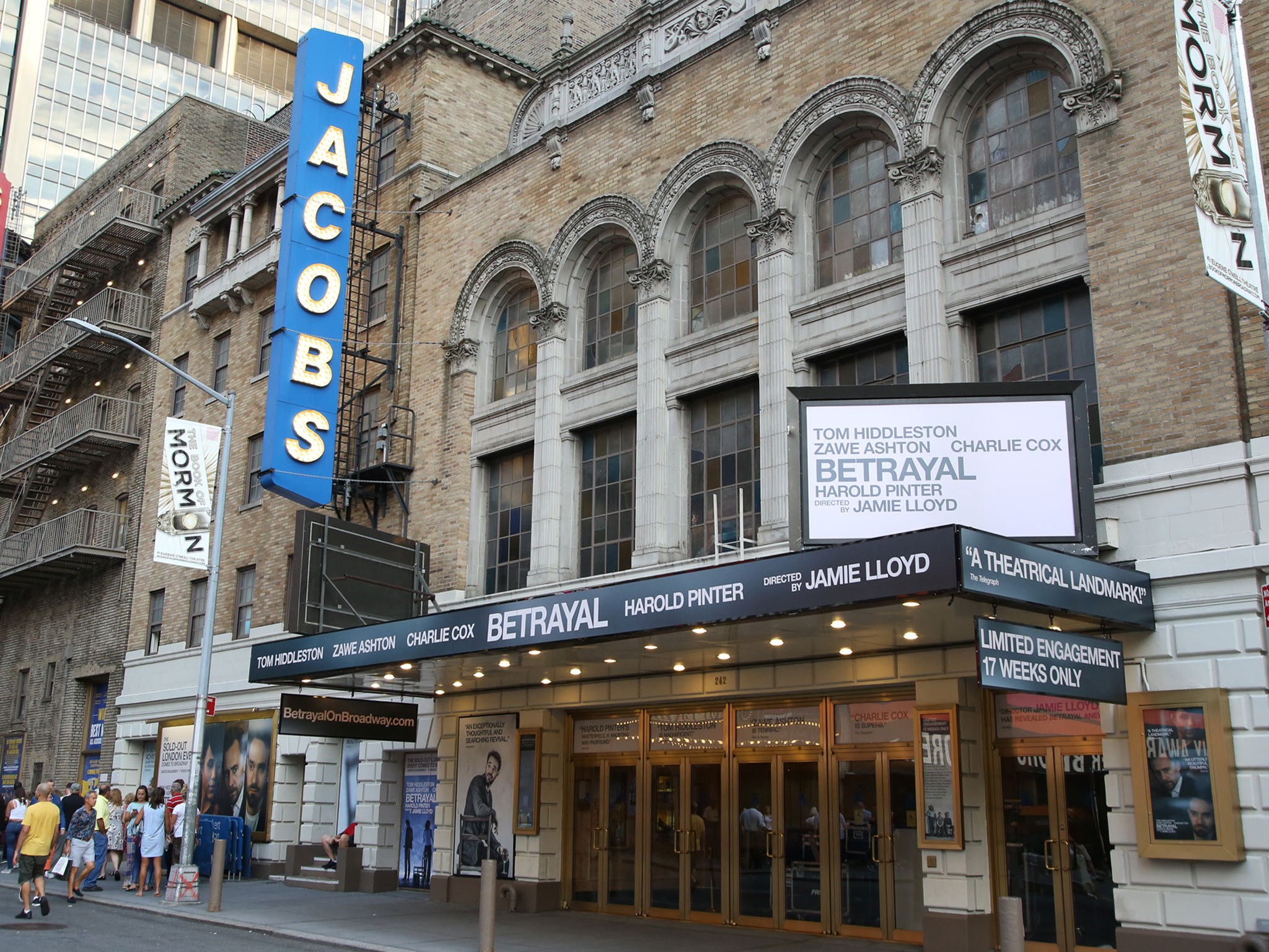 Glass Half Full Productions
General Manager

101 Productions
Company Manager

101 Productions
Production Manager

Aurora Productions
Casting Director

Jim Carnahan Casting
Advertising Representative

AKA NYC
Production Stage Manager

Frank Lombardi
Original Music

Ben Ringham
Original Music

Max Ringham