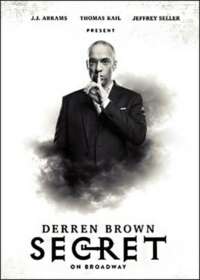 Derren Brown: Secret
Broadway Show Tickets: Show Closed No Longer Available
Derren Brown: Secret on Broadway: Show Is Now Closed
Derren Brown: Secret

Summary
Show Status: Closed

Genre: Magic Show

Derren Brown: Secret is 2 hours and 30 minutes long, including an intermission of 15 minutes

8 Shows per week

Previews Began: September 6, 2019

Show Opened: September 15, 2019

Show Closed: January 4, 2020
Enchanting magic performance by UK's Darren Brown, who challenges the physical world with miraculous illusions and his supernatural mind-reading abilities.
Derren Brown: Secret

on Broadway Background
Derren Brown: Secret is a magic show which was created by the United Kingdom's own Derren Brown and was written with two other magicians; Andy Nyman and Andrew O'Connor. Brown has had many successes on stages around the world and on television with his illusionist and mentalist magic shows which includes running a sold out show of the same name, in an off- Broadway production by the Atlantic Theatre Company that he headlined in 2017. Brown was also named "Magician of the Year" in 2017 by the Academy of Magical Arts and is hosting this show, making this his Broadway debut. His fellow creators also have their own accolades, Nyman was inducted into the well-respected "Inner Magic Circle" in 2008 and O'Connor has won two "British Academy of Film and Television Arts" Awards (BAFTA) for his work on The Peep Show and The Quick Trick Show. O'Connor also won the prize for "Best Comedy Film" at the world renowned Miami Film Festival in 2016. This magic/ mentalist/ illusionist show is produced by the Emmy award winning and great American filmmaker J.J. Abrams.
What's
Derren Brown: Secret

Like?
This Broadway performance is a perplexing yet captivating magical experience presented by UK's sensational Derren Brown, a self-proclaimed "Psychological Illusionist". Throughout the show Brown wows the audience with thrilling visuals, making large objects materialize with fire and illusion right in plain sight! He also assists willing audience members with on stage levitation, then fantastically and unexpectedly makes them disappear briefly and reappear completely unharmed. Nearing the end of the show Brown does what he does best, he breaks through his subconscious mind and reveals fun and strange secrets of individuals with his natural charm and extraordinary, yet uncanny mind reading abilities.
Is
Derren Brown: Secret

Good for Kids?
This enchanting theatrical experience is perfect for children over the age of eight, due to its exciting and lively nature. As a warning the background music of the show can be sudden and intense at times which may shock easily agitated minors and may even shock easily frightened adults as well.
James Earl Jones Theatre
138 West 48th Street
New York, NY 10019
Entrance:
48th Street between 6th and 7th Avenues
Theatre Information
Derren Brown: Secret Marquee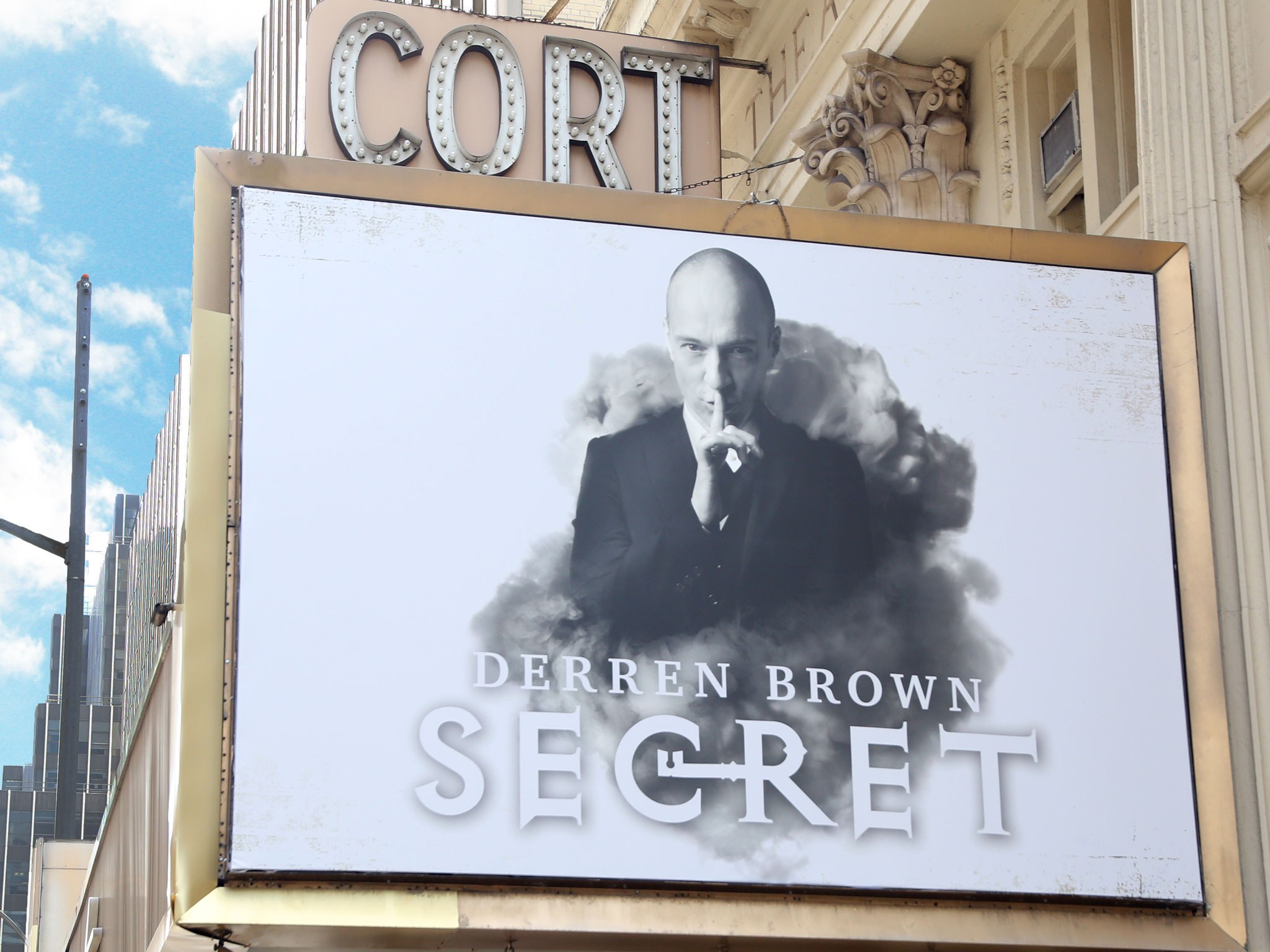 General Manager

Baseline Theatrical
Press Agent

Rubenstein Communications