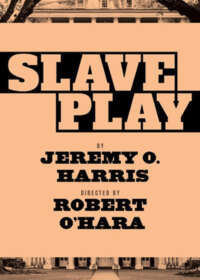 Slave Play
Broadway Show Tickets: Show Closed No Longer Available
Slave Play on Broadway: Show Is Now Closed
Show Status: Closed

Genre: Play

Slave Play is 2 Hours 15 Minutes long, and does not have an intermission.

8 Shows per week

Previews Began: November 23, 2021

Show Opened: November 23, 2021

Show Closed: January 23, 2022
Satirical yet sophisticated play, with a modern twist, about the sexual experiences of three interracial couples during the civil war era of slavery.
Slave Play

on Broadway Background
Slave Play is a powerful play written by Jeremy O. Harris, a playwright who has made a name for himself through several off-broadway successes. His shows often center around sexually intimate couples thrust into socially unacceptable situations.
This format can be seen in his previous play Daddy, which follows a heterosexual man who is seduced by a male artist and must come to terms with his newly found sexuality and family issues.
Slave Play Off-Broadway Tryout
Before Slave Play made its Broadway debut, it made its world premiere off-broadway in the NYTW Theatre on 4th Street in NYC. The short-lived performance was met with critical acclaim, enough so to warrant a full fledged adaptation for the Broadway stage.
Slave Play features the Broadway debut of award winning director Robert O'Hara, the same man responsible for directing the off-broadway rendition of the play. O'Hara broke into the industry with his first play Insurrection: Holding History, which went on to win him the Oppenheimer Award for "Best New American Play". More recently O'Hara received a Lambda Literary Award for "LGBT Drama" for his play Bootycandy, that is an anthology show centered around the struggle of being a black gay man in America in the 21st Century.
Slave Play Previous Broadway Engagement:
Slave Play previously ran on Broadway at the John Golden Theatre from 10/6/2019 to 1/19/2020. Its preview performances began on 9/10/2019.
Slave Play had a noteworthy performance In December 2019 when the curtain was held for 45 minutes to allow pop superstar Rihanna to attend the show. Apparently she was running late from a hair appointment uptown. The shows writer, Jeremy O Harris, was such a huge fan of Rihanna, that he was quoted as saying that the show does not open until Rihanna is seated.
Slave Play Conducts No-Whites Nights
Slave Play playwright Jeremy O. Harris hosted a number of performances of the show where white people are barred and only black people are allowed into the theatre. Dubbed Black Out, the performances only allowed an all-Black-identifying audience to enter. They also encouraged them to discuss the show and other events in the performing arts, film, athletic, and cultural spaces – while free from white gaze. The first two all-black nights were September 18, 2019 and January 8, 2020, but other "BLACK OUT" events have organically taken hold.
Harris Appears To Be Encouraging Segregation by Race
Harris encourages more Blacks only nights and hopes that the idea will spread to other mediums like movies, restaurants, museums and attractions. He also hopes that this outreach will "snowball into more representation of Black bodies, both onstage and off." It is unclear is Harris would like the idea to spread to public transportation, parks and stores.

Slave Play is a three act play following the sexual frenzy of three interracial couples set on the MacGregor Plantation near Richmond, Virginia in 1859.
The first couple introduced includes a slave girl, Kaneisha, and her white overseer, Jim. Kaneisha is reserved and slightly frightened while in Jim's presence, but Jim attempts to set her mind at ease. The two soon develop a mutual love for each other and a sexual relationship develops. The affair soon begins to reflect the societal roles that both parties were born in to and those are the true chains of bondage.
The second couple involves the white mistress of the plantation, Alana, and her personal slave, Philip. Alana often demands that Philip play her traditional African music on a violin, but she quickly becomes more forward, putting Philip in sexually demeaning positions for her perverse pleasure.
The final couple involves a white indentured servant named Dustin, and the black slave in charge of him, Gary. Their sexual relationship develops as the two come to terms with their own sexuality and the reverse societal relationship they have been placed in.
Though all three affairs are fairly independent of each other, they all share similar thematic narratives of fear and desire culminating into a dangerous relationship at the Master's House.
Is
Slave Play

Good for Kids?
This play contains nudity, sexual content, and racially violent language. This show is not suitable for children under the age of 17 and may be shocking to those afflicted with puritanical values.
August Wilson Theatre
245 West 52nd Street
New York, NY 10019
Entrance:
52nd Street, between 8th Ave and Broadway
Theatre Information
Slave Play Marquee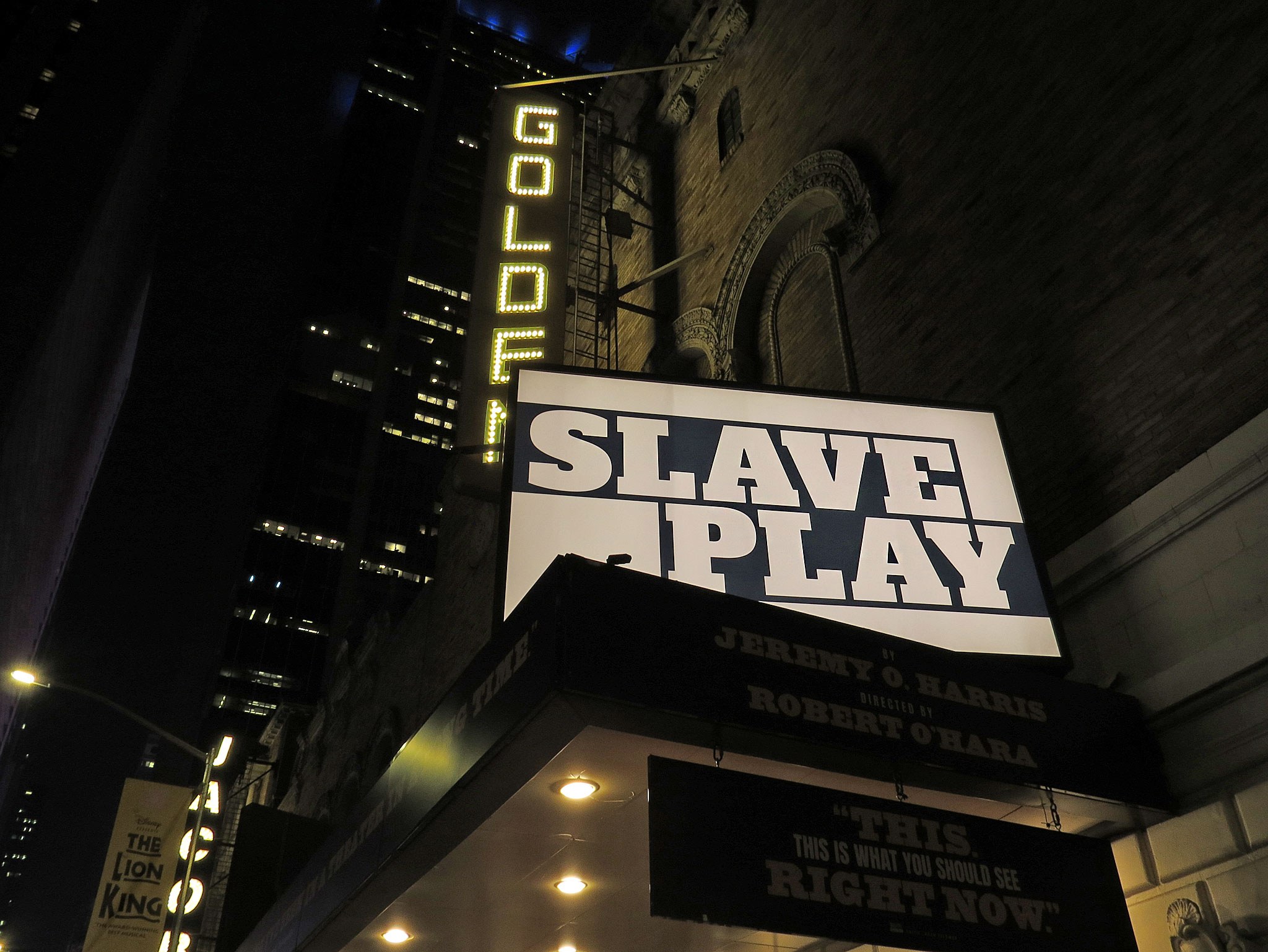 Dustin

James Cusati-Moyer
Kaneisha

Joaquina Kalukango
Patricia

Irene Sofia Lucio
General Manager

Mark Shacket