Special Events Scheduled To Promote "Grace"
The New Broadway Play Grace Is Taking Steps To Promote Itself, Including An Appearance In Soho And A Series Of Talkback Sessions, Featuring Elizabeth Gilbert And Reverend Stephen Phelps
---
Broadway Cast Gathers in SoHo for Special Event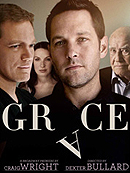 New Broadway plays, which rarely get the exposure of more splashy, tourist-friendly musicals, can use all the promotional opportunities that they can get. To get some extra notice, the brand new Broadway play Grace has scheduled notable events for the month of October. Right on the heels of the extremely high-profile release of the iPhone 5, the cast of Grace will make an appearance at the Apple Store in SoHo on Monday, October 8 from 7-8 pm. Appropriately, the Apple Store has its own small theater, where cast members Paul Rudd, Ed Asner, Michael Shannon, and Kate Arrington will discuss the show with CNN's Shanon Cook, who will serve as moderator.
Members of the public are welcome to attend the free event, and there will also be a Q&A segment. (For those who can't make it, the discussion will be recorded for a future podcast.) Grace is also launching a talk back series to be held following Wednesday evening performances of the play, beginning with the October 10 performance. For that talk back, theater journalist Patrick Pacheco will moderate a discussion with the entire cast of the show.
Broadway Play Puts Focus on Faith
The following talkback, on October 17, will feature Eat Pray Love author Elizabeth Gilbert and Reverend Stephen Phelps (of NYC's Riverside Church) in a discussion about the play's themes of faith and religion. The October 24 post-show discussion will also focus on issues of faith, as Marble Collegiate Church's Dr. Michael Brown, who served as a consultant on Grace during rehearsals, will participate in the talk back.