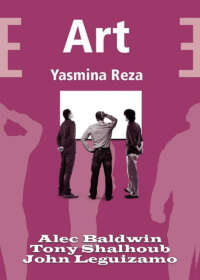 Art
Broadway Show Tickets: Not Currently Available
Discount Broadway Tickets For Art - This Show Is Now Shelved
Show Status: Shelved

Genre: Play

Art is 115 minutes long, including an intermission of 15 minutes

8 Shows per week

Show Closes: Open ended
The translated French-language comedic-play raises questions about the true meaning of art and examines the friendship between three long-time friends.
Art

on Broadway Background
Alec Baldwin Set To Make Return To Acting
Alec Baldwin is set to make his return to acting this season albeit through this Broadway show. The actor has not performed since the the fatal 2021 shooting of cinematographer Halyna Hutchins during filming of the indie movie "Rust" in New Mexico.
Baldwin was both the lead actor and producer on that movie. Baldwin was holding an on-set gun loaded with live ammunition that went off that killed Hutchins during filming.
Federal Charges Against Baldwin May Materialize
New Mexico's Office of the Medical Investigator concluded in August 2022 that the shooting was an accident. Baldwin claimed he did not pull the trigger. A conflicting FBI report, however, said the trigger must have been pulled by Baldwin. Prosecutors have not determined if charges should be filed, leaving this show opening in jeopardy.
Heavy Hitters Join Baldwin on Stage
Heavy hitters Tony Shalhoub and John Leguizamo , while Tony winner Matthew Warchus has signed on as director.

Art History
Art is a French-language play by Yasmina Reza that premiered in 1994 at Comédie des Champs-Élysées in Paris. The play subsequently ran in London in 1996 and on Broadway in 1998. This production is performed in English.
Show Lacks Traditional Play Structure
The play is not divided into acts and scenes in the traditional manner, but the show does fall into 17 sections. Some of these sections are dialogues between two characters, several are monologues where one of the characters addresses the audience directly, and one is a conversation among all three.
At the beginning and end of the play, and for most of the scenes set in Serge's flat, the large infamous white painting is on prominent display.
The translated French-language comedy play raises questions about art and friendship between three long-time friends, Serge, Marc, and Yvan.
Serge indulges his love of modern art when he buys a large, expensive, but completely white painting. His friend Marc is horrified at the purchase, and their relationship suffers considerable strain as a result of their differing opinions about what constitutes "art".
Their mutual friend Yvan, is caught in the middle of the conflict, when he tries to please and mollify both of them.

The show offers a lot of dry humor that adults may enjoy but were not intended for younger audiences
James Earl Jones Theatre
138 West 48th Street
New York, NY 10019
Entrance:
48th Street between 6th and 7th Avenues
Theatre Information