Music Box Theatre
239 West 45th Street, New York, NY 10019
Music Box Theatre Information, Shows and Tickets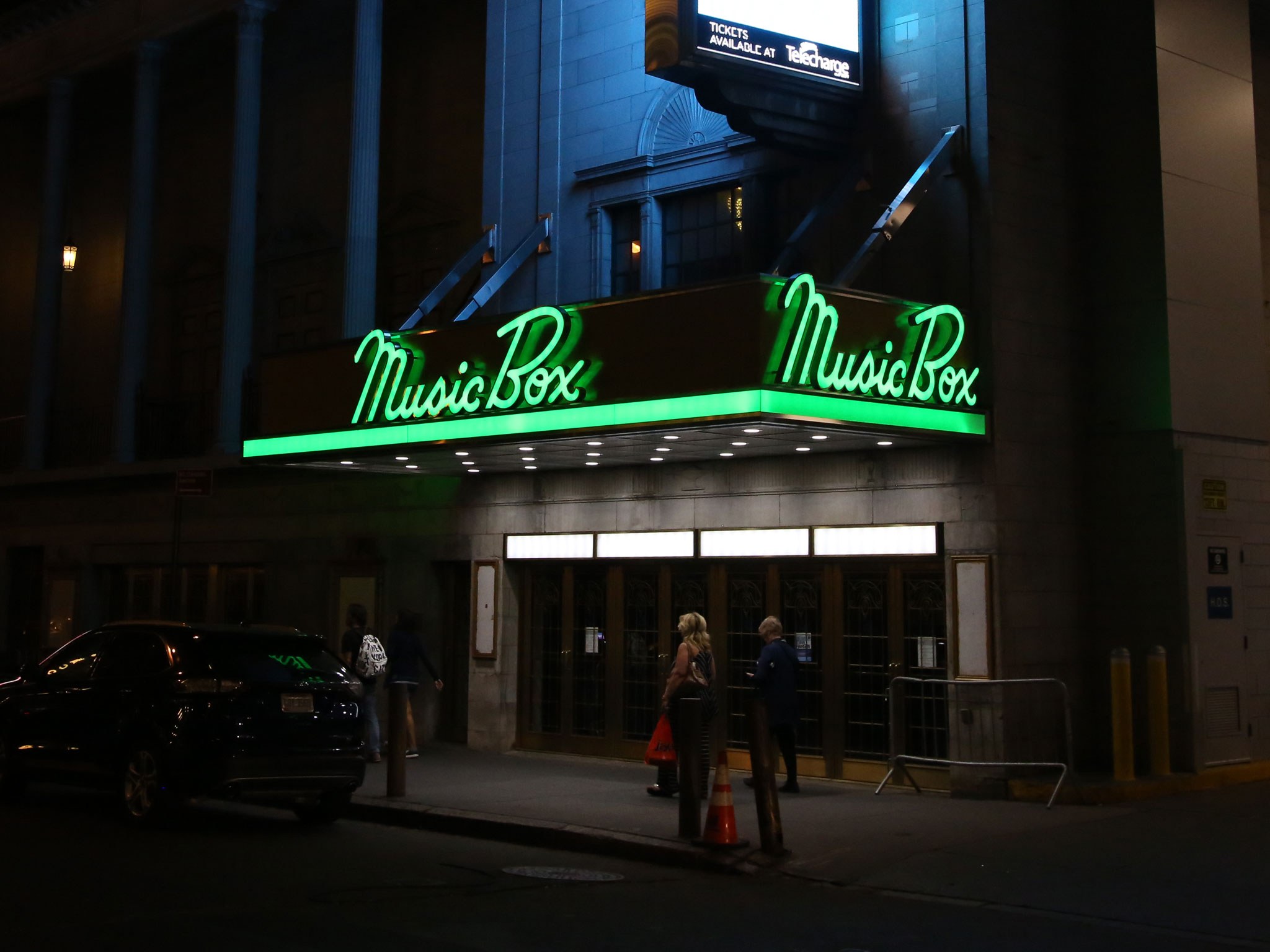 Directions:

By Subway, take the A/C/E to 42nd Street, walk north on Eight Avenue and then turn right onto 45th Street. Or take the 1/2/3 to 42nd Street, walk north on Seventh Avenue and then make a left onto 45th Street.

Entrance:

45th Street, between 8th and Broadway

The Music Box is located on the north side of 45th Street between Broadway and Eighth Avenue.

Box Office Hours:

Monday - Saturday:

10am - 8pm

Sunday:

Noon - 6pm
You'll be happy with nearly any seat in this cozy house, but as with most theaters, center orchestra and the front mezzanine are tops.
Music Box Theatre Seating Chart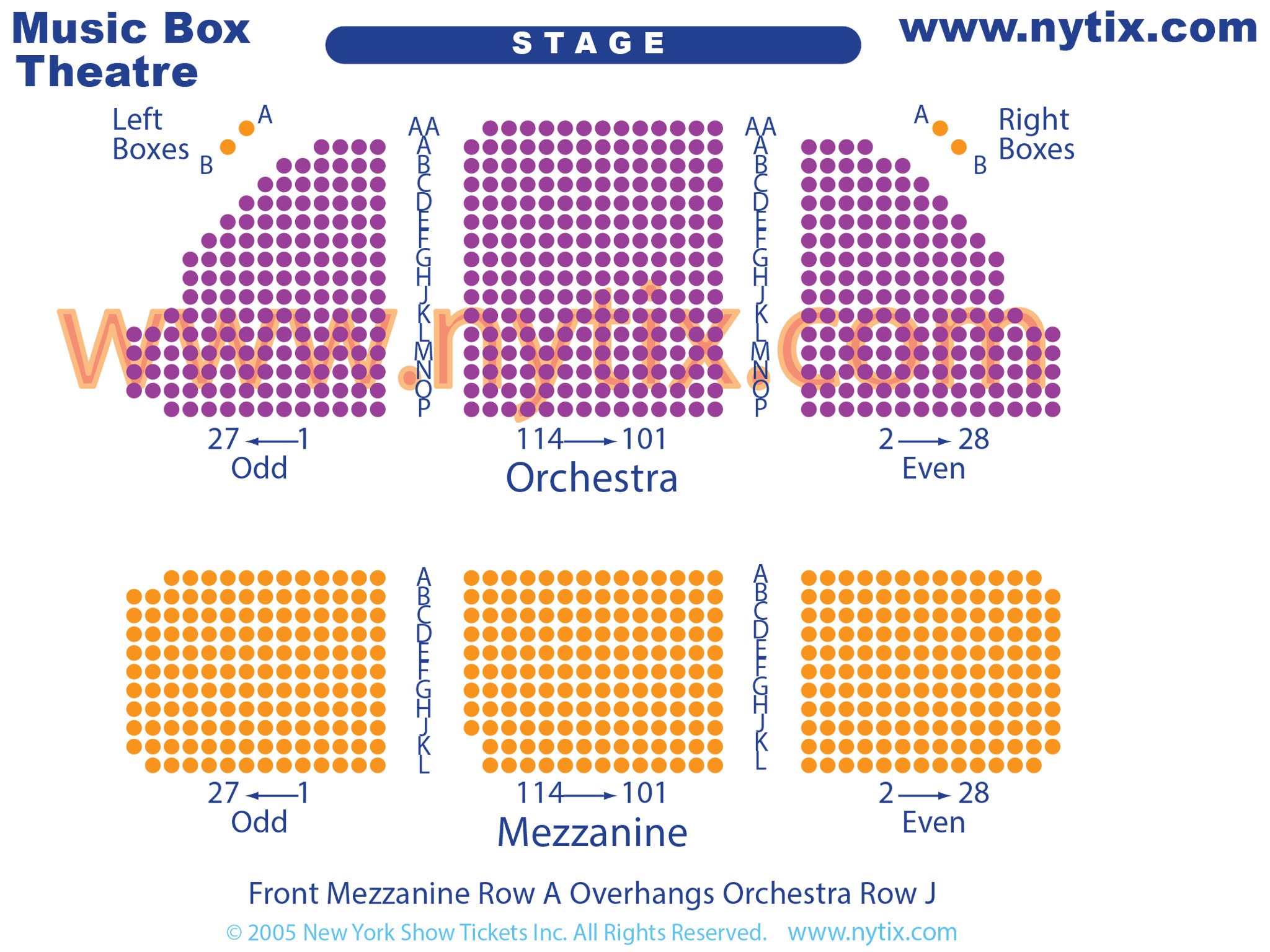 Parking for Music Box Theatre
The closest parking garages for Music Box Theatre are located at:
Champion Parking On West 45

251 West 45th Street
New York, NY 10036
212-819-1866
Quik Park Garage

303 West 46th Street
New York, NY 10036
212-586-8634
The closest parking is not always the best as it often takes longer to park and retrieve your vehicle as fellow theatre goers have the same idea. A better choice of parking may be the second choice or further away by a couple of Avenues.
Additional Notes
Landlord: Shubert Organization
Official Ticketer: Telecharge
Notes:
Composer Irving Berlin was once co-owner of this theater, and many of his revues appeared here.
Elevator: No
Escalator: No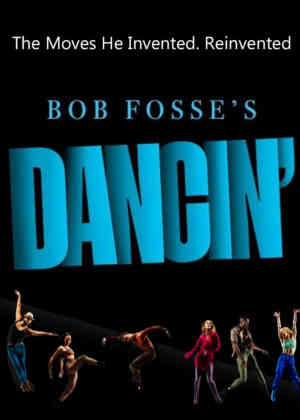 Previews Began: March 2, 2023

Opens: March 19, 2023

Show Closes: Open ended
Originally devised by Bob Fosse in 1978, this show is much like a dancing version of a vinyl musical album. The show is an anthology of dance vignettes that use
…more
Get Tickets
Music Box Theatre History
The Music Box Theatre opened in 1921 with the Music Box Revue, featuring songs by then popular (and now legendary) composer/lyricist Irving Berlin.
The theatre was built by Berlin and producer Sam H. Harris specifically to house these revues, and the theater hosted a new one every year until 1925 when it presented its first play, Cradle Snatchers, starring Humphrey Bogart. At 1,010 seats, the space was perfect for these sorts of lavish revues, as well as the large cast plays that were also popular during the Great Depression Era.
The celebrated playwriting team of George S. Kaufman and Moss Hart had a string of hits here, from their first collaboration Once in a Lifetime to their smash The Man Who Came to Dinner. And Berlin wasn't the only great composer of the time to have his music play in the Music Box -- Cole Porter and the Gershwins also had shows here.
In the 1950s, playwright William Inge found a theatrical home at the Music Box Theatre, where he had success with Picnic, Bus Stop, and The Dark at the Top of the Stairs. Since then, offerings have been as varied as the musical revue Side By Side By Sondheim, the long-running murder mystery Deathtrap, and the 1996 stage version of the Rodgers & Hammerstein movie musical State Fair. But no matter what plays at the Music Box, it remains one of the most prized jewels of the Great White Way.
The most aptly named theater on Broadway, the lovely and intimate Music Box was designed by architect C. Howard Crane. The interior is charming and tastefully decorated, and the theater's box seats are notable for being unusually large and round (recent Music Box Theatre resident Dame Edna referred to them lovingly as "ashtrays").
There is a handsome downstairs lounge with some nice wall paintings, and the bathrooms are roomy. In the lobby is a plaque and wall exhibit commemorating the rich history of Irving Berlin and the Music Box Theatre.