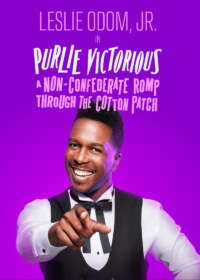 Purlie Victorious
Discount Broadway Tickets
Purlie Victorious

Summary
Show Status: Currently playing at the Music Box Theatre

Genre: Comedy

Purlie Victorious is 1 hours 45 minutes long, and does not have an intermission.

8 Shows per week

Previews Began: September 7, 2023

Show Opened: September 27, 2023

Show Closes: February 4, 2024
Hamilton alum Leslie Odom Jr. stars in this satire set in the Old South, with the title-character, a preacher, hoping to run an integrated church and facing a bigoted plantation owner.
Purlie Victorious

on Broadway Background
"Purlie Victorious: A Non-Confederate Romp Through the Cotton Patch" marks the return of Leslie Odom Jr. to Broadway since his departure from Hamilton in 2016. This is Odom's first Broadway role since his Tony Award-winning turn as Aaron Burr in "Hamilton."
1961 Revamped Comedy Originally Written By Ossie Davis
This show will mark the first revival of the comedy by Ossie Davis, since 1961.
The Broadway show was later made into the 1963 film Gone Are the Days!
The 1961 Original Show Was Booted From Its Theatre By The Shubert Organization

The show originally played at the Cort Theatre (Sep 28, 1961 - Nov 18, 1961), but was unceremoniously booted out its theatre by Charles Flateman. The show then played at the Longacre Theatre (Nov 20, 1961 - May 13, 1962), where it was allowed finish off its run, without further interference from The Shubert Organization.

Show Was Made Into An Off-Broadway Musical in 1970
The original play is the basis for the 1970 musical version of the show "Purlie" that ran off-Broadway.
2023 Production Heads Into The Music Box Theatre
The 2023 production heads into the Music Box Theatre. Both the Longacre theatre and the Cort Theatre, nearly 62 years since its debut on Broadway, are still unavailable for this show.

What's
Purlie Victorious

Like?
The show is a satire set in the Old South, with the title-character Purlie, a preacher, hoping to run an integrated church but is faced with a bigoted plantation owner.
Big Bethel Church Needs Saving
Dynamic traveling preacher Purlie Victorious Judson returns to his small Georgia town hoping to save Big Bethel, the community's church, and emancipate the cotton pickers who work on oppressive Ol' Cap'n Cotchipee's plantation.
Prying Loose The Inheritance
With the assistance of Lutiebelle Gussie Mae Jenkins, Purlie hopes to pry loose from Cotchipee an inheritance due his long-lost cousin and use the money to achieve his goals. Fortunately, Cotchipee's son Charlie proves to be far more fair-minded than his brutal father, saving the church from destruction with a brave act of defiance.
Is
Purlie Victorious

Good for Kids?
The show has depictions of slavery and associated abuse and is suitable for children over the age of 16 years old
Purlie Victorious

Ticket Lottery and Rush Schedule

Every day there are discounted Broadway show tickets sold as part of the Broadway ticket lotteries or as Rush Tickets Tonight. Tickets are only valid on-the-same-day of the drawing. The following is the daily schedule of the ticket lottery and RUSH ticket pricing.
Online Lottery
Monday, 9:00am
Tuesday, 9:00am
Wednesday, 9:00am
Thursday, 9:00am
Friday, 9:00am
Saturday, 9:00am
Music Box Theatre
239 West 45th Street
New York, NY 10019
Entrance:
45th Street, between 8th and Broadway
Theatre Information
Purlie Victorious Marquee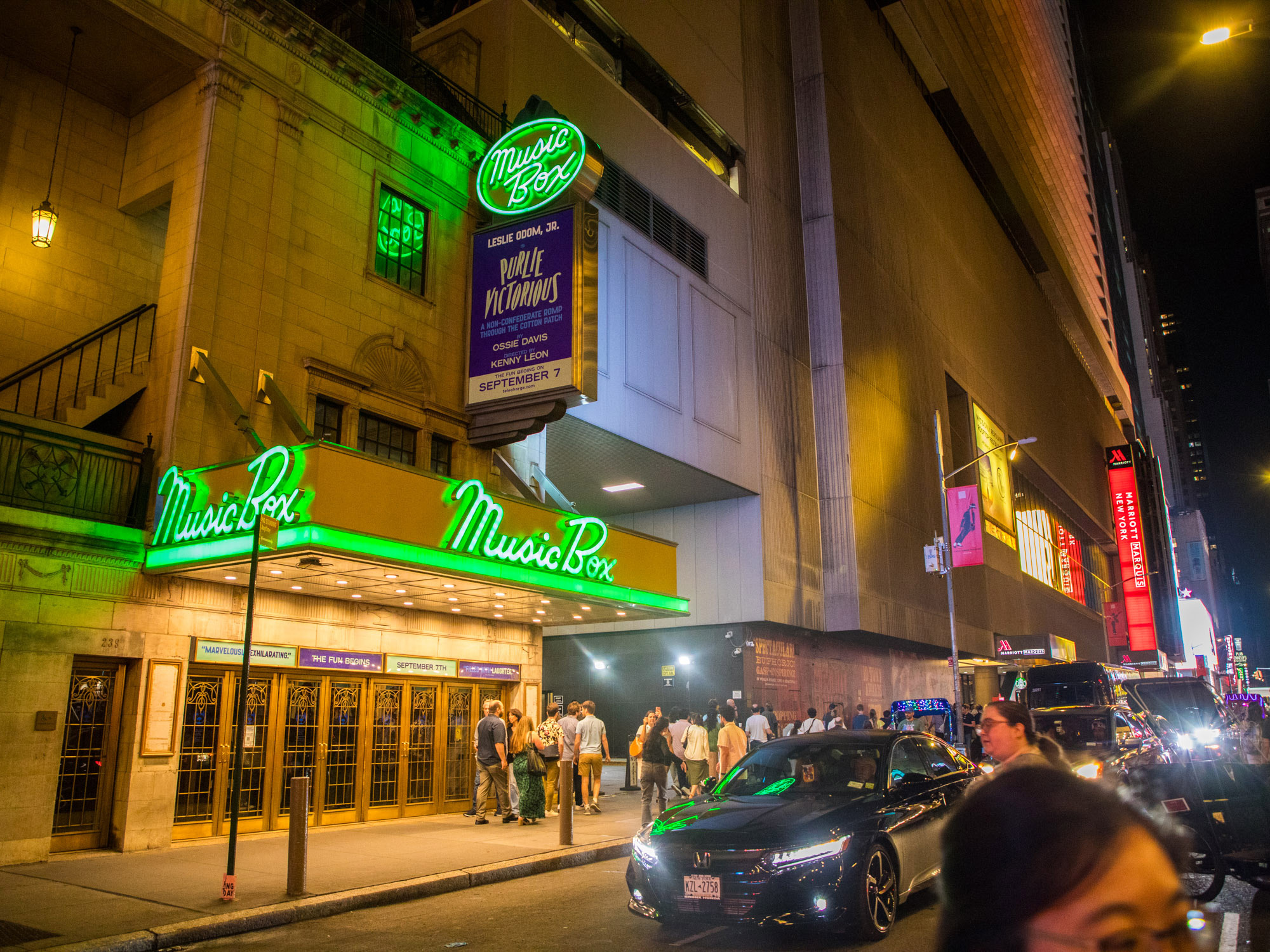 Idella Landy

Vanessa Bell Calloway
Gitlow Judson

Billy Eugene Jones
Charlie Cotchipee,

Noah Robbins
Ol' Cap'n Cotchipee

Jay O. Sanders
Missy Judson

Heather Alicia Simms
Lutiebelle Gussie Mae Jenkins

Kara Young
Scenic Design

Derek McLane
Costume Design

Emilio Sosa
Lighting Design

Adam Honoré