Broadway Show Ticket Sales Analysis w/e 7/14/2013
This Week On Broadway, Alan Cumming's Macbeth Closes With Increased Sales At $389,845, While First Date, Starring Zachary Levi, Begins With A High Capacity But Lower Average Ticket Price
---
Small Bump in Broadway Revenue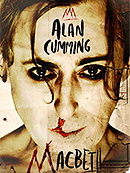 Following a disappointing (though predictable) Independence Day-fueled decrease in total Broadway ticket sales last week, when the totals came in at $22,845,376, this week saw a slight bump up with overall Broadway earnings adding up to $23,190,352.
Macbeth Increases Sales in Last Week on Broadway
William Shakespeare's tragedy Macbeth, as told by Alan Cumming in his (nearly) one-man version, had a less-than-tragic end as the production concluded this past Sunday. The production, which was showing some of the lowest numbers on the Broadway earnings chart, enjoyed better sales in its final week. The show's total take was $389,845 (almost $100,000 higher than the previous week), filling the theater to 80.09% capacity and earning an average paid admission of $77.86. With Alan Cumming's Macbeth now concluded, this paves the way for a new Broadway production of 'the Scottish play' starring Ethan Hawke, which will be opening this season.
First Date Has its First Week on Broadway
The new musical First Date starring Zachary Levi (TV's Chuck) began preview performances this week. Though quite a few people showed up, filling the theater to 91.41% capacity, not many people wanted to pay much for this First Date -- the average paid admission was only $52.23. The low average was probably due to heavy discounting and papering while the production tries to get on its feet.
The Following are the Broadway Grosses from the Week Ending July 14, 2013: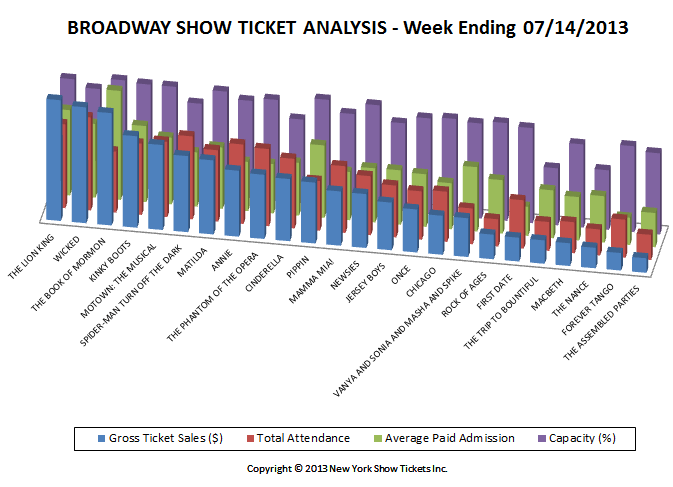 | | | | | |
| --- | --- | --- | --- | --- |
| Show Name | GrossGross | TotalAttn | %Cap | AvgPdAdm |
| ANNIE | $1,131,833 | 12,807 | 93.73% | $88.38 |
| CHICAGO | $668,609 | 8,096 | 93.70% | $82.59 |
| CINDERELLA | $1,066,168 | 11,220 | 80.10% | $95.02 |
| FIRST DATE | $408,245 | 7,817 | 91.41% | $52.23 |
| FOREVER TANGO | $300,253 | 6,133 | 82.61% | $48.96 |
| JERSEY BOYS | $816,847 | 8,366 | 85.16% | $97.64 |
| KINKY BOOTS | $1,567,997 | 11,480 | 100.77% | $136.59 |
| MACBETH | $389,845 | 5,007 | 80.09% | $77.86 |
| MAMMA MIA! | $930,816 | 10,756 | 89.75% | $86.54 |
| MATILDA | $1,271,034 | 11,515 | 100.52% | $110.38 |
| MOTOWN: THE MUSICAL | $1,456,066 | 12,145 | 100.74% | $119.89 |
| NEWSIES | $923,780 | 9,511 | 100.33% | $97.13 |
| ONCE | $737,291 | 7,796 | 92.02% | $94.57 |
| PIPPIN | $1,044,078 | 8,017 | 101.22% | $130.23 |
| ROCK OF AGES | $421,964 | 4,387 | 94.06% | $96.19 |
| SPIDER-MAN TURN OFF THE DARK | $1,304,956 | 13,384 | 86.68% | $97.50 |
| THE ASSEMBLED PARTIES | $249,052 | 4,057 | 78.02% | $61.39 |
| THE BOOK OF MORMON | $1,926,077 | 9,846 | 102.63% | $195.62 |
| THE LION KING | $2,070,492 | 13,522 | 99.43% | $153.12 |
| THE NANCE | $350,925 | 4,202 | 57.34% | $83.51 |
| THE PHANTOM OF THE OPERA | $1,101,647 | 12,427 | 96.78% | $88.65 |
| THE TRIP TO BOUNTIFUL | $400,813 | 4,669 | 54.90% | $85.85 |
| VANYA AND SONIA AND MASHA AND SPIKE | $665,076 | 5,761 | 91.50% | $115.44 |
| WICKED | $1,986,489 | 15,005 | 92.16% | $132.39 |
| Totals: | $23,190,352 | 217,926 | 89.40% | $101.15 |
Broadway ticket sales raw data are provided courtesy of The Broadway League All other data, text, opinion, charts and commentary are copyright © 2012 nytix.com
Discount Broadway Tickets
---
---