A Cast of Thousands in New Production of Cats
Over 3,000 Performers Will Take Part In A Spectacular One-Time-Only Production To Celebrate The 25th Anniversary Of Cats On March 24, 2013.
---
25th Anniversary Of "Cats" Spectacular One-Time-Only Show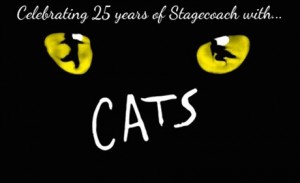 A staple of Broadway for many years, the famed Andrew Lloyd Webber musical Cats (based on poet T.S. Eliot's Old Possum's Book of Practical Cats) is soon to have its biggest staging yet.
Stagecoach Theatre Arts will be celebrating its 25th anniversary in spectacular fashion by putting on a one-time-only production of Cats on March 24 that will feature over 3,000 performers.
Over 3,000 Performers
To be held in Birmingham, England at the U.K.'s National Indoor Arena, the performance will have a main cast of 500 singers and 50 dancers, and they will be accompanied by 2,500 young performers, ranging from ages 7 to 18.
"I'm absolutely thrilled that so many young people will be able to take part in this very special performance of Cats," said Andrew Lloyd Webber in a statement. "Happy 25th Birthday Stagecoach and thank you for giving your students the opportunity to perform the show in such a spectacular way."