Twelfth Night Officially Opens in Central Park Tonight
---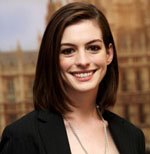 The Public Theater's first Shakespeare in the Park production of the summer,
Twelfth Night
, opens at the Delacorte Theater in Central Park tonight. The play, which is one of the Bard's most enduring comedies (and was last produced in the park in 2002), began performances on June 10 and will run through July 12. Although this production doesn't officially open until this evening, the buzz on it during previews is some of the most positive word-of-mouth on one of the Public's Shakespeare in the Park shows in years.
Twelfth Night
stars Anne Hathaway as Viola, a young woman who dresses up as a young man so that she can work for Orsino (Raul Esparza), the duke who is in love with mournful Lady Olivia (Audra McDonald), who in turn falls in love with the cross-dressing Viola. Also taking part in the wacky antics is Jay O. Sanders as Toby Belch, Julie White as Maria, Hamish Linklater as Sir Andrew, and Michael Cumpsty as Malvolio. The production is directed by Daniel Sullivan, and Brooklyn folk-rock group Hem has set Shakespeare's many songs in the play to music.