New Off-Broadway Theater Opening Right in Times Square
Silence! The Musical Will Be Getting A New Theatre As The Elektra Theatre Gets A Prime Spot Off-Broadway With Performances Beginning July 18th
---
Elektra Theatre Gets A Prime Spot-Off Broadway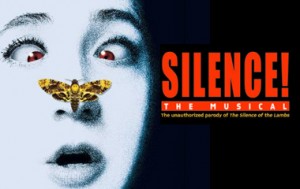 Silence! the Musical, the parody of The Silence of the Lambs that has become an Off-Off-Broadway hit downtown, has announced that it will be moving up to the theater district and into a newly renovated 199-seat theater space.
Located at 42nd Street and Eighth Avenue (across from scenic Port Authority), the Elektra Theatre boasts "plush stadium seats and the best sight lines of any theatre in New York City," according to a press release.
"Silence! The Musical" Begins Previews On July 18th
Being on the highly-trafficked West 42nd Street and just a stone's throw from the heart of Times Square could make the Elektra Theatre a prime spot for Off-Broadway shows since it is no more of a hike for tourists than the average Broadway theater. Admittedly that particular corner has a somewhat seedy vibe, but that might give it just the right edgy feel for a cult hit like Silence!
That block houses other performance spaces (used for comedy shows, specialty shows, etc.), but has seldom been used for more traditional theatrical performances, so it will be interesting to see whether or not the Elektra can successfully establish itself as a legitimate theater. Silence! the Musical will begin performances at the Elektra Theatre (673 Eighth Avenue) on Wednesday, July 18. Visit www.silencethemusical.com to find out more about the show.