Broadway's Grace Offers Special Election Eve Ticket Discounts
---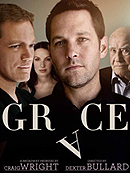 For those who are exhausted by the seemingly endless and often heated pre-election discussion, the new Broadway play
Grace
is offering special "Get Your Brain Off the Campaign" pricing for its election eve performance. For one night only, on Monday, November 5th at 7 pm,
Grace
will give theatergoers the opportunity to see the show at deeply discounted ticket prices. In honor of the much-discussed "47%", you can buy orchestra and mezzanine seats to see this performance of
Grace
for just $47. And the balcony seats for the November 5th performance are being sold at the very inexpensive and timely price of $20.12.
The November 5th election eve performance of Grace is a specially scheduled Monday night performance intended to replace the usually scheduled Tuesday performance on Tuesday, November 6th, which is election day. Grace stars Paul Rudd, Ed Asner, Michael Shannon, and Kate Arrington and plays at the Cort Theatre on Broadway. To purchase the low-priced tickets for November 5th, or to get tickets for another performance of Grace on Broadway, call 212-239-6200 or visit www.telecharge.com.