Broadway's A Christmas Story Announces Competition for Young Writers
A Christmas Story Partners With STOMP Out Bullying For A New Writing Competition In Which The Winner Will Receive A Walk-On Role
---
Broadway Is Ready To STOMP Out Bullying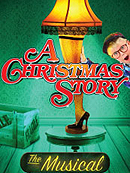 In partnership with STOMP Out Bullying, the family-oriented musical comedy A Christmas Story has announced the Young Writers Competition to End Bullying. 6th, 7th, and 8th graders are invited to submit stories (five pages or less) that talk about how their lives have been affected by bullying, whether it's a personal story, an incident that the writer witnessed, or an explanation of strategies they've used to avoid bullies.
Writers are asked to include at least one actionable idea that they think other kids, school administrators, or the community could implement in order to limit future bullying. Lots of Broadway-related prizes are being offered to the contest winners.
Winner Gets A Walk-On Role In "A Christmas Story"
The First Place prize winner gets a walk-on role in the Broadway production of A Christmas Story, the Musical, along with two tickets to the show, a backstage tour, a copy of the original cast album, and an award certificate. Second and Third Place winners get two tickets, the tour, a copy of the album, and a certificate.
Ten runners-up will receive copies of the original cast album and award certificates. This anti-bullying competition has a connection to the plot of A Christmas Story -- the Broadway musical's young hero, Ralphie, and his friends have multiple run-ins with a bully. Students in the NYC tri-state area are eligible to enter the contest. Entries must be received by December 8, 2012, and they can be emailed to antibullyingentry@gmail.com.