Broadway Stars at the 2014 Oscars
Posted on March 03, 2014
---
Last night, the 86th Annual Academy Awards crossed paths with Broadway in a number of ways.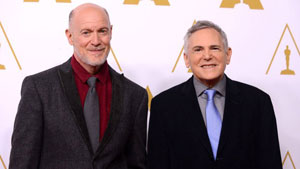 For the second year in a row, the event was produced by Craig Zadan and Neil Meron – who, in addition to having produced the recent Broadway revivals of How to Succeed in Business Without Really Trying and Promises, Promises, have perfected the Broadway musical to film adaptation concept with such movie hits as Annie (1999), Chicago (2002), The Music Man (2003), and Hairspray (2007). They also executive produced NBC's Broadway-themed TV show Smash. It does make sense that these producers, with their expertise in the cross-section between theatre and film, would be chosen to run the film industry's most significant stage show.
Last year, they may have taken the concept a little too far, as they made the unprecedented choice to give the 2013 Oscars a theme: music in film. Though it was arguably appropriate because one of the nominees was Les Misérables, some critics thought they took the idea too far. This year, they opted for a traditionally theme-less ceremony, and received far less criticism. Still, purely on their own merits, some of Broadway's favorite stars made appearances at the 86th Annual Academy Awards.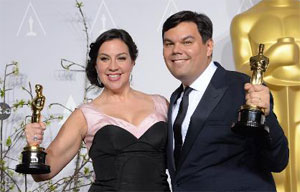 Robert "Bobby" Lopez, who made his big break by co-writing the raunchy puppet musical Avenue Q, and furthered his renown by co-writing The Book of Mormon along with South Park creators Trey Parker and Matt Stone, made history last night. At age 39, he became the youngest person ever to receive the honor known as EGOT – which refers to someone who has earned all four of "Emmy," "Grammy," "Oscar," and "Tony" Awards. Only twelve people have earned this honor throughout all of history, and he is the only person to have won all four within a decade. At last night's event, Bobby won the Academy Award for Best Original Song for having co-written Let It Go from Disney's film Frozen, which in turn won the Oscar for Best Animated Feature. He wrote the song along with his wife, Kristin Anderson Lopez. The couple's two young daughters, Kate and Annie, both had voice parts in Frozen.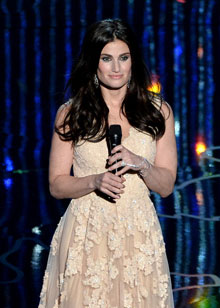 As is tradition at the Oscars, all the nominees for Best Original Song are performed at the ceremony by the artist who did so in the film. Idina Menzel, who played Queen Elsa in Frozen, therefore had the privilege to sing the song at last night's event – and she did so beautifully. However John Travolta, who was chosen to introduce her, clearly was not familiar with one of Broadway's biggest stars. In reading off the teleprompter, he accidentally – and yet with a straight face – called her "Adele Dazim." Social media went into an uproar at the ridiculous mispronunciation. Immediately, a twitter account in that name was created. Adele Dazim's Twitter account gained thousands of followers within a short period of time. The account is now currently suspended. Idina Menzel, as all Broadway aficionados know, rose to prominence when she premiered the role of "Maureen" in Rent, which she also reprised in the 2005 film adaptation, and she won the 2004 Tony Award for Best Actress in a Musical for her performance of "Elphaba" in Wicked. This spring season, she has returned to Broadway to star in a new musical called If/Then, written by Brian Yorkey and Tom Kitt, and directed by Michael Greif, who first cast her in Rent. If/Then will begin previews March 3, 2014, and will open at the Richard Rodgers Theatre on March 30, 2014. Therefore, Idina made the trip to Los Angeles just days before her big Broadway opening. Musicals were not the only type of Broadway show to feature in last night's Academy Awards. In addition, two nominations were granted to August: Osage County, written by Tracy Letts based off of his Pulitzer Prize and Tony Award-winning play of the same name. Those nominations were for Meryl Streep and Julia Roberts, who were nominated for Best Actress and Best Supporting Actress, respectively. Jean Doumanian, the producer of such Broadway shows as August: Osage County, The Mountaintop starring Samuel L. Jackson, Death of a Salesman starring Philip Seymour Hoffman, Nice Work If You Can Get It starring Matthew Broderick, and The Book of Mormon, produced the movie adaptation of August: Osage County along with George Clooney, Grant Heslov, Steve Traxler, and Bob and Harvey Weinstein. Though the film did not win any Academy Awards, it has had a profitable theatrical run, and succeeded in proving that a play can be great source material for a successful motion picture.