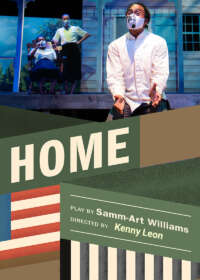 Home
Show Tickets: Show Opens in the Near Future
Discount Broadway Tickets For Home: Future Show
Show Status: Future

Genre: Play

Home is 2 hours 10 minutes long, including an intermission of 15 minutes

8 Shows per week

Previews Begin: March 6, 2024

Show Opens: April 2, 2024

Show Closes: June 20, 2024
Originally staged by the Negro Ensemble Company in 1979 and given a Tony-nominated production at the Cort Theatre in 1980,
Home

on Broadway Background
Play First Staged in 1979
Home was first staged Off Broadway by the Negro Ensemble Company in July 1979 and then transferred to Broadway in 1980.

Produced to great acclaim by the Negro Ensemble Company in a production that later transferred to Broadway, this brilliantly inventive, lyrically expressive play deals joyfully with the coming of age of a young Black man from rural North Carolina.
Cephus Miles is a man who "has the whole world in his callused hands – until his sweetheart Pattie Mae goes off to college and marries another man.
Miles is a North Carolina farmer who is imprisoned as a draft dodger during Vietnam, and then has a series of misadventures in a big city as he tries to put his life back together.
The show is not intended for children and may not be appropriate for person under the age of 16 years old.
American Airlines Theatre
227 West 42nd Street
New York, NY 10019
Entrance:
42nd Street between 7th and 8th Avenues
Theatre Information
Playwright

Samm-Art Williams