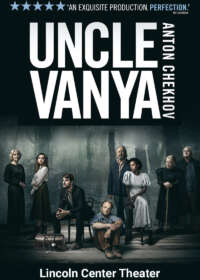 Uncle Vanya
Show Tickets: Show Opens in the Near Future
Show Status: Future

Genre: Play

Uncle Vanya is 2 hours 10 minutes long, including an intermission of 15 minutes

8 Shows per week

Previews Begin: April 2, 2024

Show Opens: April 24, 2024

Show Closes: June 16, 2024
Sonya and her uncle Vanya have devoted their lives to managing the family farm in isolation, but when her celebrated, ailing father and his charismatic wife move in, their lives are upended.
Uncle Vanya

on Broadway Background
Uncle Vanya is a play written by the Russian playwright Anton Chekhov, first published in 1897. Set in a rural estate in 19th-century Russia, the story revolves around a dysfunctional family and their interactions with visitors. The titular character, Uncle Vanya, is a middle-aged man who has spent his life managing the estate for his brother-in-law, the pompous and self-absorbed Professor Serebryakov.
Director Lila Neugebauer (The Waverly Gallery, The Wolves) and playwright Heidi Schreck (What the Constitution Means to Me) collaborate on the premiere of this Lincoln Center Theater production of UNCLE VANYA, which pairs Anton Chekhov's enduring masterpiece with one of America's most celebrated contemporary playwrights in a strikingly immediate new translation.

Tensions arise when the Professor and his much younger and beautiful second wife, Yelena, arrive at the estate, disrupting the routine of Vanya and his niece, Sonya. Vanya is secretly in love with Yelena, and his unrequited feelings add to the complex web of emotions that ensnare the characters.

The play delves into themes of unfulfilled dreams, wasted potential, and the passage of time. Each character grapples with their own sense of purpose and dissatisfaction with their lives. Sonya, for example, pines for a man who barely notices her, while Astrov, a doctor and close friend of the family, struggles with his dedication to his work and his growing fondness for Yelena.
Interwoven Humor and Tragedy
As the story unfolds, Chekhov masterfully weaves humor and tragedy, revealing the profound inner lives of his characters. The play's conclusion brings a mixture of resignation and a faint glimmer of hope for some of the characters, leaving the audience with a poignant reflection on the complexities of human existence.
"Uncle Vanya" remains a classic of Russian literature, celebrated for its rich character development, nuanced exploration of human nature, and Chekhov's keen insight into the human condition.
Is
Uncle Vanya

Good for Kids?
Uncle Vanya is not typically considered suitable for children.
The play deals with complex themes of unrequited love, disillusionment, and existential angst, which may be difficult for children to understand or appreciate. Additionally, some of the emotional conflicts and adult situations in the play may not be appropriate or engaging for a young audience.
That said, if a young person has a particular interest in theater or Russian literature, and they are at an appropriate age to engage with mature themes, they might find Uncle Vanya interesting and thought-provoking. In such cases, it's advisable for parents or guardians to consider the individual maturity and interests of the child before deciding whether the play is suitable for them.
Vivian Beaumont Theatre
150 West 65th Street
New York, NY 10020
Entrance:
65th Street, between 10th and Broadway
Theatre Information
Translation

Heidi Schreck
Sound

Mikhail Fiksel and Beth Lake