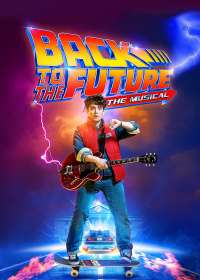 Back to the Future
Broadway Show Tickets: Not Currently Available
Back to the Future on Broadway Show Information and History
Back to the Future

Summary
Show Status: Shelved

Genre: Musical

Back to the Future is 2 Hours and 45 Minutes long, including an intermission of 15 Minutes

8 Shows per week

Show Closes: Open ended
Musical adaptation of Robert Zemeckis and Bob Gale's classic 1985 film of the same name, about time travel and correcting the mistakes of the past.
Back to the Future

on Broadway Background
Back to the Future is a Broadway musical with the show book written by Robert Zemeckis and Bob Gale, the original writers if the movie screenplay. The book is loosely adapted from the duo's original screenplay of their award winning film of the same name, but with a few changes to characters and plot. When the original film was first released, it was met with critical acclaim and was nominated for five Baftas, four Golden Globes, and four Oscars. The uber-popular movie ultimately took home only one Academy Award at the 1986 Oscars, and that was for "Best Sound Editing", as the Academy Awards often overlooks fan favorite films. The movie soon spawned a trilogy of films in the Back to the Future franchise which grossed just short of a billion dollars at the box office. The new musical version features music by Alan Silvestri and Glen Ballard. Silvestri is an Academy Award nominated composer and frequent contributor to Zemeckis' creative team, having composed music for not only the titular trilogy, but Forrest Gump, Cast Away and Who Framed Roger Rabbit. Ballard is a songwriter and lyricist best known for his work on Alanis Morissette's album Jagged Little Pill, which went on to win Grammy Awards for "Album of the Year" and "Best Rock Album" and would later be adapted into a Broadway musical of its own. The Broadway production was met with a rocky start as director Jamie Lloyd left the production early due to "creative differences" with Zemeckis, causing the premiere to be pushed to February 2020. However, with the award-winning creative team backing the project and Matilda star Olly Dobson cast as Marty McFly, the show manages to entertain longtime fans of the movie and Broadway newcomers alike, a feat rarely achieved on the Great White Way.
What's
Back to the Future

Like?
Back to the Future The Musical follows Marty McFly, a rebellious teenager whose family is struggling to get by. Marty's life soon changes dramatically as his friend Dr Emmett Brown reveals he has built a time machine in a modified DeLorean. In a strange and intense turn-of-events, Doc gets shot by terrorists and Marty is forced to use the time machine in order to escape with his life. Marty ends up thirty years in the past and meets his parents who are at the same age as him. His mere presence threatens to alter to space-time continuum, as his mom has now fallen in love with him rather than his actual father. With time running out, Marty must figure out how to get back to the present, warn Doc of his eventual death, and make his parents fall in love, all before he ceases to exist.
Is
Back to the Future

Good for Kids?
This show is suitable for children of all ages, as Marty McFly's time traveling tale has enthralled children for decades.
Lyric Theatre
213 West 42nd Street
New York, NY 10036
Entrance:
There are two entrances to this theatre: 42nd Street, between 7th and 8th Ave and 43rd Street, between 7th and 8th Ave
Theatre Information
Book Writer

Robert Zemeckis