Vanya and Sonia and Masha and Spike Recoups
---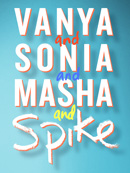 When the wacky Christopher Durang play
Vanya and Sonia and Masha and Spike
transferred from Off-Broadway to Broadway earlier this year, it might have seemed like a risky move, considering Durang is renowned for off-beat fare that doesn't necessarily translate to the mainstream. However, bringing the comedy to Broadway has proved to be a wise choice, as it has just recouped all of its $2.75 million investment. It isn't easy for a Broadway show to earn back its investment, but
Vanya and Sonia and Masha and Spike
steadily gained steam after opening at the John Golden Theatre in March, going on to capture the Tony Award for Best Play and earning honors from the Drama Desk, the Drama League, the New York Drama Critics' Circle, and the Outer Critics Circle as well. After winning the Tony, the show quickly became a very hot ticket. Starring David Hyde Pierce, Sigourney Weaver, Kristine Nielsen, Billy Magnussen, Shalita Grant, and Liesel Allen-Yeager,
Vanya and Sonia and Masha and Spike
is currently scheduled to play through August 25. As of July 30, Julie White will take over for Sigourney Weaver.