Magic Mike Coming To Broadway?
The New Hit Movie Magic Mike Is Already Looking At A Broadway Adaptation With More Focus On Choreography And Less Focus On A Traditional Plot
---
Hit Movie "Magic Mike" May Get Broadway Adaptation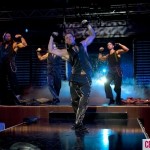 It's only just opened in movie theaters, but already there is talk of the new Steven Soderbergh film Magic Mike being turned into a Broadway show.
In an interview with USA Today, Magic Mike's screenwriter and co-producer Reid Carlin said that there are already plans to transform the movie, which offers a behind-the-scenes look at the world of exotic male dancers (based on star Channing Tatum's real-life experiences as a male stripper), into a live show on Broadway.
Focus On Choreographed Club Acts
"We are working on it as a Broadway show, which would be a different story," explained Carlin, "more of a romp, more of a fun night out at a club with a story." Some theater wags are noting that Broadway has already had a male stripper musical -- The Full Monty -- and while that show had a respectable two-year run, it was overshadowed by that season's mega-hit, The Producers, and ultimately failed to recoup its investment on Broadway.
But from Carlin's explanation, it sounds possible that a Magic Mike Broadway show would focus more on the choreographed club acts than on a traditional plot. Furthermore, unlike The Full Monty, which was about regular Joes who didn't do their strip act until the very end, Magic Mike is about actual beefcake dancers, which would undoubtedly bring in the bachelorette parties in droves.