Feeling Fit? Get Out There and Get Others to Feel the Same
Mayor Bloomberg Launches New Campaign Titled What's Your Blank In An Effort To Promote Volunteer Service For Programs Like Shape Up New York
---
New Fitness Program "Shape Up New York" Looking For Volunteers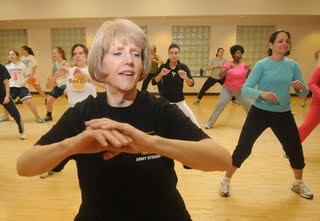 Are you in good shape? Do you have the fervor of a born-again exerciser? And, most importantly, do you want to share your fit tips with others who have not yet seen the light?
Well, New York's Mayor Bloomberg wants you to get out there and share your exercise prowess. The city is looking for a few fit volunteers—100, to be exact—to teach yoga, Pilates, aerobics and other forms of exercise to less-in-shape New Yorkers.
What's Your Blank?
Mayor Bloomberg launched a TV campaign this week with the tagline, "What's Your Blank?" to promote volunteer service. In the middle of a recession, Bloomberg has pointed out, the city needs everyone's "blank" more than ever.
If you feel you can lunge, squat and lift weights with your neighbors, or have other kinds of volunteer expertise to offer, you can call 311 to find out what you can do. (Other volunteer programs recently launched include one to spiffy up local streets and another for plant-lovers.
Over 100 Courses Offered Each Week
As part of the former, Love Your (NYC) Block is giving groups $500 to make 100 blocks shine; city agencies will help with replacing garbage cans, removing graffiti, and repairing street signs.) The fitness program, part of the "Shape Up New York" initiative," is targeting neighborhoods that have high degrees of poverty and obesity.
Although more than 100 courses are already offered each week, the city wants to expand to more than 500 free classes. (Check nygovpark.org for a listing of classes and other information.) So get out there, New York, and share your blank with the world.