Egads! It's the Red Baron at the Intrepid Air and Space Museum
Snoopy As The World War I Flying Ace Opens At The Intrepid Air And Space Museum, Just In Time For The Holidays, Where It Will Be Available To View Through April
---
The Red Baron Will Be At The Intrepid Air And Space Museum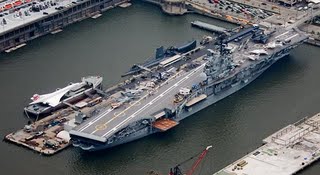 Nothing says the holidays like the Red Baron. This week, "Snoopy as the World War I Flying Ace" opened at the Intrepid Air and Space Museum (Pier 86; 12th Avenue and 46th Street; 877-957-SHIP), where it will be on view through mid-April.
Organized by the Charles M. Schulz Museum, the traveling exhibition features 29 iris prints of Charles Schulz's original designs of the iconic beagle Snoopy in his incarnation as a World War I flying ace.
"Peanuts" Sailor Art
Fact-that-makes-the-exhibit-seem-even-more appropriate: Crew members in the 1960s were known to sketch Peanuts characters on the walls of the ship. Some of this "sailor art" still survives, and can be seen in the exhibition. In addition, weekend hands-on activities centering on the show will be held each Saturday and Sunday at 1:30 PM.
A digitized copy of the cruise book from 1961-62 can also be perused; it shows Peanuts characters at work on the ship. Charlie Brown, swab the decks. While you're at the Museum, you can also take part in the 2009 Intrepid Holiday Salute.
Holiday Cards For Military Facilities
Visitors can sign giant holiday cards to be sent to various military facilities across the country to wish the troops and their families happy holidays. The Intrepid is also accepting donations of certain essential items, which will be shipped overseas to Marines serving in Afghanistan.
The items include food (gum, trail mix, tuna); toiletries (toothpaste; shampoo) and other items like blankets, playing cards, and batteries. (For a complete list, go to intrepidmuseum.org). All together now: Curse you, Red Baron!