25th Anniversary Phantom Sweepstakes Accepting Entries
In Honor Of 25 Years On Stage, Broadway's Longest-Running Show The Phantom Of The Opera Is Giving Away 100 Pairs Of Tickets In An Online Sweepstakes
---
Broadway's Longest-Running Show "The Phantom Of The Opera" Celebratory Sweepstakes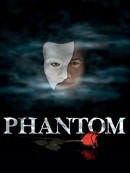 Broadway's longest-running show, The Phantom of the Opera, is on the verge of celebrating its 25th anniversary on Broadway, and now fans have a chance to win tickets to an invitation-only performance taking place on January 26.
Phantom's producers are giving away 100 free pairs of tickets to this exclusive 25th anniversary celebratory performance through an online sweepstakes on the musical's Facebook page. But that's not all. There will also be two Grand Prize winners, who will not only receive a pair of tickets for the special Phantom performance, but will also win passes to an exclusive post-show party, plus free airfare on American Airlines and a one-night stay at the Algonquin Hotel.
Enter The Sweepstakes
To enter the Phantom of the Opera 25th anniversary sweepstakes, go to the show's Facebook fan page at www.facebook.com/phantombroadw... and 'Like' the page.
For each of your Facebook friends or Twitter follwers that you get to also 'Like' the Phantom Facebook page, you will receive an additional entry into the sweepstakes. All entries need to be received by January 2.