Shakespeare in the Park Starts With As You Like It
---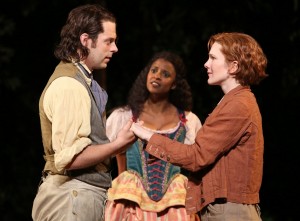 One of New York City theater's most beloved traditions, the Public Theater's annual Shakespeare in the Park, has kicked off with the opening of the season's first production, Shakespeare's comedy
As You Like It
. The play concerns lots of romantic hijinks unfolding in the forest, making Central Park's outdoor Delacorte Theater the perfect setting on a warm summer night.
As You Like It
stars several Broadway stalwarts (many of whom have been featured in previous Shakespeare in the Park productions), including Lily Rabe, Andre Braugher, Oliver Platt, and Stephen Spinella. A particularly notable element of this production, which is set in the mid-19th century American South, is that it features an original bluegrass score by Steve Martin. The most amazing thing about the Public's Shakespeare in the Park is that it essentially provides Broadway-level talent at the lowest possible ticket price: Free. The free tickets are distributed at the Delacorte in Central Park at 1pm on show days, and early arrival is recommended (it's often wise to go as early as 6 or 7am, so bring a book and blanket). Up to two tickets are available per person. You can also try the cancellation line (arriving as early as 4 or 5pm doesn't hurt for that), or the Virtual Ticketing online lottery at
shakespeareinthepark.org
. The latter is far more convenient that waiting in line for hours, but remember that it is a lottery, so your chances of winning are pretty slim. Whichever ticket option you choose, see it soon, because
As You Like It
only runs through June 30.