"Grease: Live" is a Hand-Jiving, Lightning Success
Posted on February 01, 2016
Grease: Live aired on Fox on January 31, 2016 to excellent ratings and reviews.
---
TV Musical Trend on an Upsurge with this Welcome Addition from Fox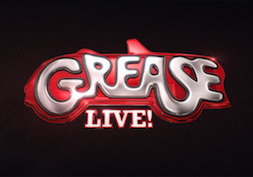 Following the success of several recent NBC productions of musicals produced live for a special television event, Fox entered the TV musical market with a bang.
Grease: Live
aired on Fox for a one-night special event this past Sunday night, January 31, 2016. Bringing the beloved 70s musical set in the 50s to contemporary audiences, the production confirmed the timelessness of this story of teenage romance and angst, set to an incredibly memorable and catchy soundtrack. While musicals on the small screen is not a new concept, the trend is certainly experiencing a renaissance. NBC instigated this revamped craze in 2013 with a live airing of
The Sound of Music
, which brought in an astounding live viewership of 18.3 million people. In 2014, NBC brought to television a live version of
Peter Pan
, which performed less well with audiences, and just recently in December 2015, NBC's
The Wiz
brought in 11 million viewers. As for
Grease: Live
, the broadcast brought in an incredible 12.2 million viewers on its first night, averaging 4.3% of 18-49 year olds and with a 7.4 overnight rating among households. With this first phenomenal success, Fox may very well be considering making live musicals an annual event, just as NBC has done, and other networks will likely begin entering the game too.
Cast Received Mixed Notices, But Didn't Detract from the Fun
The casting for
Grease: Live
incorporated a variety of actors, singers, and dancers from many different domains of fame, as well as a few newcomers. One of the most commended performances was that of Vanessa Hudgens, who played Betty Rizzo. Traditionally a very feisty and rebellious part, Hudgens portrayed her with a bit of a softer touch than, say, the film portrayal by Stockard Channing. Nevertheless, her performance of "There Are Worse Things I Could Do" was excellent, as she managed to find a balance between grittiness and vocal intensity. Furthermore, Hudgens deserves even more praise for her endurance that evening, as her father passed away less than a day before, ending a long battle with cancer. As for the lead parts, Sandy was played by Julianne Hough (
Dancing with the Stars
,
Rock of Ages
), and Danny Zuko was played by Aaron Tveit (
Catch Me If You Can
on Broadway,
Les Misérables
the film). Both of these performers were excellent dancers, but their acting left something to be desired. The effect was that the dance numbers were high energy and full of zest, but the interstitial scenes lacked charisma, and the key central romance lacked the magnetic intensity of John Travolta and Olivia Newton John, as portrayed in the film. Nevertheless, it was easy to forgive this underwhelming element when the music began and another timeless song hit the screen. Supporting actors of note include Haneefah Wood, who played Principal McGee's assistant with a hysterical beleaguered quality, and Didi Conn, who played the original Frenchie in the movie, and here made a cameo as a kindly waitress in the Burger Palace, reminiscing, "I miss high school."
Thomas Kail Led Ingenious Blend of Theatre and Television
The production was directed by Thomas Kail, who is riding the wave of his success as the director of Broadway's
Hamilton
. Furthermore, the particular elements of live broadcast direction were handled by Alex Rudzinski, who directed
Dancing with the Stars
. Unlike NBC's TV musicals, which often involved large flat backdrops and a rear-projection system, Fox's
Grease: Live
truly thought outside the box regarding how to bring this musical to television. Rather than being constrained to one large theatre-like space,
Grease: Live
spanned a 20-acre location, with golf carts whizzing the cast from one scene to the next. The expansive nature of the show was made clear within less than five minutes, as the singer Jessie J sang the title song, the camera following her as she snaked backstage, and then out onto the street. The element of a live audience was also included, sometimes to great success as extras on the bleachers or other crowd scenes, but it was sometimes distracting to have extras in the quieter moments. Furthermore, an unlikely Los Angeles rainstorm made some cast members carry umbrellas in outdoor scenes. Of all the outdoor scenes, the race scene was the most underwhelming of the broadcast, as they didn't even make an effort to have the cars move. Nevertheless, the overall conception and execution of
Grease: Live
was truly beloved by the majority of the broadcast's huge viewership, and we should expect to see an increasing number of live musicals for the small screen in the near future.