Broadway Show Ticket Sales Analysis Chart w/e 12/29/2019
Broadway Show Ticket Sales Analysis Chart w/e 12/29/2019
---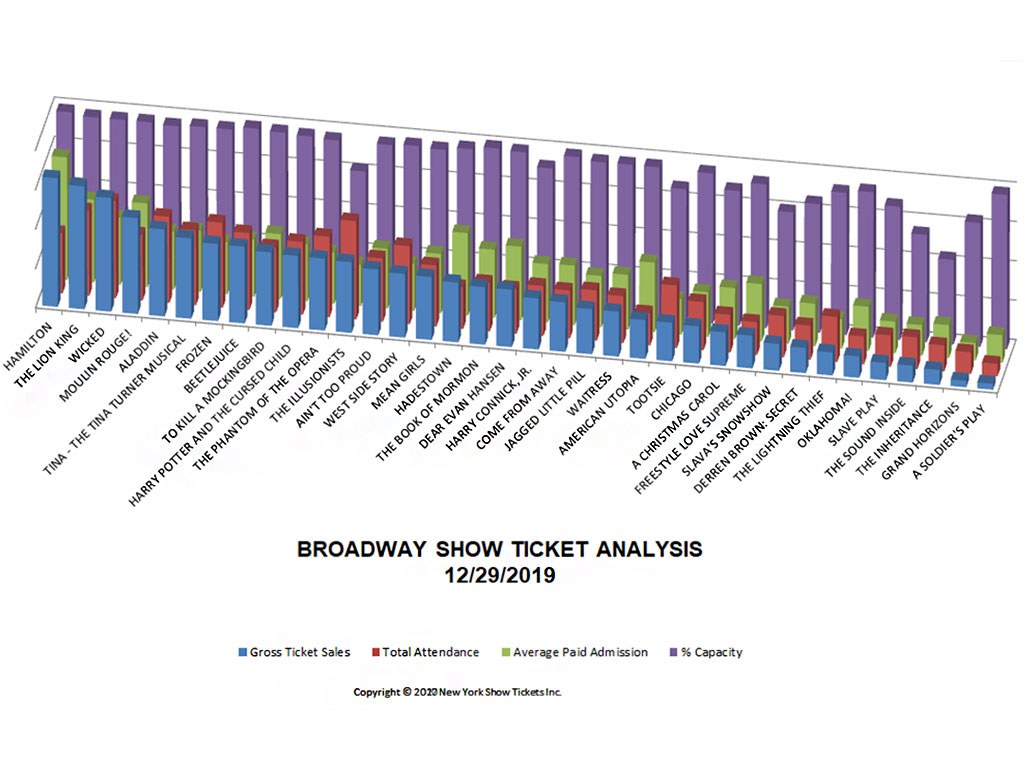 | | | | | | |
| --- | --- | --- | --- | --- | --- |
| # | Show Name | Gross | TotalAttn | %Capacity | AvgPdAdm |
| 26 | A CHRISTMAS CAROL | $954,054 | 6,758 | 89.00% | $141.17 |
| 36 | A SOLDIER'S PLAY | $169,754 | 2,216 | 102.00% | $76.60 |
| 13 | AIN'T TOO PROUD | $1,865,017 | 11,305 | 99.00% | $164.97 |
| 5 | ALADDIN | $2,462,503 | 15,372 | 99.00% | $160.19 |
| 23 | AMERICAN UTOPIA | $1,102,231 | 5,747 | 100.00% | $191.79 |
| 8 | BEETLEJUICE | $2,175,859 | 13,733 | 102.00% | $158.44 |
| 25 | CHICAGO | $1,056,681 | 8,583 | 99.00% | $123.11 |
| 20 | COME FROM AWAY | $1,399,907 | 8,536 | 102.00% | $164.00 |
| 18 | DEAR EVAN HANSEN | $1,625,361 | 7,997 | 102.00% | $203.25 |
| 29 | DERREN BROWN: SECRET | $714,998 | 6,065 | 85.00% | $117.89 |
| 27 | FREESTYLE LOVE SUPREME | $926,817 | 5,832 | 95.00% | $158.92 |
| 7 | FROZEN | $2,186,427 | 15,153 | 100.00% | $144.29 |
| 35 | GRAND HORIZONS | $186,294 | 3,861 | 82.00% | $48.25 |
| 16 | HADESTOWN | $1,693,118 | 7,439 | 101.00% | $227.60 |
| 1 | HAMILTON | $3,646,320 | 10,755 | 102.00% | $339.03 |
| 19 | HARRY CONNICK, JR. | $1,444,945 | 8,929 | 93.00% | $161.83 |
| 10 | HARRY POTTER AND THE CURSED CHILD | $2,049,310 | 12,976 | 100.00% | $157.93 |
| 21 | JAGGED LITTLE PILL | $1,277,012 | 8,984 | 100.00% | $142.14 |
| 15 | MEAN GIRLS | $1,784,978 | 10,900 | 99.00% | $163.76 |
| 4 | MOULIN ROUGE! | $2,716,892 | 11,744 | 100.00% | $231.34 |
| 31 | OKLAHOMA! | $609,562 | 4,986 | 96.00% | $122.25 |
| 28 | SLAVA'S SNOWSHOW | $760,863 | 7,376 | 78.00% | $103.15 |
| 32 | SLAVE PLAY | $490,146 | 5,601 | 88.00% | $87.51 |
| 17 | THE BOOK OF MORMON | $1,632,087 | 8,666 | 103.00% | $188.33 |
| 12 | THE ILLUSIONISTS | $2,003,271 | 17,517 | 80.00% | $114.36 |
| 34 | THE INHERITANCE | $426,366 | 4,664 | 56.00% | $91.42 |
| 30 | THE LIGHTNING THIEF | $656,156 | 8,044 | 94.00% | $81.57 |
| 2 | THE LION KING | $3,484,184 | 15,227 | 100.00% | $228.82 |
| 11 | THE PHANTOM OF THE OPERA | $2,039,104 | 14,356 | 99.00% | $142.04 |
| 33 | THE SOUND INSIDE | $479,367 | 5,665 | 71.00% | $84.62 |
| 6 | TINA - THE TINA TURNER MUSICAL | $2,276,569 | 13,362 | 100.00% | $170.38 |
| 9 | TO KILL A MOCKINGBIRD | $2,080,918 | 11,597 | 101.00% | $179.44 |
| 24 | TOOTSIE | $1,092,877 | 11,129 | 87.00% | $98.20 |
| 22 | WAITRESS | $1,270,490 | 8,385 | 100.00% | $151.52 |
| 14 | WEST SIDE STORY | $1,807,026 | 13,920 | 100.00% | $129.82 |
| 3 | WICKED | $3,217,944 | 17,334 | 100.00% | $185.64 |
| | TOTALS | $55,765,408 Dollars | 350,714 People | | |
This Week on Broadway:
Christmas took place on Wednesday this past week and the Great White Way's total gross sales were a whopping $55,765,408 because of it. When compared to the previous week, total sales were up over 37% and every single Broadway show saw sales go up except for one show, The Inheritance, which was only down a measly 2.02%. Nine out of the 36 Broadway shows currently performing had gross ticket sales increase that hit over the 50% mark when they are compared to the previous Broadway week's sales. To name a few; The Lion King, Mean Girls, The Illusionists, and The Lightning Thief, all had sales increases over 50%.
During the same sales week last year, Broadway's grosses were $57,807,272 which is higher than this week's sales by about 3.6%. The drop in sales is attributed to a couple of different factors. One, there were two extra Broadway shows playing at the same time last season. Two, this year Christmas fell right in the middle of the week, when most people plan on staying in and celebrating rather than going out to celebrate.
There were two Broadway shows which opened in-previews this week, Grand Horizons and A Soldier's Play. Grand Horizons opened at the beginning of the week which allowed them to perform the Broadway standard of eight shows this week. The show saw gross sales figures of $186,294, which include an average ticket price of $48.25 per show ticket and a total of 3,861 tickets sold, which was 82.5% of the seats at the Helen Hayes Broadway theatre. A Soldier's Play opened a little later in the week, on December 27th, and hosted three total Broadway performances. This show's gross sales were $169,754, which include an average ticket selling price of $76.60 per show ticket and a total of 2,216 tickets sold, which broke maximum capacity at the American Airlines Broadway theatre at 102.5%.
Frozen The Musical added one extra performance to their performance schedule this week which helped them to see a sales increase of over 74% when compared to the previous week's sales. This show also increased their average ticket price from $93.89 from the previous week to $144.29 this week, which is an increase of over $50 per ticket and was definitely a factor in their high sales numbers from this week.
Chicago kept their standard number of performances with eight performances last week and was another show that saw sales increases over the 70% mark when compared to it's previous week's sales figures.
Beetlejuice the Musical which is being kicked from the Winter Garden Theatre by The Music Man in June of 2020, also added one more performance to their Broadway schedule this week which helped the show see their gross sales increase, by 53.5% from last week. This is the fourth week in a row where Beetlejuice saw sizable gross ticket sales increases and further embarrasses the Winter Garden Theatre landlord, The Shubert Organization.

The Broadway show ticket analysis raw data has been provided courtesy of The Broadway League and has been collated and analyzed by the New York Show Tickets data team. All data, text, opinion, charts and commentary are copyright © 2019 nytix.com