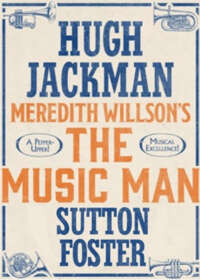 The Music Man
Broadway Show Tickets: Show Closed No Longer Available
The Music Man on Broadway: Show Is Now Closed
Show Status: Closed

Genre: Musical - Revival

The Music Man is 2 Hours 35 Minutes long, including an intermission of 15 Minutes

8 Shows per week

Previews Began: December 20, 2021

Show Opened: February 10, 2022

Show Closed: January 15, 2023
Hugh Jackman stars in a revival of Meredith Willson's legendary musical about a con artist who ponders his future after falling in love with a librarian
The Music Man

on Broadway Background
The Music Man is Meredith Willson's Tony/Academy/Grammy Award winning musical which has seen considerable success on Broadway, film and TV. This is the musical's third revival production on Broadway since its original debut in 1957.
The original production went on to win five Tony awards, including Best Musical and Best Performance by a Leading Actor. The show saw such a resounding success that it would later receive an Academy Award winning film adaptation in 1962, featuring Robert Preston and Shirley Jones.
Broadway Revivals
The famous musical was revived on Broadway in both 1980 and 2000 and received a 2003 television adaptation. The show now makes its long-awaited return to Broadway after a 20 year absence and stars two-time Tony Award winners Hugh Jackman and Sutton Foster.
This revival is directed by Broadway veteran, Jerry Zaks, a four-time Tony Award winner for Best Direction.
Glove-Gate at the Music Man
Following the bows at the end of a recent show, Hugh Jackman announces that he will auction off signed gloves from the show to the highest bidder to benefit the Broadway Cares/Equity Fights AIDS charity. Jackman announces that this is something very special and they would normally never do it. The gloves then sell for $20,000 in a quick and fun auction with the audience.
The only problem with this is that Jackman does this for nearly every performance of the show and he seems to be channeling a lot of Harold Hill when it comes to this auction. In addition, Jackman sometimes auctions off his whistle and the hat from the show as well, for about the same amount of money.
Nicole Kidman Offers $100,000 For The Hat
On Saturday, November 26 2022, Nicole Kidman, who was Hugh Jackman's co-star from the 2008 movie Australia, cast the winning bid in the post-show charity auction for Jackman's signed hat from the show. Kidman's bid of $100,000 was welcomed by Jackman who responded with, "Nic: I just want to be clear, this is not Australian dollars."
BC/EFA welcomed the generous donation, noting, "That's 20,000 meals and 2,000 doctor visits this holiday season for those living with HIV/AIDS, struggling with COVID-19 or facing other life-threatening challenges."
Jackman Is Accused of Being Disingenuous To Audiences
Audience members complain that although Jackman always states that the auction is one-time thing, this is really not a one-off auction event at all and Jackman is being disingenuous to say that it is. The bids often get over-inflated because of his statement and Jackman is being a little dishonest at best, or outright lying at worst.
Obviously the sale of the gloves benefits the charity greatly and that should not be overlooked, but as the flim-flam man in the show would attest, this is not at all on the up-and-up.
Alternative Theory On The Charity Auction
Conspiracy theorists among the show regulars claim that the gentlemen who actually wins the bidding for the gloves is always the same person and the whole thing is a charade.
They claim that Jackman actually donates the $20K himself every time he does the auction. It is not clear why he would do this, but his staff may have seen that the donation buckets at the theatre exit doors are greatly increased after this charade and so they carry on doing it.
The whole thing is just so Harold Hill.
What's
The Music Man

Like?
The musical is set in River City, Iowa during the summer of 1912. Harold Hill has been a con artist for most of his life, with his modus operandi being to portray himself to be a boys brass band organizer and talent coach.
His usual scam is to promise trusting parents to train their children and to pretend to purchase their expensive equipment, he then takes their cash payment and ditches town. Hill arrives in River City with plans to repeat his usual operation, where he meets Marian Paroo, the town librarian and piano teacher.
Harold Hill's Usual Scheme is Upended
Marian quickly sees through Harold's act, but begins to fall in love with him when she notices the positive effects Harold is having on her awkward younger brother, Winthrop.
Harold also becomes smitten with Marian and he must risk losing his cover in order to win her devotion. This story is a classic bad-guy-makes-good in a heartwarming story of redemption and forgiveness.
Is
The Music Man

Good for Kids?
Children of all ages will love The Music Man as it is fun for the whole family, although some audience members complain that the story presents a morally grey protagonist and weak characters that distract from the predictable story arc.
Some complain that the show is too mechanical for adults, but younger tastes may find it more palatable.
Winter Garden Theatre
1634 Broadway
New York, NY 10019
Entrance:
Broadway, between 50th and 51st Streets
Theatre Information
The Music Man Marquee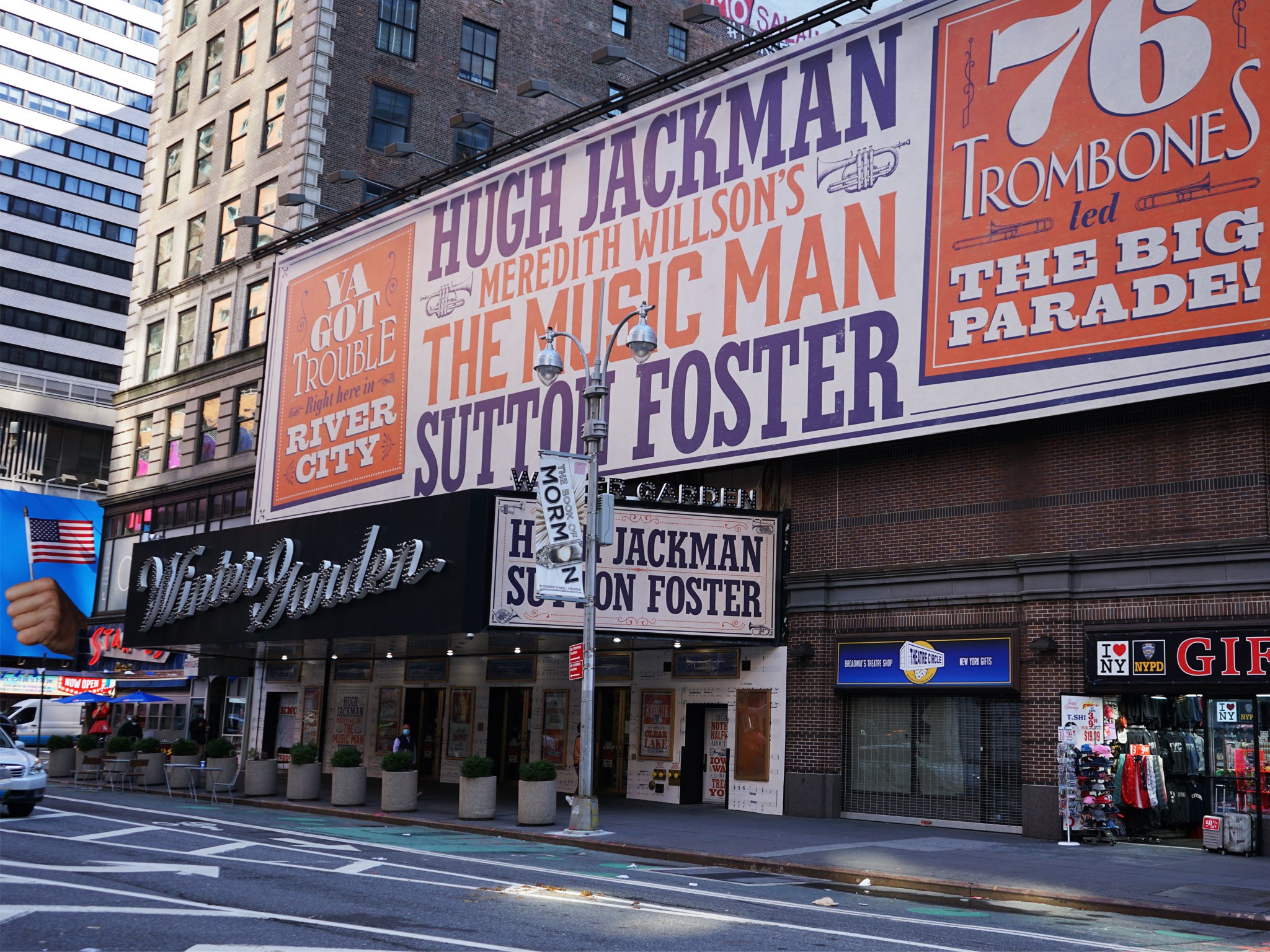 Marian Paroo

Sutton Foster
Shuler Hensley

Marcellus Washburn
Mayor Shinn

Mark Linn-Baker
Mrs Shinn

Jayne Houdyshell
Mayor Shinn

Jefferson Mays
General Manager

Joey Parnes Productions LLC
Theatre Owner

The Shubert Organization
Book, Music & Lyrics

Meredith Willson
Choreographer

Warren Carlyle
Settings & Costumes

Santo Loquasto
Orchestrations

Jonathan Tunick
Musical Director

Patrick Vaccariello