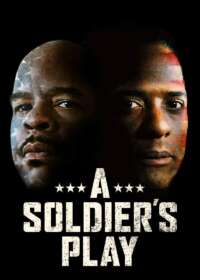 A Soldier's Play
Broadway Show Tickets: Show Closed No Longer Available
A Soldier's Play on Broadway: Show Is Now Closed
Show Status: Closed

Genre: Play

A Soldier's Play is 1 hour and 50 minutes long, including an intermission of 15 minutes

8 Shows per week

Previews Began: December 27, 2019

Show Opened: January 21, 2020

Show Closed: March 15, 2020
Play following the murder of a black military officer, and subsequent investigation that reveals the deep racial issues in 1940's Louisiana
A Soldier's Play

on Broadway Background
Originally written in 1979 by Charles Fuller, A Soldier's Play, is a Pulitzer Prize Award winning play that has performed three times before in different off-Broadway theatres and this time it made its Broadway debut. A Soldier's Play is more than vaguely similar to another show that had been optioned on Broadway, namely A Few Good Men, which was based on the movie of the same name that starred Jack Nicholson, Tom Cruise and Kevin Bacon. That show was never ultimately produced and the option on that show has since expired. The two shows have starkly similar story lines as they each follow racially charged murders that take place inside the walls of different fictitious American military bases. The Roundabout Theatre Company chose to produce this show because there was good support from the Negro Theatre Ensemble Co who first produced the show in 1981 at the Theater Four in NYC. This theatre has since been renamed to the "Cherry Lane Theatre" and moved in 2016 from Hell's Kitchen to New York City's West Village. That first production performed over 450 shows and starred the legendary black American actor Samuel L. Jackson. This show made a big impact at the time with its unprecedented artistic statement about the extreme hate and the segregation race culture that America found itself in. This time around the show has attached the three-time Tony Award nominee David Alan Grier and Golden Globe Award nominee Blair Underwood, who are each NAACP Image Award winners. The Broadway show debut, is directed by Kenny Leon a Tony Award winner for his work in A Raisin in the Sun.
What's
A Soldier's Play

Like?
A Soldier's Play takes place in 1944 in Louisiana, at the United States Army's fictional fort, Fort Neal. At this time in the south, racial segregation is still strong and white supremacist group "KKK" (Ku Klux Klan) has a large and growing following. The play's opening act shows the planned shooting and murder of one of the smartest and toughest black military officers named Sergeant Vernon Waters. The rest of the story follows the detective work of a fellow black American military officer, Captain Richard Davenport as he investigates Water's murder. Davenport suspects that the shooting was performed by the KKK but, as he continues to investigate he learns of other racial tensions inside the fort's 1st Combat Team. He conducts interviews with the men at the fort and it is these interviews that reveal that Sergeant Waters was in fact a self-hating racist himself. Waters appears to have tormented one one of his fellow black subordinates to the point of suicide. When Davenport learns of his bullying, it takes him in a new direction as to the identity of Water's murderer. The investigation reveals just how far black people in the United States were, at the time, from reaching true racial equality.
Is
A Soldier's Play

Good for Kids?
This show deals with murder and racial issues during the turbulent 1940's and is not appropriate for children under the age of 17.
American Airlines Theatre
227 West 42nd Street
New York, NY 10019
Entrance:
42nd Street between 7th and 8th Avenues
Theatre Information
A Soldier's Play Marquee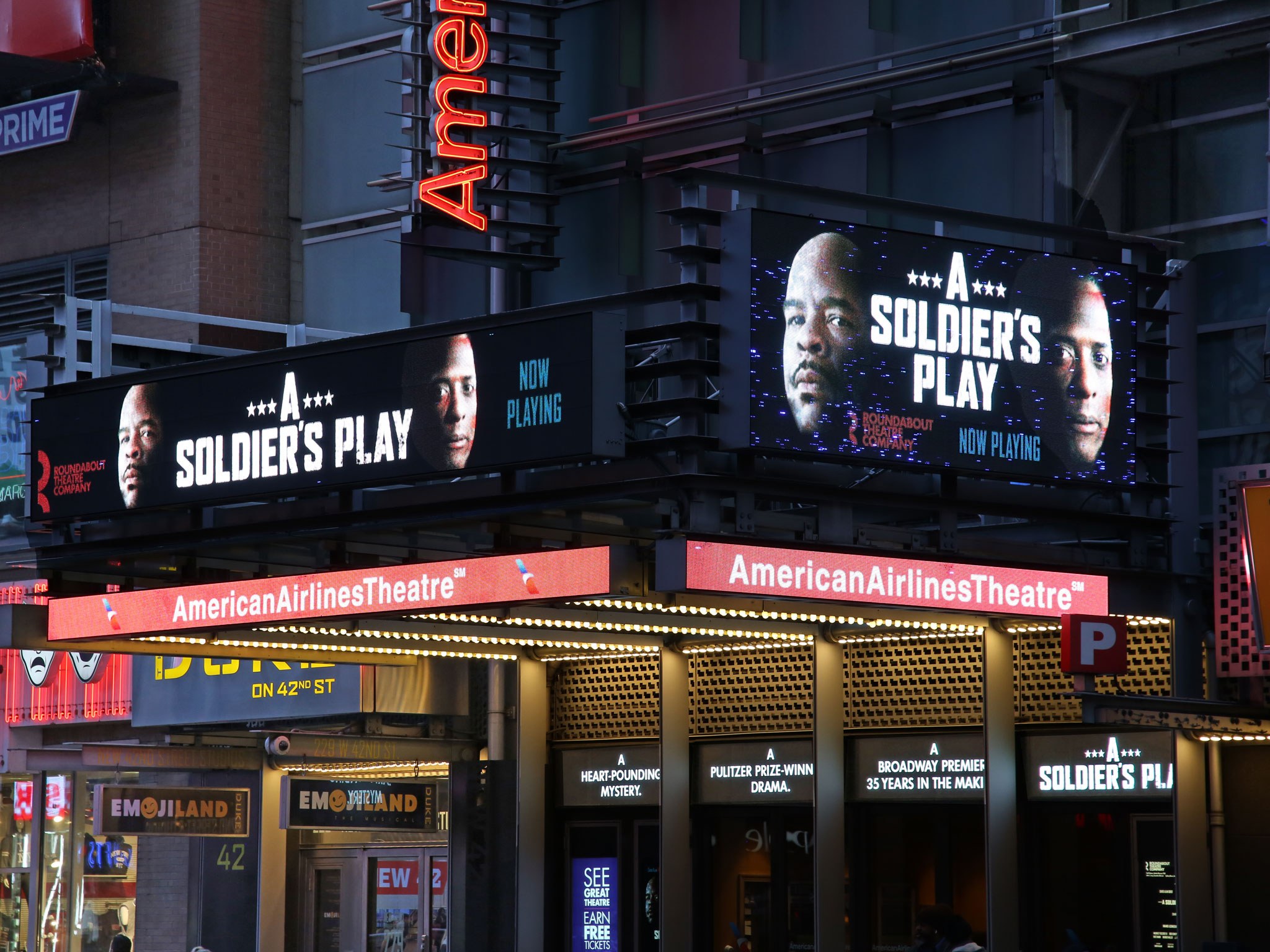 Captain Richard Davenport

Blair Underwood
Sergeant Vernon C. Walters

David Alan Grier
Private Melvin Peterson

Nnamdi Asomugha
Captain Charles Taylor

Jerry O'Connell
Private Louis Henson

McKinley Belcher III
Corporal Bernard Cobb

Rob Demery
Private Tony Smalls

Jared Grimes
Private James Wilkie

Billy Eugene Jones
Lieutenant Byrd

Nate Mann
Corporal Ellis

Warner Miller
Private CJ Memphis

J Alphonse Nicholson
Captain Wilcox

Lee Aaron Rosen
Roundabout Theatre Company
General Manager

Denise Cooper
Company Manager

Kathryn McCumber
Casting Director

Jim Carnahan
Advertising Representative

SPOTCo
Production Stage Manager

lark Hackshaw
Lighting

Allen Lee Hughes