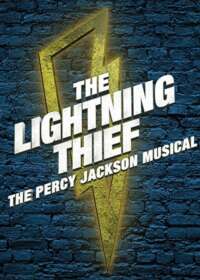 The Lightning Thief
Broadway Show Tickets: Show Closed No Longer Available
The Lightning Thief on Broadway: Show Is Now Closed
The Lightning Thief

Summary
Show Status: Closed

Genre: Musical

The Lightning Thief is 2 hours long, including an intermission of 15 minutest

8 Shows per week

Previews Began: September 20, 2019

Show Opened: October 16, 2019

Show Closed: January 5, 2020
Mythological musical based on the popular Percy Jackson book series about a demigod's quest to retrieve the stolen artifacts of Zeus and Hades.

The Lightning Thief

on Broadway Background
The Lightning Thief is a Broadway musical adaptation of the first book in the Percy Jackson & The Olympians book series by author Rick Riordan, which is also titled The Lightning Thief. Riordan's first novel in his mythological book series was met with positive critical and commercial success, reaching the ninth spot of The New York Times Best Seller List and received the 2008 Mark Twain Award.
The Greek mythology-based adventure novel later received four sequels within four years of its initial release as well as a blockbuster film adaptation in 2010. The film adaptation was directed by award-winning filmmaker Chris Columbus, who is best known for his directorial work on other films such as Home Alone, Mrs Doubtfire, and the first two Harry Potter films.
The film also boasts an all-star cast including the likes of Sean Bean, Rosario Dawson, Pierce Brosnan, Uma Thurman and many more Hollywood stars. The film was a commercial success upon its release, but received mixed reviews from fans and critics, as long time fans of the series were disappointed by several key changes that were made to the original plot. The Broadway adaptation of The Lightning Thief began its life as a 2017 off-broadway limited engagement which was quickly followed by a North American Tour in early 2019.
The team behind both the off-broadway show and national tour have remained on the show staff during its transition to Broadway and include the likes of book writer Joe Tracz, director Stephen Brackett and sound designer Ryan Rumery, all of whom worked on the recently closed broadway show Be More Chill. The show had not been planned to be Broadway bound until the other Greek mythology show, Hadestown, swept the 2019 Tony Awards and then the race was on to get this show on Broadway, after all, imitation is still the greatest form of flattery.
What's
The Lightning Thief

Like?
The Lightning Thief follows protagonist Percy Jackson, a 12 year old boy who is diagnosed with dyslexia and ADHD. During a school trip to the Metropolitan Museum of Art in NYC, Percy witnesses one of his middle school teachers transform into a "Fury", which is a female deity of vengeance, from ancient Greek mythology. Initially disturbed, Percy helps another teacher, Mr Brunner, defeat the evil deity with a magical sword-pen.
Once school gets out, Percy and his mother drive to a mysterious summer camp after being warned of upcoming danger, however upon their arrival, they are attacked by a Minotaur and Percy's mother is kidnapped. Blinded by rage, Percy slays the beast but falls unconscious as a result.
After waking up, it is revealed that Percy is at Camp Half-Blood, a summer camp for demigods, and he discovers that he is the illegitimate son of Poseidon and is rejected by the Gods as worthy of a title. Percy is also informed that Zeus's master lightning bolt has been stolen, leading the gods to grow suspicious of one another.
Armed with this information and several new friends, Percy accepts the quest to attempt to return Zeus's lightning bolt in order to rescue his missing mother and show the other gods that his birth was not a mistake.
Is
The Lightning Thief

Good for Kids?
This show is suitable for children of all ages as its source material is one of the most beloved children's books of the 21st Century.
Longacre Theatre
220 West 48th Street
New York, NY 10019
Entrance:
48th Street between Broadway and 8th Avenues
Theatre Information
The Lightning Thief Marquee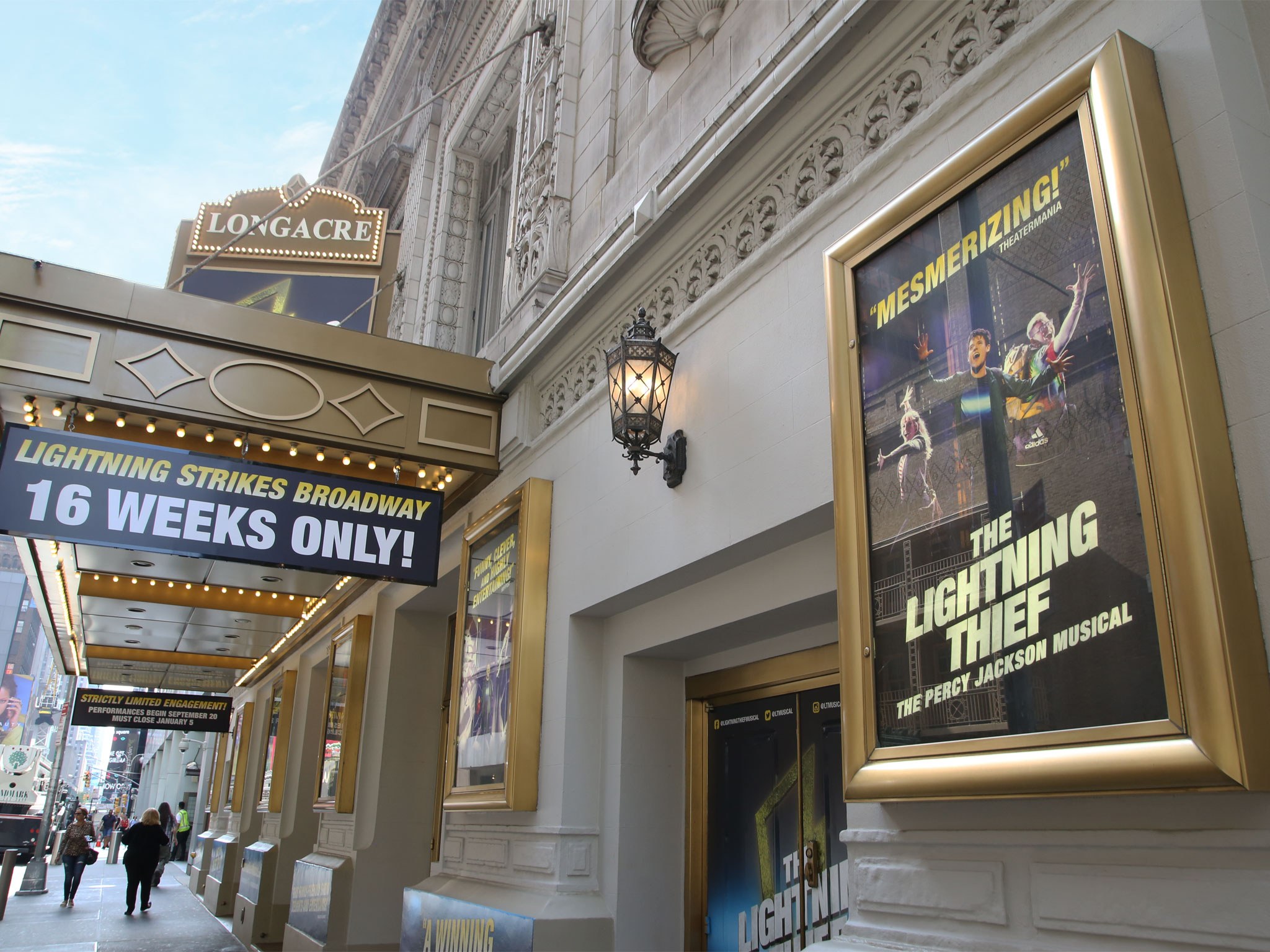 Jennifer Doyle & Roy Lennox
Company Manager

Jim Brady
Production Manager

Brian Lynch
Advertising

The Pekoe Group
General Management

Martian entertainment
Director

Stephen Brackett
Choreography

Patrick McCollum
Costume Design

Sydney Maresca