Longacre Theatre
220 West 48th Street, New York, NY 10019
Longacre Theatre Information, Shows and Tickets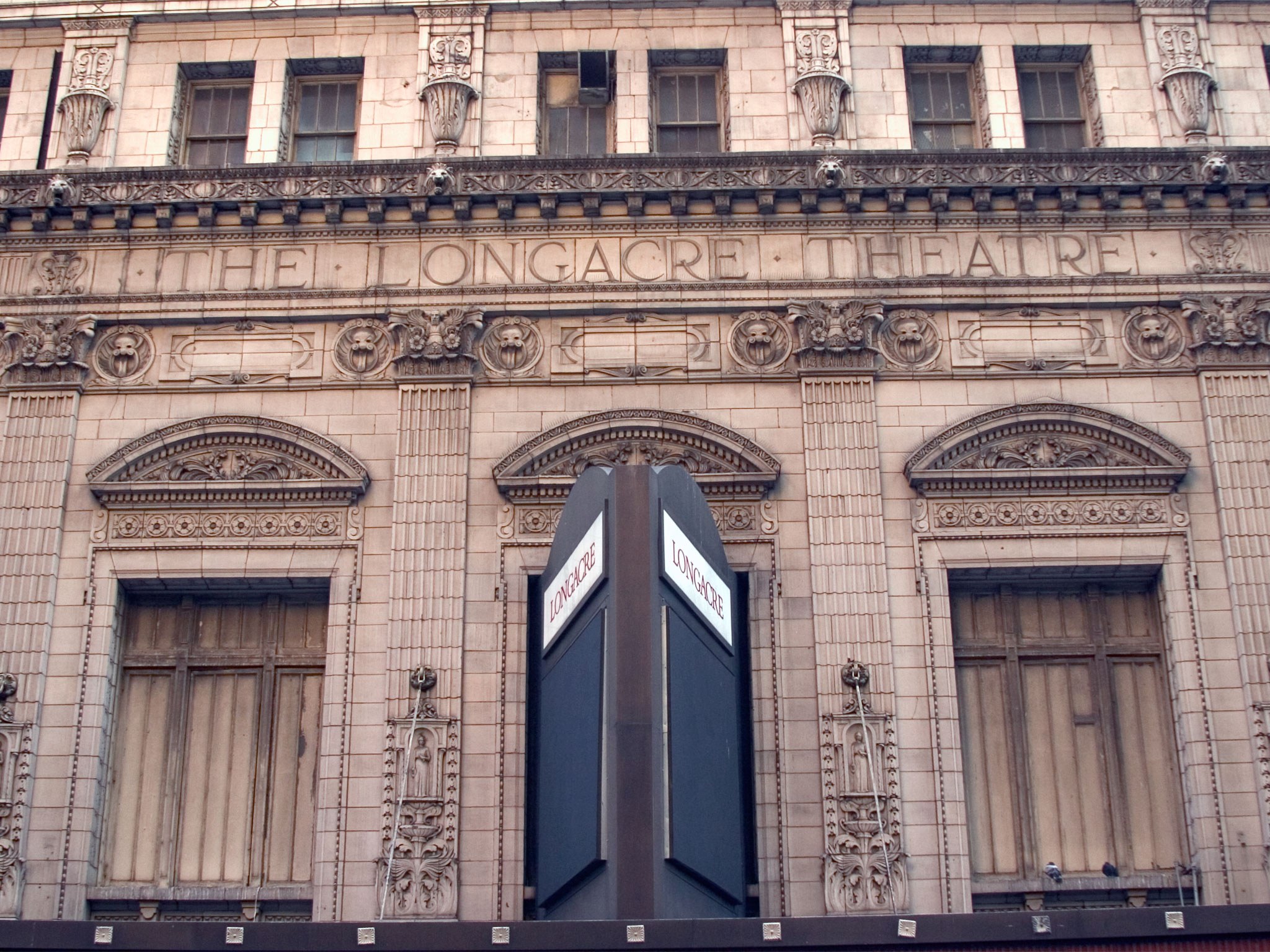 Directions:

By Subway, take the C/E to 50th Street, walk south on Eight Avenue and then turn left onto 48th Street. Or take the 1 to 50th Street, walk south on Broadway and then make a right onto 48th Street.

Entrance:

48th Street between Broadway and 8th Avenues

The Longacre Theatre is located on the south side of 48th Street, between Broadway and Eighth Avenue.

Box Office Hours:

Monday - Saturday:

9am - 8pm

Sunday:

9am - 10pm
Your best bet is the middle to front orchestra, which offers a great view and also a fair amount of leg room.
Longacre Theatre Seating Chart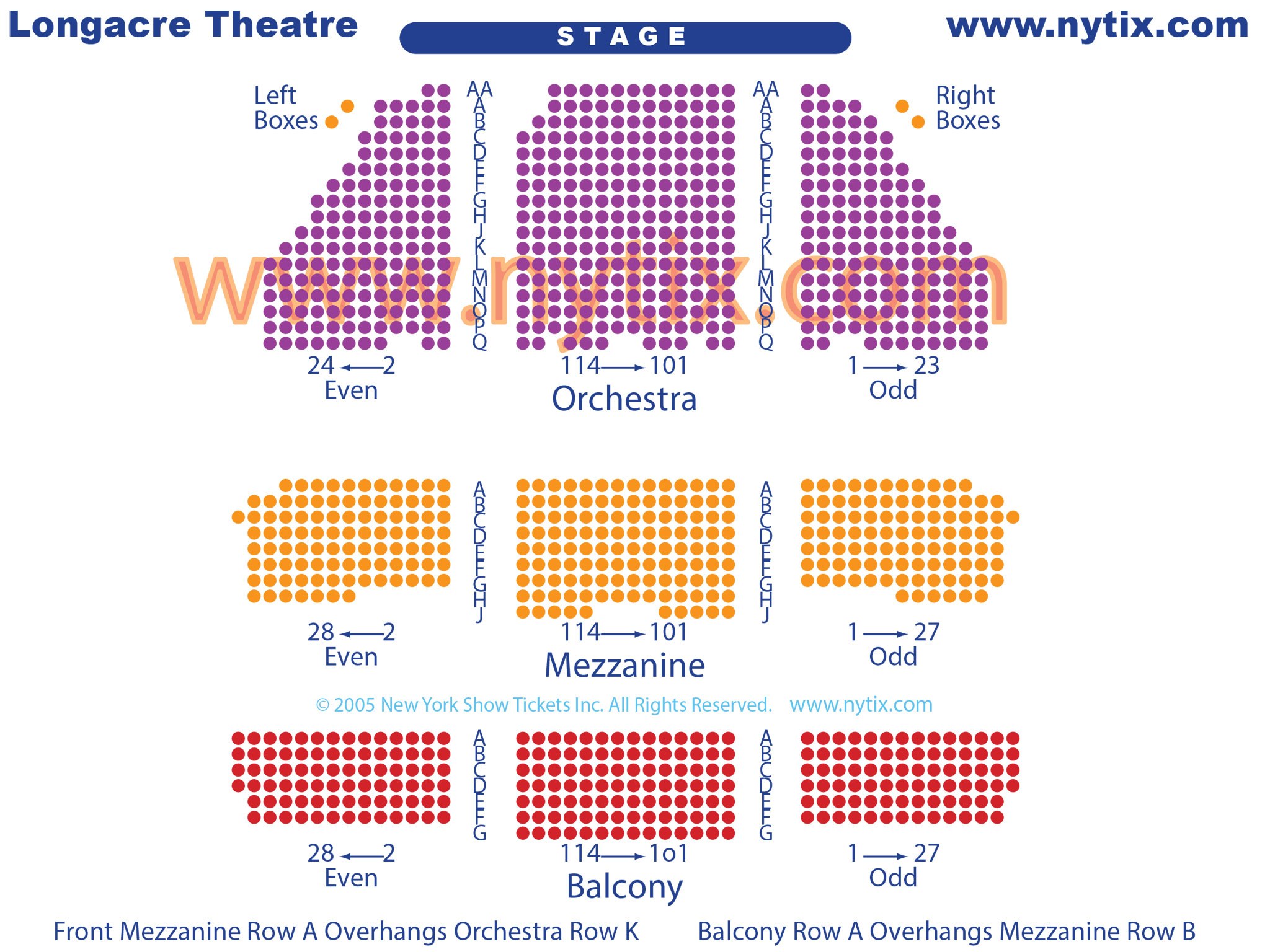 Parking for Longacre Theatre
The closest parking garages for Longacre Theatre are located at:
Central Parking System

257 West 47th Street
New York, NY 10036
212-246-2371
Icon Parking Systems

790 8th Avenue
New York, NY 10019
212-581-8590
The closest parking is not always the best as it often takes longer to park and retrieve your vehicle as fellow theatre goers have the same idea. A better choice of parking may be the second choice or further away by a couple of Avenues.
Additional Notes
Landlord: Shubert Organization
Official Ticketer: Telecharge
Notes:
Built in 1913 and named for Longacre Square - now known as Times Square.
Elevator: Yes
Escalator: No
Disabled Access Notes:
All seating in the orchestra level is accessible without the use of steps. An elevator is provided however it is small and will not fit all wheelchairs.
No show scheduled to open at this theatre.
The Longacre Theatre was built in 1913 and named for Longacre Square, the area now known the world over as Times Square. Despite the long-ago disappearance of its namesake, the Longacre is one of the few Broadway theaters to have retained its original moniker throughout its long life. It was built by Harry H. Frazee, a young entrepreneur who used his Broadway successes to finance his purchase of the Boston Red Sox, and then, when he was down on his luck with his theatrical ventures, earned the money he needed by doing the unthinkable: Selling Babe Ruth to the New York Yankees. The "Curse of the Bambino" said to have haunted the Red Sox for the remainder of the century may have also had some effect on Frazee's Longacre Theatre, which was often dark during the Great Depression, spent most of the '40s and a chunk of the '50s as a radio and TV studio, and has, even since returning to legitimacy, hosted very few hit shows.
Architect Henry B. Herts designed the Longacre Theatre in a French neo-classical style. Its aging exterior is handsome, though the interior design is less attractive.
Originally built with a seating capacity of 1,400, the Longacre Theatre was ideal for musicals. It was eventually reduced to under 1,100 seats, and these days mostly dramas are produced here.