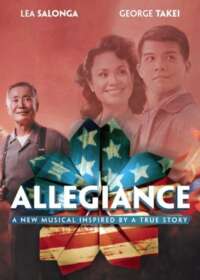 Allegiance
Broadway Show Tickets: Show Closed No Longer Available
Allegiance on Broadway: Show Is Now Closed
Show Status: Closed

Genre: Musical

Allegiance is 2.5 Hours long, including an intermission of 15 Minutes

8 Shows per week

Previews Began: October 6, 2015

Show Opened: November 8, 2015

Show Closed: February 14, 2016
Allegiance is a new musical that comes to Broadway following its world premiere in fall 2012 at the Old Globe Theatre in San Diego, California. With a book by Marc Acito and music and lyrics by Jay Kuo, Allegiance deals with the Japanese internment camps in America during World War II. In a fascinating blend of reality and art, the lead role is played by George Takei (the original "Star Trek" television series), who spent four years of his childhood in internment camps.
Allegiance

on Broadway Background
For the first time since Flower Drum Song in 2002, this musical will predominantly star Asian actors. The lead female role is played by Lea Salonga, who has starred in Flower Drum Song as well as Miss Saigon and Les Miserables. Additional casting includes Telly Leung (Godspell, Flower Drum Song, Rent), who plays George's character as a young man.
The musical is directed by Stafford Arima making his Broadway directorial debut, although he has served as associate director on A Class Act, Seussical, and Ragtime. The musical takes place between the years 1942-1946, in what was a very dark moment in United States' history following the attack on Pearl Harbor. The U.S. government subsequently forced tens of thousands of individuals of Japanese descent, many of whom were American citizens, and removed from their homes and relocated to camps around the country, during the presidential term of Franklin D. Roosevelt.
The show is a powerful and emotional piece dealing with a very difficult time in American history. The resonant score has received much praise, including the Craig Noel Award for Best Orchestrations; the show also received that award for Best Musical in 2013. Not only is the show very personal for the lead actor George Takei, who considers this to be his legacy project, but it is also widely relevant for any and all citizens of the world. The family represented in the show is named Kimura, taking place in the time following the attacks on Pearl Harbor, when they needed to relocate from their home in California to a rural internment camp in Wyoming. The experience of watching this musical is sure to cause many tears to shed.
Is
Allegiance

Good for Kids?
The show is most appropriate for children over the age of 8. Children under the age of 4 will not be permitted in the theatre.
Longacre Theatre
220 West 48th Street
New York, NY 10019
Entrance:
48th Street between Broadway and 8th Avenues
Theatre Information
Allegiance Marquee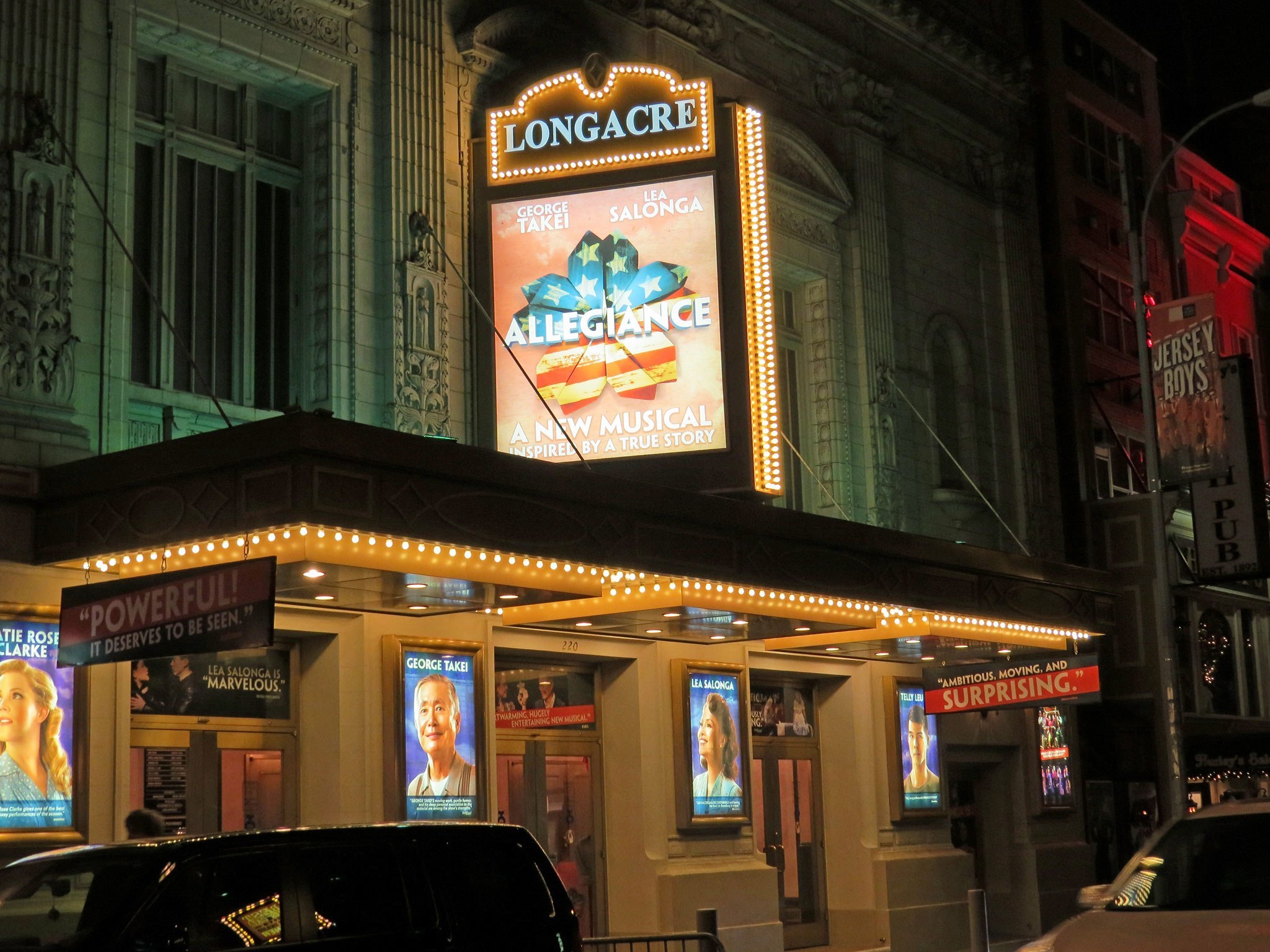 Hannah Campbell

Katie Rose Clarke
Tatsuo

Christopher Nomura
Mike Masaoka

Greg Watanabe
Choreography

Andrew Palermo
Costume Design

Alejo Vietti
Lighting Design

Howell Binkley
Musical Direction

Lynne Shankel
Projections

Darrel Maloney
Book

Lorenzo Thione and Marc Acito
Production Stage Manager

Peter Wolf
General Manager

Charlotte Wilcox Company
Company Manager

Michelle Tamagawa at Charlotte Wilcox Company
Production Manager

Aurora Productions
Advertising Representative

AKA NYC