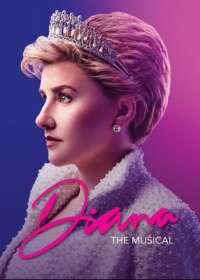 Diana
Broadway Show Tickets: Show Closed No Longer Available
Diana on Broadway: Show Is Now Closed
Show Status: Closed

Genre: Musical

Diana is 2 hours and 20 mins long, including an intermission of 15 minutes

8 Shows per week

Previews Began: November 2, 2021

Show Opened: November 17, 2021

Show Closed: December 19, 2021
Broadway musical based on the life and death of Britain's Princess Diana. The show follows her royal and romantic life to her tragic death.
Diana

on Broadway Background
A biographical musical from the Broadway writing duo Joe DiPietro and David Bryan, who is also a founding member of Bon Jovi.
The show recounts the tragic life of the late Princess of Wales, Lady Diana. The writing pair are best known for their previous work on Tony Award-winning musical Memphis and have also ventured into off-Broadway productions with their work on The Toxic Avenger. Diana made its world premiere in early 2019 in La Jolla Playhouse's Mandell Weiss Theatre in La Jolla, California.
Diana: The Musical Critical Response
The show was met with a warm critical response and ultimately cemented its trajectory to the Broadway stage. The main cast of the La Jolla performances all transferred to Broadway with the show. The cast includes the likes of Kinky Boots star Jeanna de Waal in the role of Diana, and Tony Award winning Broadway veteran Judy Kaye as Queen Elizabeth. Prince Charles is played by Roe Hartrampf. The production also boasts an impressive creative team full of multi-Tony Award winners such as scenic designer David Zinn, costume designer William Ivey Long, and lighting designer Natasha Katz.
Post COVID Show Launch and Ticket Sales
Diana: The Musical was the first Broadway show to begin selling tickets for post-COVID performances and they initially set their new opening day as Dec. 16, 2021. This is 625 days after its originally scheduled opening night, which should have been on March 31, 2020 . The show had begun previews at the Longacre on March 2, 2020, but was quickly closed when the COVID-19 Coronavirus pandemic closed all of the Broadway theatres.
Oprah Interview with Harry and Meghan Drives Royal Interest
Diana's Broadway producers realized they were getting a large amount of interest in their Broadway show following from the royal interview with Harry and Meghan, which aired on CBS Sunday, March 7, 2021. In this interview with Oprah Winfrey, Harry and Meghan made various claims against the royal family that included both abject racism and sexism. The British royal family was shaken to its core by these revelations and the claims are so shocking that the British Royal family may not survive in its current form.
Netflix Broadcast Was Scheduled Prior To Show Opening
In a deal inked with Netflix back in late 2020. a prerecorded version of Diana was made available for streaming on Netflix. This became available for viewers on Friday, October 1, 2021. This version of the show was filmed in March 2020 and features the original Broadway cast. It was taped just weeks before the pandemic hit.
The taping was available on Netflix long before Diana on Broadway reopens, in fact over 2 months before the show opens live. This test provides a good indication to Broadway show producers whether or not releasing a show on a streaming service prior to a show opening helps or hurts a live production in a post-pandemic world. This is not a strategy that any Broadway producer would normally consider, because it could be the death of a show even before it opens.
Netflix Streaming Broadcast Considered 'Good Press'
Some industry pundits see the Netflix streaming as an informercial for the show that could garner mass appeal and drive theatre ticket sales. Others expect that it may turn some audiences off from actually going to the theatre to see the show live. Many critics contend that musical theatre has become too hyperbolic to garner mass appeal and the TV ratings for Broadway musicals seem to be heading in an unabated downward spiral.
The Netflix Experiment
The Netflix experiment will deliver valuable audience behavioral data about how many people watched the show, when did they tune out, when did they switch it off and how many people made it to the end of the show. The show can then take that data and change the show format on stage, maximizing its ability to flourish on Broadway.
Diana the Broadway Musical is a Broadway production based on the life of the late Princess Diana, Princess of Wales. The show begins with Diana being thrust into the limelight at the tender age of just 19 years old, when Charles feels the pressure from the queen to find a wife. Diana was a young and naïve assistant kindergarten teacher when she first meets her future husband Prince Charles of Wales (heir to the crown) at a party in her family's apartment in 1979.
The two hit it off immediately, however unbeknownst to Diana, Charles was still deeply in love with his mistress Camilla Parker-Bowles, who he is unable to marry him as she was already married. British law, at the time, did not allow royals to marry either commoners or divorcees. Charles seeks his mother's advice on his relationships, but he misconstrues the Queen's words to mean he can discreetly have both women at once.
With the British tabloid media constantly pressuring Charles on his relationship status with Diana, the two get married after only 13 dates.
The Show Tracks Diana's Royal Family Troubles and Personal Struggle For Mental Health
Diana is a huge hit with the populace, but quickly becomes persona-non-grata with the royal family. Following their marriage, the entire royal family begins doubting Diana's ability to be a "proper" Princess, and even Charles complains about her while continuing his affair with Camilla. After discovering Charles' infidelity, Diana begins to wield the oppressive tabloid media to her advantage, exposing Charles' affair in the process. Diana wears expensive and luxurious clothing as an act of rebellion and begins to publicly support what Charles dismisses as "ghoulish causes" such as AIDS treatment/research and the Ugandan minefield clearance.
Diana's Actions Demonstrate Her Compassionate Nature
Diana's highly publicized actions show the world Diana's compassionate nature, in spite of being betrayed by an unaffectionate husband, causing her fame to skyrocket across the country until she became the true "People's Princess". Charles and the Royal Family were unable to outshine Diana's star-power and a public relations war began to take full effect.
Diana's Tragic Death Comes at Crossroads in Her Life
Tragically, this unruly period in the Royal Family's history is ultimately ended with Diana's horrific and untimely death in a Paris car accident. This turns the Royal Family into a lightning rod for criticism as they have some fault in her death and the responsibility to protect the legacy that she leaves behind.
Characters From Diana's Universe
Many characters in Princess Diana's universe make an appearance in the show including her lover James Hewitt, her great aunt and writer Barbara Cartland, her butler Paul Burrell, her biographer Andrew Morton and her husbands lovers husband, Andrew Parker Bowles. Dodi Al Fayed, her final boyfriend, with whom she died in the Paris tunnel, does not make an appearance.
Show is Miscast in Major Roles
The show is somewhat miscast as Camilla Parker Bowles is played by Erin Davie who is significantly hotter than Jeanna De Waal who plays Diana. In real life the reverse is clearly the case, as Parker Bowles is just hideous.
Show Cancellation in 2021
Diana played 16 previews and 33 performances at the Longacre Theatre in 2021. The 2020 taped version of the production played on Netflix at the very same time.
The musical had its red carpet opening on Nov. 17, 2021 to mostly negative reviews.
This production deals with some sensitive matters such as marital infidelity and death. It is not recommended for children under the age of 16
Longacre Theatre
220 West 48th Street
New York, NY 10019
Entrance:
48th Street between Broadway and 8th Avenues
Theatre Information
Diana Marquee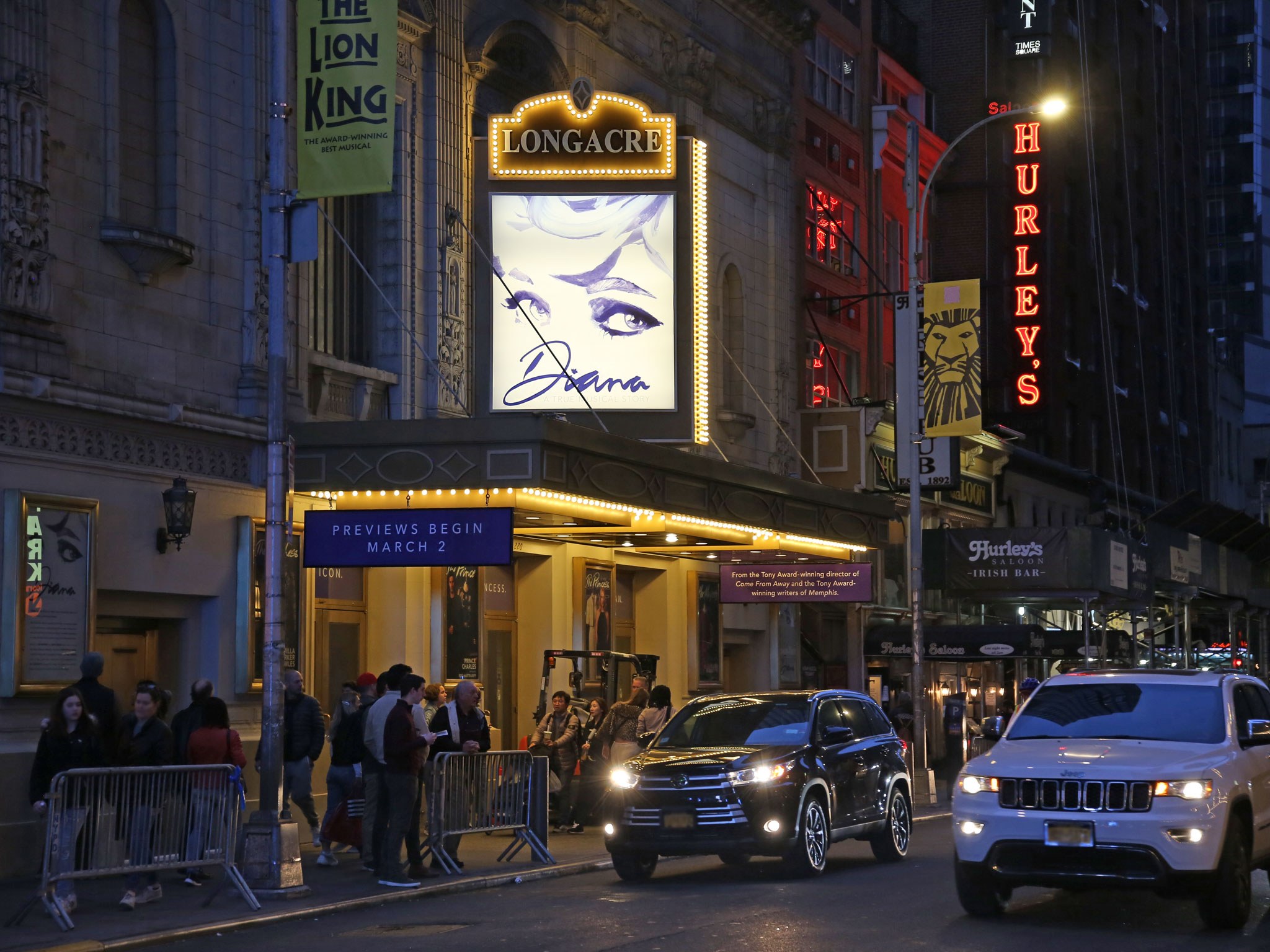 Prince Charles

Roe Hartrampf
Camilla Parker Bowles

Erin Davie
Queen Elizabeth

Judy Kaye
Queen Elizabeth

Erin Davie
Director

Christopher Ashley
General Manager

Foresight Theatrical LLC
Casting Director

Telsey + Company
Advertising Representative

Serino Coyne
Musical Director

Ian Eisendrath
Choreographer

Kelly Devine
Director

Christopher Ashley
Costumes

William Ivey Long