Hudson Theatre
145 West 44th Street, New York, NY 10036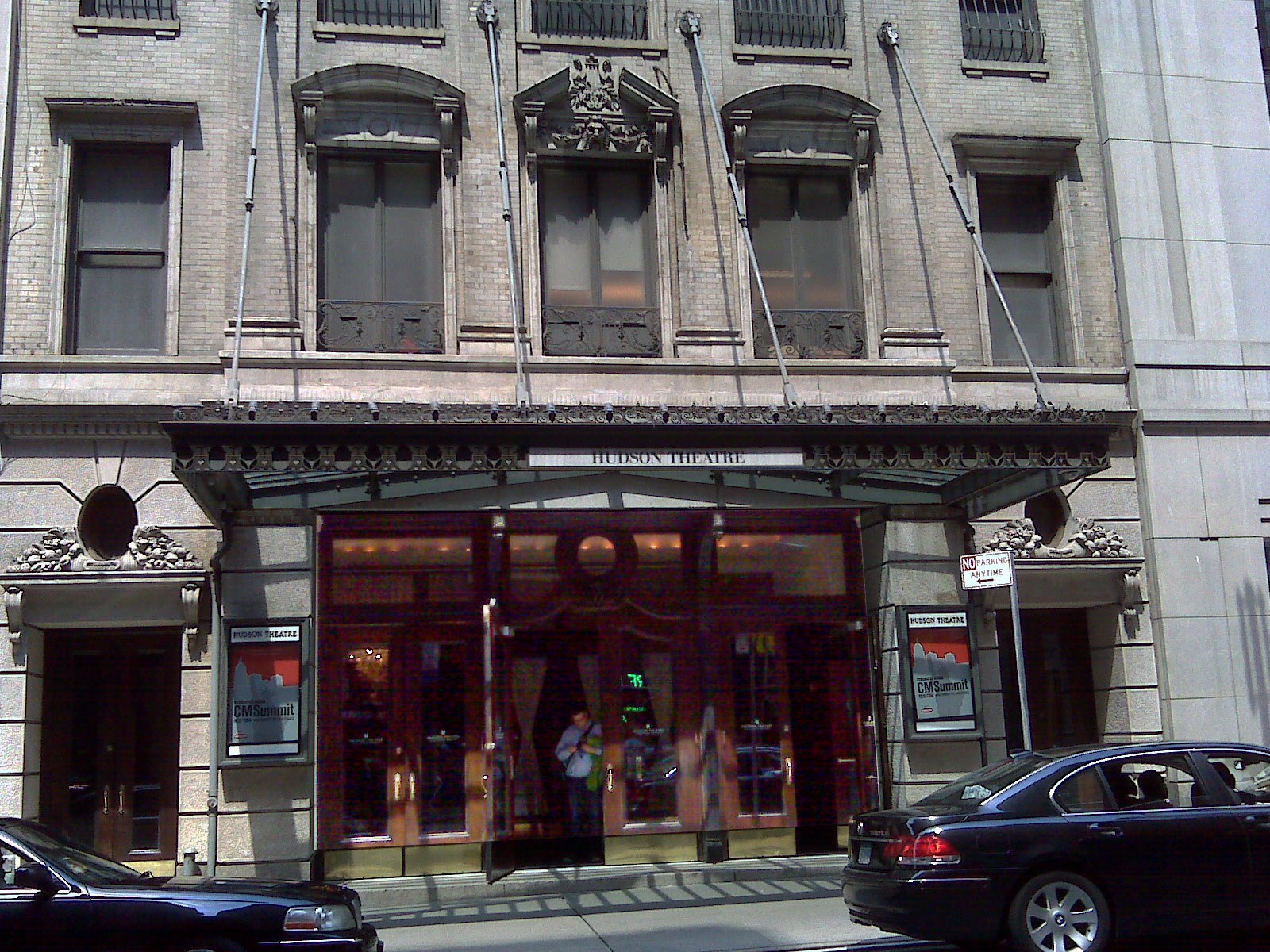 Entrance:

44th Street Between 7th Ave and 6th Ave

The Hudson Theatre is located between 6th and 7th Avenues on W 44th street.

Box Office Hours:

Monday - Thursday:

10AM- 8AM

Friday - Saturday:

10AM - 9PM

Sunday:

CLOSED
Your best bet is the middle to front orchestra, which offers a great view and also a fair amount of leg room.
Hudson Theatre Seating Chart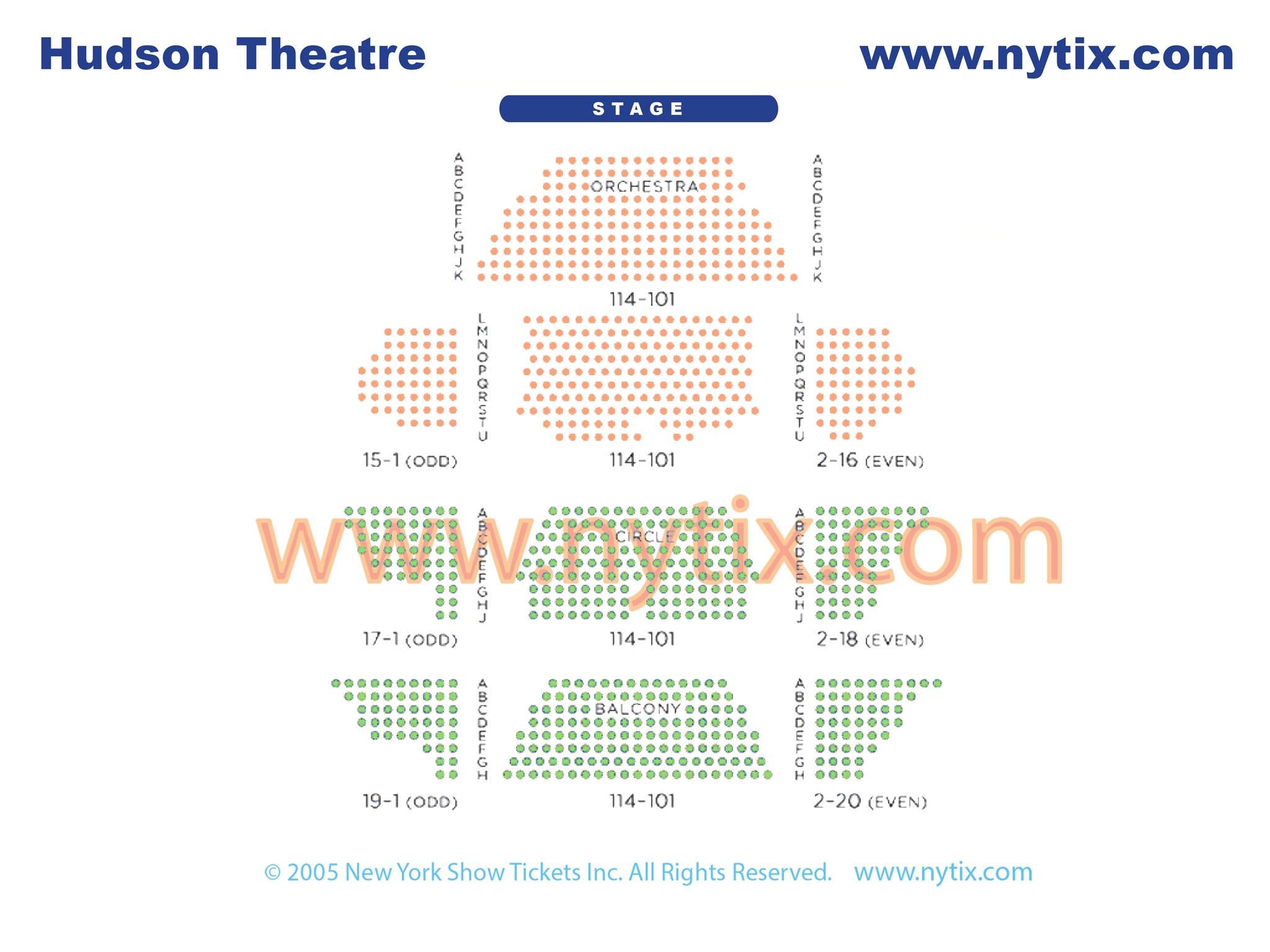 Parking for Hudson Theatre
The closest parking garages for Hudson Theatre are located at:
EDISON Parkfast - Location #100

50 W 44th Street
New York, NY 10001
212-626-2680
QUIK PARK Gem Garage

65 w 46th Street
New York, NY 10001
212-302-2255
The closest parking is not always the best as it often takes longer to park and retrieve your vehicle as fellow theatre goers have the same idea. A better choice of parking may be the second choice or further away by a couple of Avenues.
Additional Notes
Landlord: Ambassador Theatre Group
Official Ticketer: Ambassador Theatre Group
Notes:
Formerly owned by Millennium & Copthorne Hotels.
Elevator: Yes
Escalator: Yes
Disabled Access Notes:
The Hudson Theatre is wheelchair accessible via the 44th Street entrance. Designated ADA seating is located on the Orchestra level. Elevators located on the Dress Circle level may be used to access the private bar "The Ambassador Lounge". Both the Orchestra and Dress Circle levels contain accessible restrooms.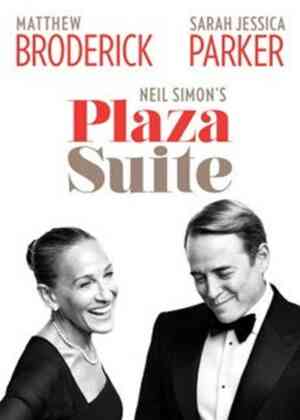 Opened: March 28, 2022

Show Closes: July 10, 2022
Neil Simon three-part comedy play, following three starkly different couple's relationships as they each spend a night in NYC's Plaza Hotel suite #719
…more
Get Tickets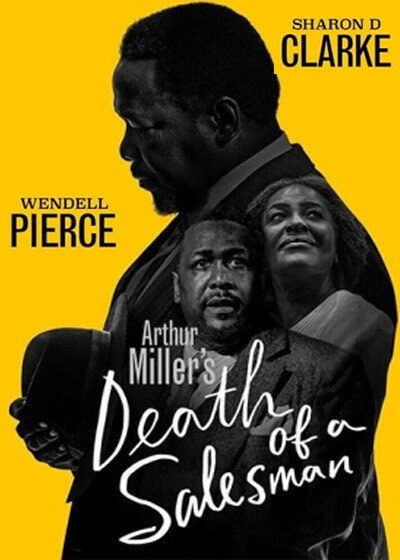 Previews Begin: September 19, 2022

Opens: October 16, 2022

Show Closes: January 15, 2023
12-time Tony Award winning classic play from Arthur Miller depicts an elderly salesman's end-of-life crisis and his ultimate suicide
…more
Get Tickets
The Hudson Theatre was built in 1903 by the producer Henry B. Harris, and the inaugural production was Hubert Henry Davies' Cousin Kate starring Ethel Barrymore. In 1912, Harris died on the RMS Titanic when it went down, and his wife Rene took over as the theatre's manager. Over the next decade, the works produced in the Hudson ranged from Man and Superman by George Bernard Shaw, to Shakespeare's As You Like It. The Hudson often served the dual purpose of CBS radio studio throughout the 1930s to 1940s in between theatrical engagements. In 1950, NBC purchased the theatre for exclusive use as a television studio. The theatre was home to The Tonight Show from 1954 to 1959, with the hosts Steve Allen and Jack Paar. From 1960 to 1968, the venue returned to its original purpose as a legitimate theatre; works produced in this period included Toys in the Attic by Lillian Hellman, Becket by Jean Anouilh, and Strange Interlude by Eugene O'Neill. Following 1968, however, the theatre was used for other general purposes, and no play was performed there for many years. In 1974, the venue briefly was used as an adult movie theatre, and in 1980, it became the Savoy rock club.
When the building was given landmark status by New York City in 1987, the owner Henry Macklowe incorporated it into his adjacent hotel, the Millennium Broadway Hotel, where it was mostly used as a conference facility. Finally, in 2015, the London-based Ambassador Theatre Group purchased the Hudson Theatre with the intent to return it to its original purpose as a theatre house, and in 2017, the grand reopening took place with a critically acclaimed revival of Sunday in the Park with George, starring Jake Gyllenhaal and Annaleigh Ashford.
The theatre was designed by the architectural firm J.B. McElfatrick, along with the architects Israels and Harder. The 970-seat venue has numerous architectural features that were distinctive when it was built in 1903, including a large foyer, a system of diffused lighting, and a triple-domed ceiling. The gorgeous decorative elements include Greco-Roman motifs on the walls and ceilings, a black marble box office, colorful Tiffany glass, and bronze heads of Hermes. When the Ambassador Theatre Group refurbished the venue prior to its 2017 grand reopening, they added new state-of-the-art seating, expanded women's restrooms and dressing rooms, and significant technical upgrades backstage.