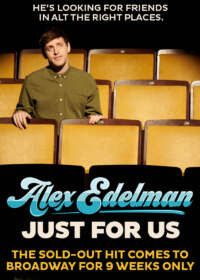 Just For Us
Broadway Tickets: Show Recently Closed on Broadway
Just For Us on Broadway Show Recently Closed
Show Status: Recently Closed

Genre: Comedic Play

Just For Us is 70 minutes long, and does not have an intermission.

8 Shows per week

Previews Began: June 22, 2023

Show Opened: June 26, 2023

Show Closed: August 19, 2023
An Orthodox Jew turns the antisemitism of his online critics into material for his monologues in his memoirist show about his time meeting White Nationalists in Queens, New York.
Just For Us

on Broadway Background
For the past five years, Alex Edelman, 34, has been performing his one-man show in Australia, England, Scotland and Canada, as well as stateside in his native New York, Washington and Boston.
Cherry Lane Theater Production
The show's Off Broadway run first started in NYC at the Cherry Lane Theater in 2021. The show then moved in 2022 to the SoHo Playhouse and in 2023 the show graduated to the Greenwich House Theater at 27 Barrow St in New York City, where it won some accolades.
One-Man Show About White Nationalists
The one-man show covers a lot of territory, but it is built around Edelman's seemingly unlikely (and perhaps unwise) decision to drop in on a meeting of white nationalists gathered in Queens and the shenanigans that happen around that.
'Just For Us Director Adam Brace Dies Unexpectedly
Adam Brace, the British playwright and director died in early May 2023 just before his Broadway Debut with Just For Us..
Brace had been set to make his Broadway directorial debut in June 2023 with his direction of Alex Edelman's show that has appeared Off Broadway, in London, Edinburgh, Boston and other cities around the world.
Show Opening Schedule Was Unchanged
The show was scheduled to begin previews at the Hudson Theatre on Thursday, June 22, 2023 with the opening night set for Monday, June 26, 2023, a schedule that it ultimately kept.
In the wake of a string of anti-Semitic threats pointed in his direction online, standup comic Edelman decides to go straight to the source; specifically, Queens, where he covertly attends a meeting of White Nationalists and comes face-to-face with the people behind the keyboards.
What happens next forms the backbone of the shockingly relevant, utterly hilarious, and only moderately perspirant stories that comprise Just For Us.
Is
Just For Us

Good for Kids?
Although the show is comedic in nature, many adult themes are discussed and the subject matter may not be appropriate for persons under the age of 18.
Hudson Theatre
145 West 44th Street
New York, NY 10036
Entrance:
44th Street Between 7th Ave and 6th Ave
Theatre Information
Just For Us Marquee