Broadway Show Ticket Sales Analysis Chart w/e 01/12/2020
Broadway Show Ticket Sales Analysis Chart w/e 01/12/2020
---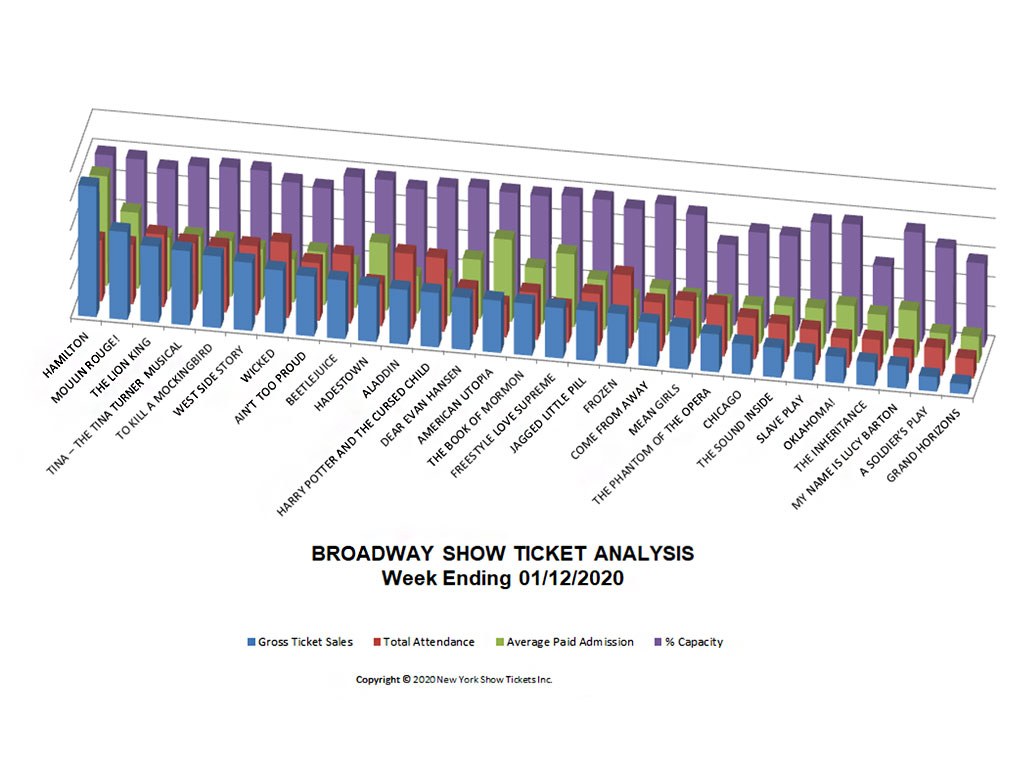 | | | | | | |
| --- | --- | --- | --- | --- | --- |
| # | Show Name | Gross | TotalAttn | %Capacity | AvgPdAdm |
| 28 | A SOLDIER'S PLAY | $305,205 | 4,901 | 84.97% | $62.27 |
| 8 | AIN'T TOO PROUD | $1,266,884 | 10,168 | 89.26% | $124.60 |
| 11 | ALADDIN | $1,159,821 | 13,230 | 95.76% | $87.67 |
| 14 | AMERICAN UTOPIA | $1,106,070 | 5,764 | 99.97% | $191.89 |
| 9 | BEETLEJUICE | $1,243,994 | 12,110 | 101.39% | $102.72 |
| 22 | CHICAGO | $647,410 | 7,262 | 84.05% | $89.15 |
| 19 | COME FROM AWAY | $923,884 | 8,505 | 101.64% | $108.63 |
| 13 | DEAR EVAN HANSEN | $1,106,753 | 7,993 | 101.54% | $138.47 |
| 16 | FREESTYLE LOVE SUPREME | $1,062,219 | 6,218 | 101.60% | $170.83 |
| 18 | FROZEN | $1,052,393 | 12,850 | 95.38% | $81.90 |
| 29 | GRAND HORIZONS | $213,547 | 3,473 | 74.21% | $61.49 |
| 10 | HADESTOWN | $1,175,197 | 7,445 | 101.38% | $157.85 |
| 1 | HAMILTON | $2,763,874 | 10,755 | 101.54% | $256.99 |
| 12 | HARRY POTTER AND THE CURSED CHILD | $1,153,186 | 12,976 | 100.00% | $88.87 |
| 17 | JAGGED LITTLE PILL | $1,062,058 | 9,092 | 101.02% | $116.81 |
| 20 | MEAN GIRLS | $890,813 | 9,292 | 94.82% | $95.87 |
| 2 | MOULIN ROUGE! | $1,859,181 | 10,451 | 100.34% | $177.90 |
| 27 | MY NAME IS LUCY BARTON | $478,414 | 4,365 | 96.53% | $109.60 |
| 25 | OKLAHOMA! | $555,451 | 5,145 | 98.79% | $107.96 |
| 24 | SLAVE PLAY | $588,514 | 6,178 | 97.38% | $95.26 |
| 15 | THE BOOK OF MORMON | $1,097,363 | 8,332 | 99.47% | $131.70 |
| 26 | THE INHERITANCE | $501,029 | 5,380 | 64.17% | $93.13 |
| 3 | THE LION KING | $1,610,115 | 12,756 | 94.02% | $126.22 |
| 21 | THE PHANTOM OF THE OPERA | $801,986 | 9,112 | 70.97% | $88.01 |
| 23 | THE SOUND INSIDE | $630,651 | 6,671 | 83.55% | $94.54 |
| 4 | TINA – THE TINA TURNER MUSICAL | $1,572,756 | 11,679 | 98.77% | $134.67 |
| 5 | TO KILL A MOCKINGBIRD | $1,516,362 | 11,531 | 100.44% | $131.50 |
| 6 | WEST SIDE STORY | $1,443,410 | 12,180 | 100.00% | $118.51 |
| 7 | WICKED | $1,337,825 | 13,287 | 91.91% | $100.69 |
| | TOTALS | $31,126,364 Dollars | 259,101 People | | |
This Week on Broadway:

Gross ticket sales on Broadway dropped to $31,126,364, a 28% drop from last week. This decrease was expected as January is known to be a quiet time for Broadway ticket sales after the holiday surge. This is a 2.5% decrease from the same time last year, which was $31,937,248. This drop is due to many factors including some Broadway shows that closed immediately after the holiday period. Eight shows in total closed this week, contributing to the significant drop in gross ticket sales on the Great White Way.
This week saw the closing of five holiday shows. The Illusionists: Magic of the Holidays, a magic show performed by the well-known traveling magic group The Illusionists, closed on January 5, 2020. The show performed moderately at the box office, regularly filling about 80% of its seats during its limited run. The Nutcracker, the New York City Ballet's annual ballet performance, closed on January 5, 2020. This annual performance, held at the David H. Koch Theatre at Lincoln Center, has become a staple of the holiday season in New York. Slava's Snowshow, a circus and musical performance show, closed on January 5, 2020 as the holiday season came to an end. The Snowshow originally came to New York in 2004, and ran for three years Off-Broadway and then made the jump to Broadway in 2008. The 2019/2020 limited run of Slava's Snowshow is the show's second time on Broadway.
A Christmas Carol closed on January 5th, 2020 after its two month limited run. The show was adapted from Charles Dickens' 1843 novella A Christmas Carol, which quickly became a holiday classic that prompted countless stage and film adaptations. Critics praised the 2019 Broadway production of A Christmas Carol and the show performed well at the box office.The show was so popular that it did not need to discount for its whole run. The last holiday show to close on January 5, 2020 was the Christmas Spectacular Starring The Rockettes, Radio City's annual Christmas show. The show is a holiday staple for both tourists and New York City locals, and despite critiques that the tired show has failed to change from year to year, audiences still showed up to see the annual extravaganza.
Three non-holiday shows also closed this week. Tootsie, a musical based on the 1982 film Tootsie, closed on January 5, 2020, less than a year after its opening on April 23, 2019. The show failed to generate enough interest after both critics and audiences noted that the show was not a good fit for modern sensibilities because of its outdated gender politics and that the show failed to fix the issues present in the original film. Waitress also closed on January 5, 2020, after 1,544 performances since its opening on April 24, 2016. Waitress is based on a 2007 film about a waitress in a small-town diner. The Broadway adaptation of Waitress featured music and lyrics by Sara Bareilles, and the show made history as the first Broadway show to have women in the roles of composer, book writer, director, and choreographer. This sadly concludes the body of work from the late writer Adrienne Shelly, who was killed in 2006. The Lightning Thief, based on Rick Riordan's popular teen fiction series, closed on January 5, 2020, finishing its limited 16-week run. The show first premiered Off-Broadway before embarking on a national tour in 2019. The tour's success prompted a move to Broadway, but the show failed to impress Broadway audiences and was regularly filling below 50% of its capacity, a disaster for show investors.
A new show set to open is Sing Street, a musical based on John Carney's 2016 hit indie film, and is set to open at the Lyceum Theatre on April 19, 2020 after a successful Off-Broadway run at the New York Theatre Workshop. Presale tickets were made available for purchase starting January 8, 2020 for American Express cardholders, and tickets for the general public became available as of January 14, 2020.

The Broadway show ticket analysis raw data has been provided courtesy of The Broadway League and has been collated and analyzed by the New York Show Tickets data team. All data, text, opinion, charts and commentary are copyright © 2020 nytix.com
Discount Broadway Tickets
---
---