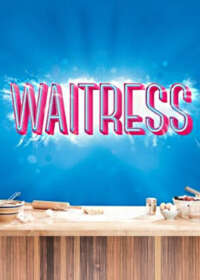 Waitress 2021
Broadway Show Tickets: Show Closed No Longer Available
Waitress 2021 on Broadway: Show Is Now Closed
Show Status: Closed

Genre: Musical

Waitress 2021 is 2 hours and 35 minutes long, including an intermission of 15 Minutes

8 Shows per week

Previews Began: September 2, 2021

Show Opened: September 14, 2021

Show Closed: December 20, 2021
Set in a small-town diner, this show depicts a waitress, who dreams of breaking free from her unhappy marriage and yearns to begin a new life.
Waitress 2021

on Broadway Background
Waitress, the film, originally premiered at the Sundance Film Festival in January 2007, shortly after the passing of its writer and director, Adrienne Shelly. Shelly played the support role of Dawn in the original movie.
In 2010, the movie was developed into the Broadway musical that went on to perform over 1600 performances between 2016 and 2020.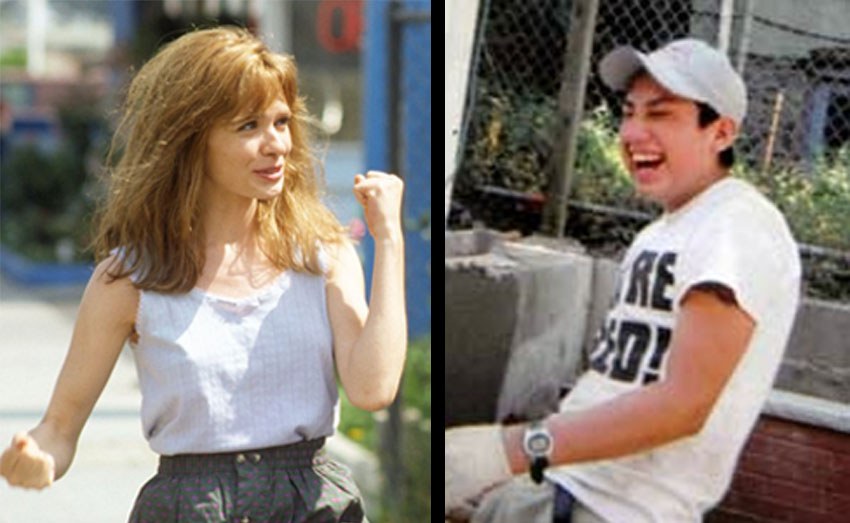 Writer Adrienne Shelly Murdered by Diego Pillco in 2006

Adrienne Shelly, who conceived and wrote Waitress was murdered in her NYC apartment in 2006 by Diego Pillco, a 19-year-old construction worker from Ecuador. It was reported that Pillco attempted to rob Shelly and when he was discovered and confronted by her, he killed her. Pillco beat Shelly close to death and then staged a crime scene to make it look like a suicide. Pillco believed he had already killed Shelly when he staged her suicide in the bathroom of her apartment, but the coroner found that she was in fact still alive at that point. That staging action is what ultimately killed her.
Shelly died long before the Waitress movie found any commercial success and it was many years before the Broadway show version was even conceived.
Pillco Found Guilty of Manslughter in the 1st Degree
Pillco plead guilty to Manslaughter in the 1st degree, which is a class B felony. He received 25 years in prison, without parole and is scheduled to be deported back to Ecuador upon his release from prison in 2033.
His earliest release has been recently updated and prisoner 08A1607, who is at Coxsackie State Prison, will be out on an early release date of 04/06/2028 with a maximum release date of 11/04/2031. It was expected that he will be deported, but the current administration has changed its position on the matter and Pillco may be granted permanent residency in the US. Pillco is reportedly working on a book.
Pre Broadway Engagement and First Broadway Engagement
Waitress had a pre-Broadway engagement at the American Repertory Theatre in Cambridge, Massachusetts in late 2015, where Diane Paulus serves as the artistic director. The show the continued to Broadway, where it began previews in March 2016 and opened in April 2016. That show closed pre-pandemic on January 5, 2020. In a very are turn the show came back to Broadway post pandemic on September 2, 2021 with Sara Bareilles reprising her role as Jenna.
Sara Bareilles: Music, Lyrics and Lead Role
The music and lyrics to the musical are written by Sara Bareilles, the five-time Grammy nominee whose hit singles have included "Love Song," "King of Anything," "Uncharted," and "Gonna Get Over You." In addition to selling over two million albums, Bareilles has serves as a celebrity judge for NBC's "The Sing Off." The book is by Jessie Nelson, who wrote and directed the film I Am Sam. The Broadway show is directed by Diane Paulus, whose other Broadway directing credits include Finding Neverland, Pippin, The Gershwins' Porgy & Bess, and Hair.
Original Show Run 2016 - 2020
The show originally ran at the Brooks Atkinson Theatre from 3/25/2016 to 1/5/2020, with an opening night on 4/24/2016.
Post Pandemic Limited Run
To fill in a scheduling gap at the Ethel Barrymore Theatre during Broadways' return to the post pandemic stage, the musical comes back to play a limited engagement at the theatre. The reprise of the show will run from Sept. 2, 2021 through Jan. 9, 2022. Sara Bareilles, the composer of the show, stars in the show as Jenna for all performances through Oct. 17, 2021.
What's
Waitress 2021

Like?
Waitress is the story of a young woman named Jenna, who works as a waitress in a small-town diner and is stuck in an unhappy marriage. Unfortunately, she is now pregnant with her husband's child, so she figures she is completely stuck in the dead-end marriage, at least for now.
Her private pleasure is baking pies as she works at the local diner, and when a nearby county fair offers a baking contest, she decides to take part. After baking success and many accolades, she then must decide between her newfound opportunity for freedom or the commitment she has made to her family. The town gets a new handsome doctor, which offers Jenna some new romantic possibilities and further complicates her critical life choices that have to be made.
The role of Jenna was played in the American Repertory Theater production by Jessie Mueller, who won a Tony Award for her lead performance in Beautiful: The Carole King Musical.
Is
Waitress 2021

Good for Kids?
This show is recommended for ages 14 and up. It would be most appropriate for high school students and mature middle school students, as there are themes of spousal abuse and sexuality. Children under the age of 4 are not permitted in the theatre.
Ethel Barrymore Theatre
243 West 47th Street
New York, NY 10019
Entrance:
47th Street, between 8th and Broadway
Theatre Information
Waitress 2021 Marquee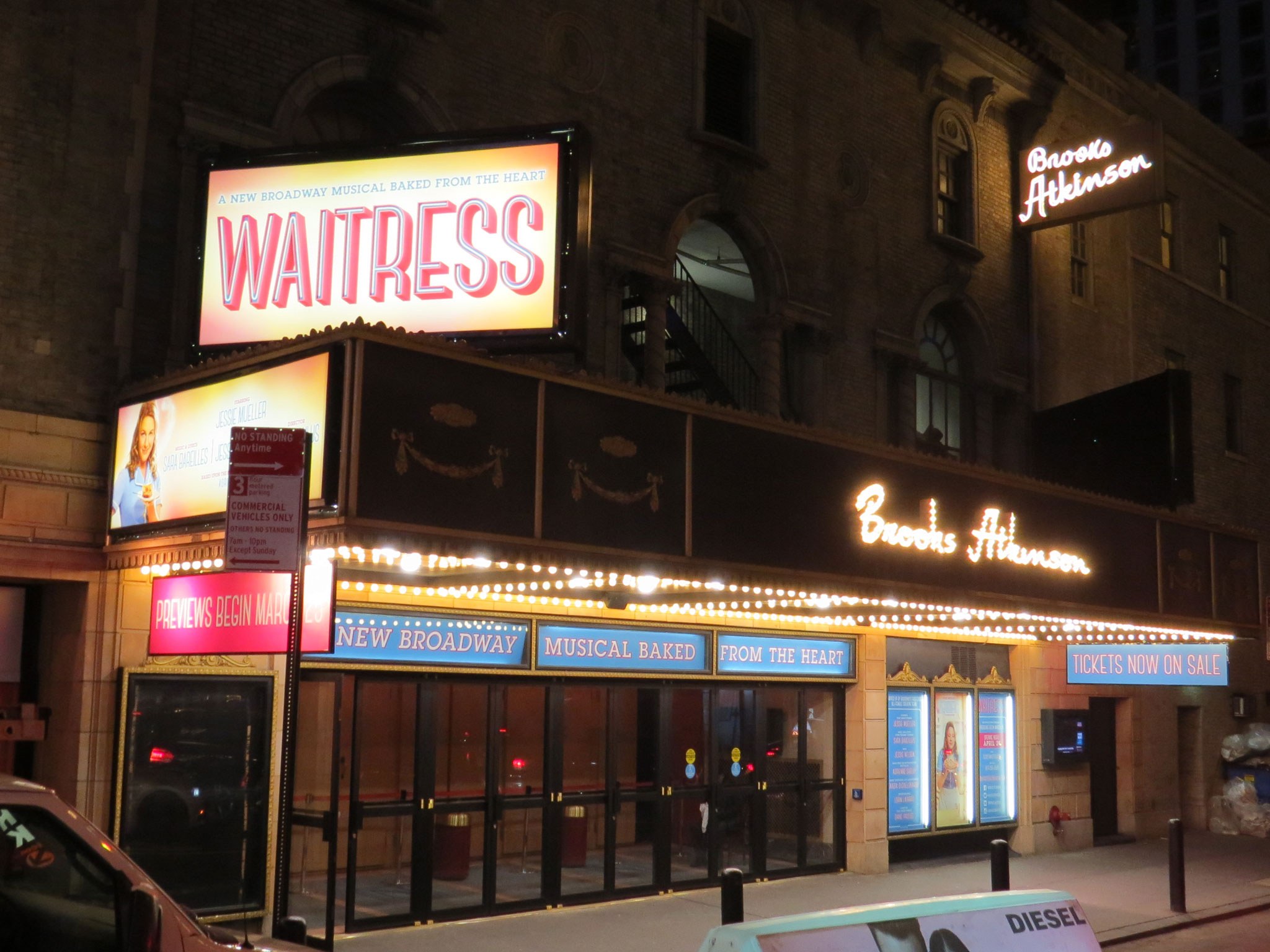 Becky

NaTasha Yvette Williams
Dr. Pomatter

Drew Gehling
Ogie

Christopher Fitzgerald
Costume Design

Suttrirat Larlarb
Lighting Design

Kenneth Posner
Sound Design

Jonathan Deans
Choreographer

Lorin Latarro
Lyrics + Music

Sara Bareillis
Production Stage Manager

Thom Gates
General Manager

National Artists Management Company (NAMCO)
Company Manager

Eduardo Castro at National Artists Management Company (NAMCO)
Musical Supervisor

Nadia Di Giallonardo
Casting Director

Patrick Goodwin at Telsey + Company
Press Agent

Boneau Bryan-Brown
Advertising Representative

RPM