Broadway Show Ticket Sales Analysis Chart w/e 12/08/2019
Broadway Show Ticket Sales Analysis Chart w/e 12/08/2019, Harry Connick Jr's Celebration of Cole Porter, Kids Night on Broadway Tix Go On Sale, Shows Trending Up

---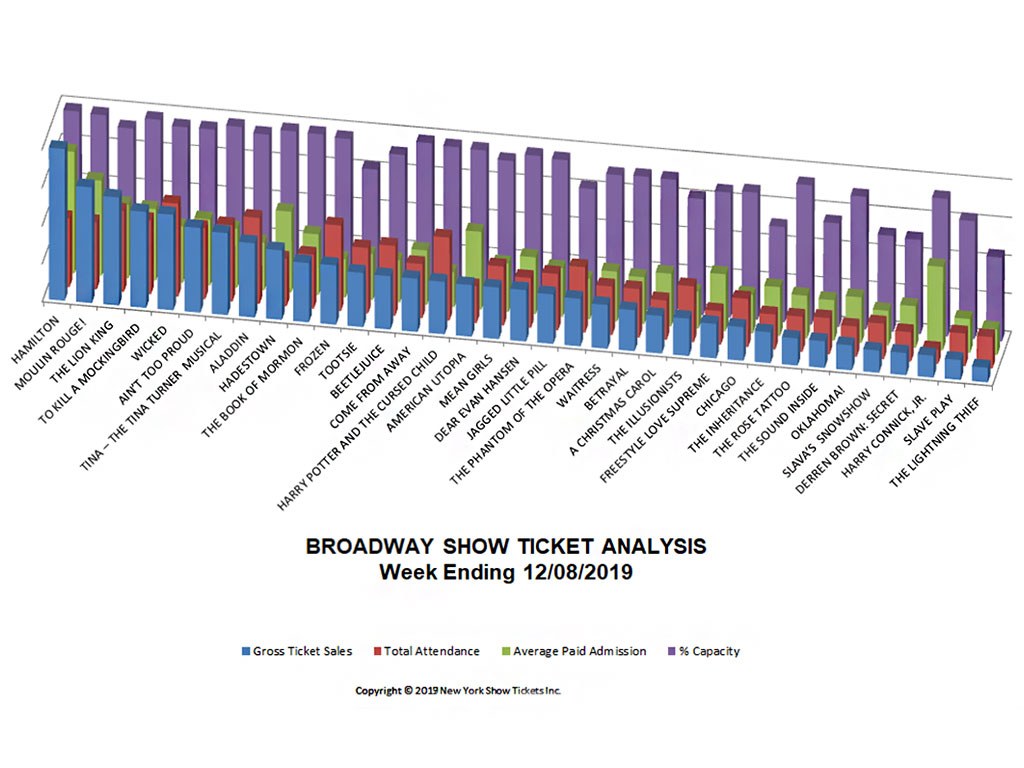 | | | | | | |
| --- | --- | --- | --- | --- | --- |
| # | Show Name | Gross | TotalAttn | %Capacity | AvgPdAdm |
| 23 | A CHRISTMAS CAROL | $757,702 | 6,164 | 90.86% | $122.92 |
| 6 | AIN'T TOO PROUD | $1,710,068 | 11,089 | 97.34% | $154.21 |
| 8 | ALADDIN | $1,498,388 | 13,423 | 97.16% | $111.63 |
| 16 | AMERICAN UTOPIA | $1,041,786 | 5,736 | 99.48% | $181.62 |
| 13 | BEETLEJUICE | $1,076,500 | 10,923 | 91.45% | $98.55 |
| 22 | BETRAYAL | $826,147 | 7,563 | 91.25% | $109.24 |
| 26 | CHICAGO | $681,200 | 7,520 | 87.04% | $90.59 |
| 14 | COME FROM AWAY | $1,072,443 | 8,464 | 101.15% | $126.71 |
| 18 | DEAR EVAN HANSEN | $1,037,685 | 7,791 | 98.97% | $133.19 |
| 32 | DERREN BROWN: SECRET | $447,257 | 4,589 | 64.52% | $97.46 |
| 25 | FREESTYLE LOVE SUPREME | $695,297 | 5,229 | 85.44% | $132.97 |
| 11 | FROZEN | $1,196,466 | 13,354 | 99.12% | $89.60 |
| 9 | HADESTOWN | $1,404,857 | 7,419 | 101.02% | $189.36 |
| 1 | HAMILTON | $3,060,685 | 10,757 | 101.56% | $284.53 |
| 33 | HARRY CONNICK, JR. | $441,241 | 2,262 | 94.25% | $195.07 |
| 15 | HARRY POTTER AND THE CURSED CHILD | $1,059,050 | 12,976 | 100.00% | $81.62 |
| 19 | JAGGED LITTLE PILL | $998,475 | 8,793 | 97.70% | $113.55 |
| 17 | MEAN GIRLS | $1,039,046 | 9,197 | 93.85% | $112.98 |
| 2 | MOULIN ROUGE! | $2,335,550 | 10,482 | 100.63% | $222.82 |
| 30 | OKLAHOMA! | $505,272 | 4,724 | 90.71% | $106.96 |
| 31 | SLAVA'S SNOWSHOW | $449,562 | 5,541 | 65.65% | $81.13 |
| 34 | SLAVE PLAY | $402,862 | 5,119 | 80.69% | $78.70 |
| 10 | THE BOOK OF MORMON | $1,196,792 | 8,426 | 100.60% | $142.04 |
| 24 | THE ILLUSIONISTS | $753,649 | 8,734 | 79.34% | $86.29 |
| 27 | THE INHERITANCE | $623,654 | 5,463 | 65.16% | $114.16 |
| 35 | THE LIGHTNING THIEF | $296,009 | 4,923 | 57.35% | $60.13 |
| 3 | THE LION KING | $2,180,133 | 12,635 | 93.12% | $172.55 |
| 20 | THE PHANTOM OF THE OPERA | $959,340 | 10,216 | 79.56% | $93.91 |
| 28 | THE ROSE TATTOO | $547,690 | 5,499 | 95.34% | $99.60 |
| 29 | THE SOUND INSIDE | $537,393 | 5,665 | 70.95% | $94.86 |
| 7 | TINA – THE TINA TURNER MUSICAL | $1,654,353 | 11,917 | 100.79% | $138.82 |
| 4 | TO KILL A MOCKINGBIRD | $1,937,216 | 11,567 | 100.76% | $167.48 |
| 12 | TOOTSIE | $1,094,775 | 10,223 | 79.77% | $107.09 |
| 21 | WAITRESS | $884,132 | 7,580 | 90.67% | $116.64 |
| 5 | WICKED | $1,929,278 | 14,522 | 97.25% | $132.85 |
| | TOTALS | $38,331,950 Dollars | 296,485 People | | |
This Week on Broadway: Harry Connick, Shows Trending Up, Kids Night on Broadway
Broadway ticket sales were down this week, which was not a surprise as it followed the usual post-Thanksgiving boom-to-bust Broadway ticket sales drop. Gross ticket sales this week were slightly over $38.3 Million this week, which is substantially above the weekly average Broadway sales of $30 Million, but sales were still down from last week by over $3 Million. This equates to an 8% drop, but up about 28% from the Broadway average weekly sales figure.

Compared to last year, Broadway ticket sales were also down from the same week by over $1.8 Million, a 4.5% drop.
Harry Connick, Jr. - A Celebration of Cole Porter
Harry Connick, Jr. - A Celebration of Cole Porter opened on Sunday December 7th, 2019 and performed its first few performances in-previews. No official reviews are out yet but, its box office sales were still positive. The show sold a total of 2,262 tickets which was 94.25% of the Nederlander Theatre's ticket inventory and the average show ticket sold for $195.07. The show's gross sales were $441,241 this week.

Future sales are projected to be strong for this show with this legendary crooner, Harry Connick, delivering an impressive show on his 6th time back on Broadway.
Shows That Fared Well
Even though the total gross sales were down, there were still a handful of Broadway shows that bucked the trend this week and did surprisingly well. Ain't Too Proud, Betrayal, The Inheritance, The Sound Inside and Tootsie (which recently announced its closing date) all had gross ticket sales increases of at least $100,000 from the previous week. This just goes to show that just because the total of Broadway sales were down, not every show suffers.
Kids Night on Broadway

Tickets went on sale this week for Kids Night on Broadway, the annual event that was created and sponsored by The Broadway League and by The New York Times. The date was set for Tuesday February 25th, 2020 and allows kids under the age of 18 to see one of the top Broadway shows for free, if reserved in advance, when accompanied by a full priced ticket paying adult.

The Broadway shows include, but are not limited to: The Lion King, Wicked, Phantom of the Opera, Frozen, Aladdin and Mean Girls. Many other shows refuse to be part of the KNOB because of the 50% discounts that many shows cannot afford.
The Broadway show ticket analysis raw data has been provided courtesy of The Broadway League and has been collated and analyzed by the New York Show Tickets data team. All data, text, opinion, charts and commentary are copyright © 2019 nytix.com