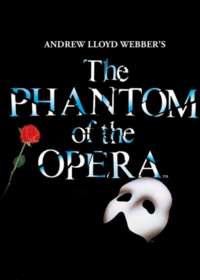 The Phantom of the Opera
Discount Broadway Tickets
Discount Broadway Tickets For The Phantom of the Opera
Rush Tickets Tonight
The Phantom of the Opera

Summary
Show Status: Currently playing at the Majestic Theatre

Genre: Musical

The Phantom of the Opera is 2 hours and 30 minutes long, including an intermission of 15 minutes

8 Shows per week

Previews Began: January 9, 1988

Show Opened: January 26, 1988

Show Closes: February 18, 2023
The classic Broadway show set in Paris in the late 1700's is a beloved musical that follows the life of a disfigured man who takes residence underground in an opera house and falls in love with a singer.
The Phantom of the Opera

on Broadway Background
Playing at the Majestic Theatre since January 9, 1988, The Phantom of the Opera is the longest running Broadway show in history.
With music by Andrew Lloyd Webber and lyrics by Charles Hart, and a book by Lloyd Webber and Richard Stilgoe, The Phantom of the Opera is based off a French novel called Le Fantôme de l'Opéra (Gaston Leroux). It is the story of a disfigured musical genius who haunts a French opera house, until he becomes fascinated by a young soprano named Christine Daaé.
The timeless story of The Phantom of the Opera resonates for audiences of all ages and all generations, as evident by its seemingly perpetual success. The original show on London's West End, featured Michael Crawford and Sarah Brightman in the lead roles, but the Broadway production has transcended big celebrity name in favor of an ensemble cast that lifts the production to incredible heights and longevity.
Post Pandemic Reopening Date:
Rehearsal: September 27, 2021
Open: October 22, 2021
What's
The Phantom of the Opera

Like?
This Broadway musical is a design masterpiece, and won many of the 1988 Tony Awards including Best Scenic Design, Best Costume Design, and Best Lighting Design. Other Tony Awards were Best Musical, Best Performance by a Leading Actor, Best Performance by a Featured Actress and Best Direction.
The gorgeous set includes a sweeping staircase, an ominously swinging chandelier, and a subterranean gondola that appears as if it is floating on water. The choreography is masterful, and the score is timeless with such gorgeous songs as "Think of Me," "Angel of Music," "The Phantom of the Opera" and "The Music of the Night."
The stage production, acting and musical score are as spectacular as ever and it is clear that Phantom continues to improve with age. Many Broadway fans will continue to see this Broadway show more than once.
Is
The Phantom of the Opera

Good for Kids?
The show is a wonderful evening for the entire family. It may be inappropriate for children under the age of 8, and likewise, as customary, children under the age of 4 are not permitted inside the theatre.
The Phantom of the Opera

Ticket Lottery and Rush Schedule

Every day there are discounted Broadway show tickets sold as part of the Broadway ticket lotteries or as Rush Tickets Tonight. Tickets are only valid on-the-same-day of the drawing. The following is the daily schedule of the ticket lottery and RUSH ticket pricing.
Online Lottery
Monday, 7:00am
Tuesday, 7:00am
Wednesday, 7:00am
Thursday, 7:00am
Friday, 7:00am
Saturday, 7:00am
Majestic Theatre
247 West 44th Street
New York, NY 10019
Entrance:
44th Street, between 7th and 8th Ave
Theatre Information
The Phantom of the Opera Marquee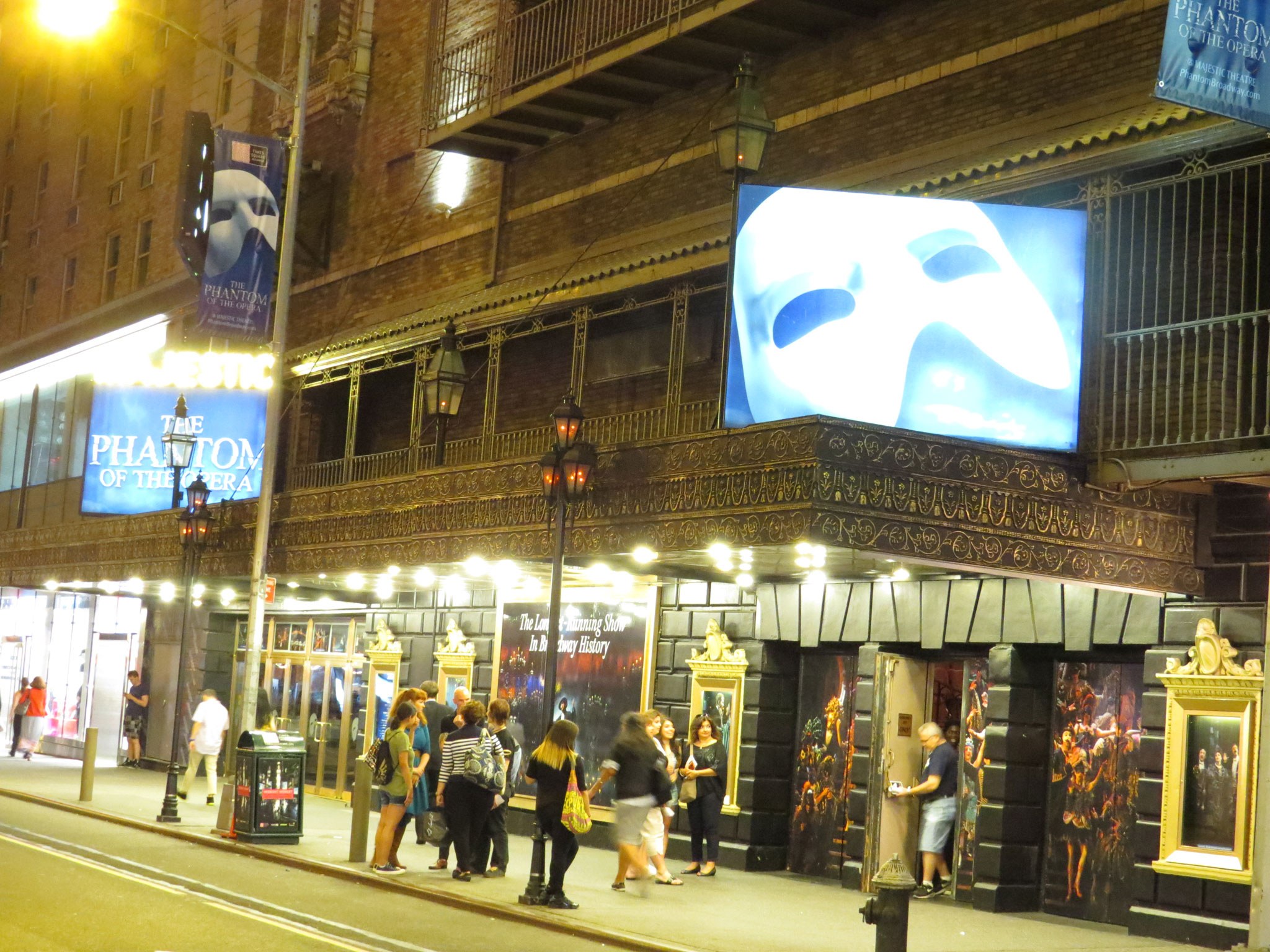 Christine Daaé

Emilie Kouatchou
Monsieur André

Laird Mackintosh
Raoul, Vicomte de Chagny

Jay Armstrong Johnson
Carlotta Giudicelli

Raquel Suarez Groen
Madame Giry

Maree Johnson
Monsieur Firmin

Kenneth Kantor
Christine Daae

Meghan Picerno
The Phantom

Timothy Nolen
The Phantom

Thomas Marcus Lovett
The Phantom

James Barbour
The Phantom

Laird Macintosh
Christine Daaé

Lisa Vroman
Christine Daaé

Patti Cohenour
Christine Daaé

Rebecca Pitcher
Christine Daaé

Jennifer Hope Wills
Christine Daaé

Mary Michael Patterson
Christine Daaé

Julia Udine
Christine Daaé

Ali Ewoldt
Christine Daaé

Kaley Ann Voorhees
Monsieur Firmin

Craig Bennett
Monsieur Firmin

Tim Jerome
Madame Giry

Cristin J. Hubbard
Carlotta Giudicelli

Michele McConnel
Raoul, Vicomte de Chagny

Jeremy Hays
General Manager

Foresight Theatrical LLC
Company Manager

Steve Greer
Casting Director

Tara Rubin Casting
Advertising Representative

Serino Coyne
Advertising Representative

Dewynters Advertising Inc
Marketing

Type A Marketing
Press Agent

The Publicity Office
Production Stage Manager

Greg Livoti
Book Writer

Andrew Lloyd Webber
Book Writer

Richard Stilgoe
Music

Andrew Lloyd Webber
Additional Lyrics

Richard Stilgoe
Choreographer

Gillian Lynne
Settings & Costumes

Maria Bjornson
Musical Director

David Caddick
Orchestrations

Andrew Lloyd Webber
Orchestrations

David Cullen