Majestic Theatre
247 West 44th Street, New York, NY 10019
Majestic Theatre Information, Shows and Tickets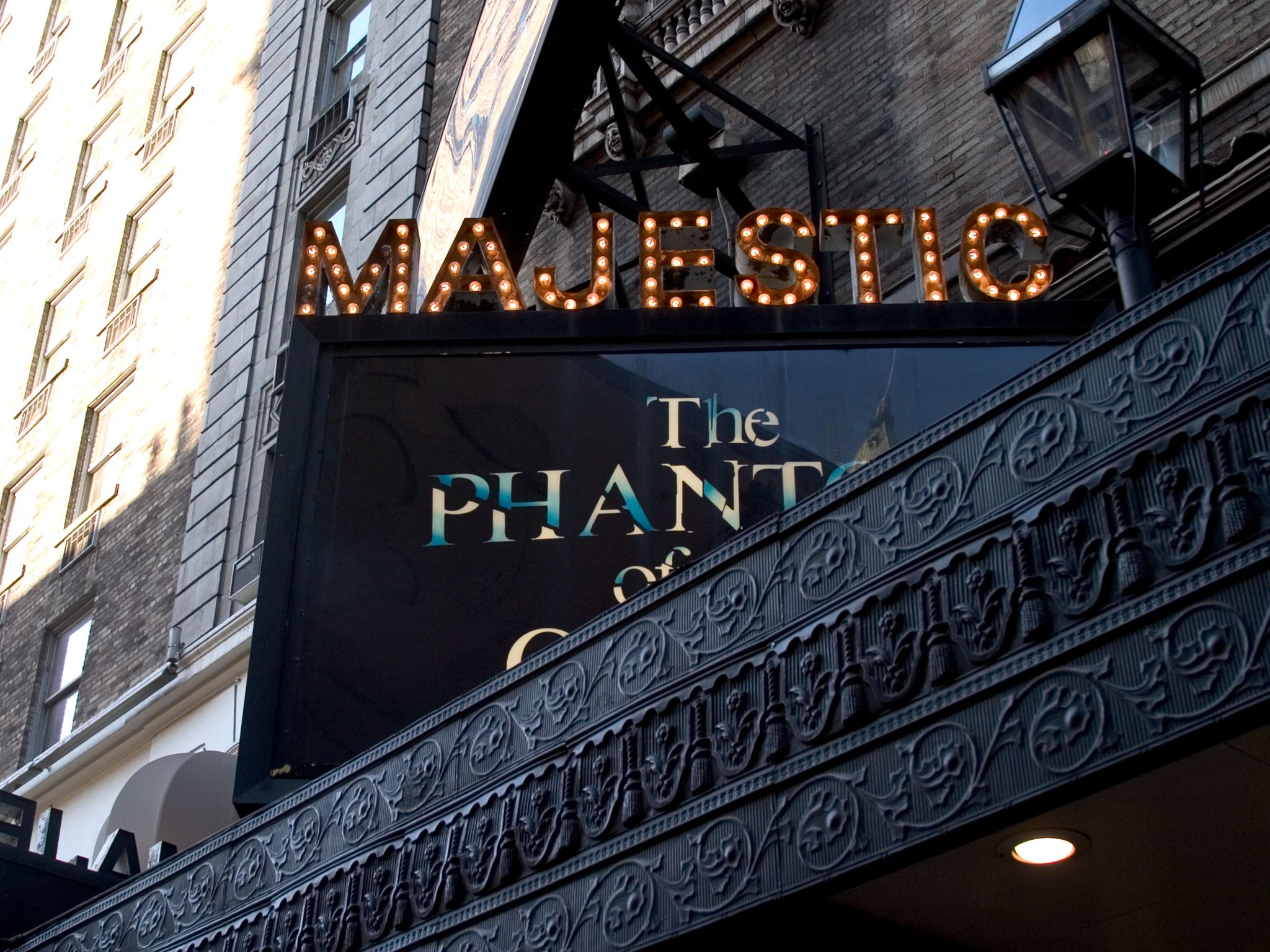 Directions:

Take the A, C, E or 1, 2, 3, or 9 subways to 42nd Street, then walk north on Broadway to 44th Street. The Majestic Theater is on the same street as the Broadhurst and Shubert Theaters.

Entrance:

44th Street, between 7th and 8th Ave

The Majestic Theatre is located on the north side of 44th Street, west of Broadway near 8th Avenue.

Box Office Hours:

Monday - Saturday:

10am - 8pm

Sunday:

Noon - 6pm
The sloped orchestra section offers better views than most other theaters.
Majestic Theatre Seating Chart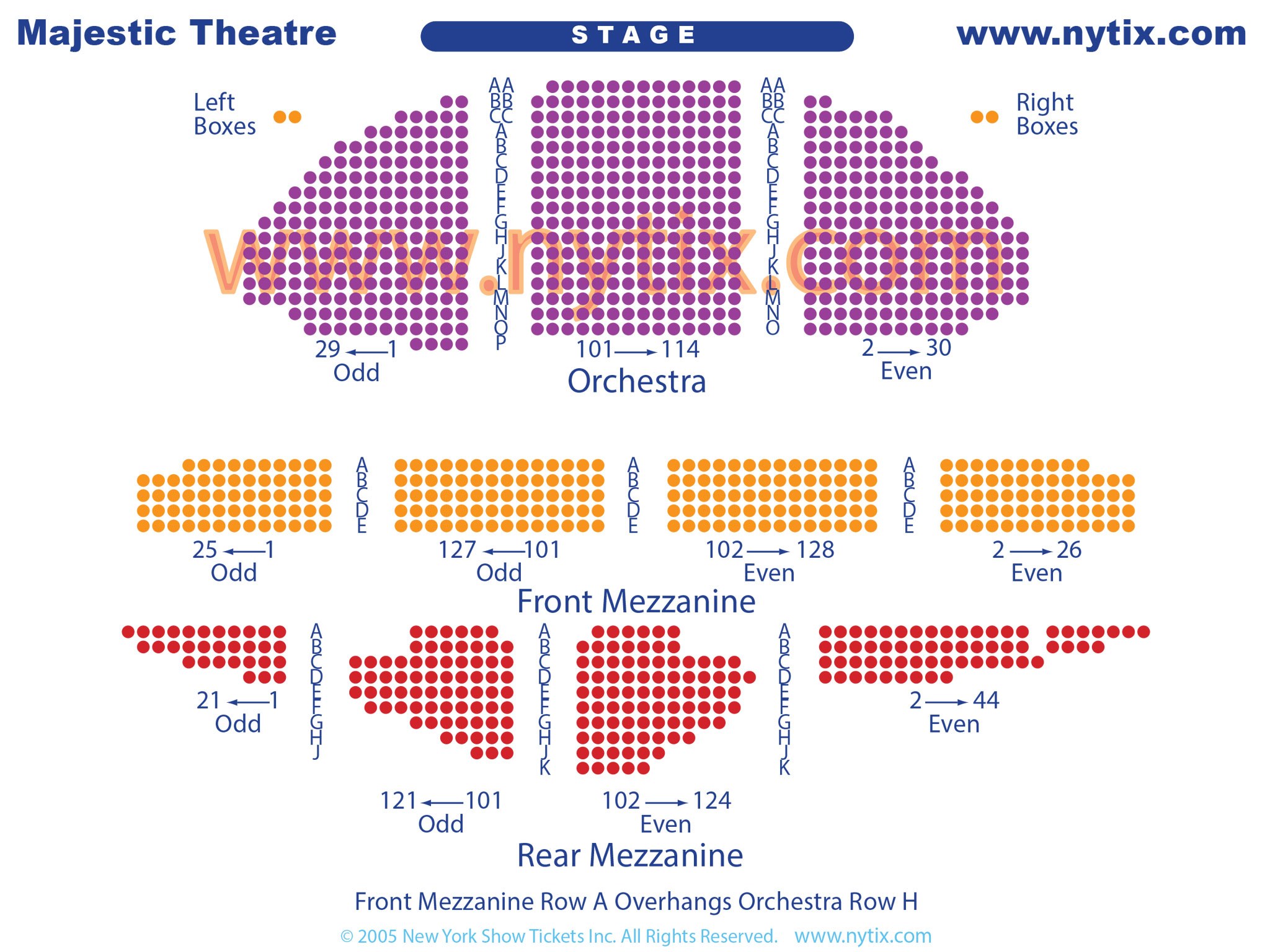 Parking for Majestic Theatre
The closest parking garages for Majestic Theatre are located at:
ICON Advance Parking

249-253 W 43rd Street
New York, NY 10019
212-221-8902
Quick Park Garage

350 West 43rd Street
New York, NY 10036
212-582-7237
The closest parking is not always the best as it often takes longer to park and retrieve your vehicle as fellow theatre goers have the same idea. A better choice of parking may be the second choice or further away by a couple of Avenues.
Additional Notes
There are no stairs to enter the Majestic Theatre. A wheelchair accessible restroom is located on the main level and other restrooms are located one and two flights down.
Landlord: Shubert Organization
Official Ticketer: Telecharge
Notes:
As one of Broadway's largest houses, its hard to remember what show occupied the Majestic theatre prior to Phantom which opened there in 1988. For the record, the prior show at the Majestic was 42nd Street, that had a run from 1983 to 1987.
Elevator: No
Escalator: No
No show scheduled to open at this theatre.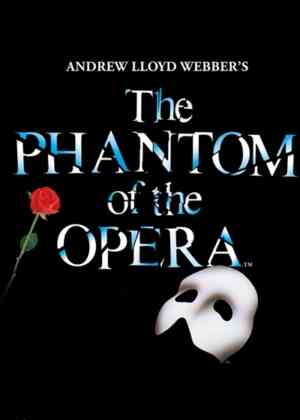 Opened: January 26, 1988

Show Closed: April 16, 2023
The classic Broadway show set in Paris in the late 1700's is a beloved musical that follows the life of a disfigured man who takes residence underground in an opera
…more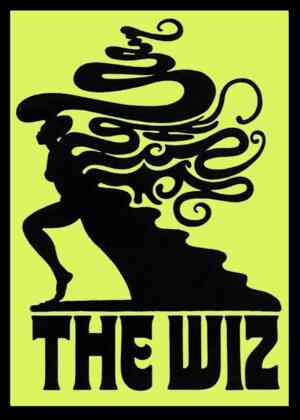 Opened: January 5, 1975

Show Closed: January 28, 1979
A Broadway reimagining of the classic children's novel The Wonderful Wizard of Oz set within the context of modern African-American culture.
…more
The Majestic Theatre opened on March 28, 1927, and for many years it was the largest theater in the Times Square area. Designed by architect Herbert J. Krapp, the Majestic Theatre was the sixth (and final) theater built by construction moguls the Chanin Brothers. The pair lost their theatrical empire during the Great Depression, when several of their houses were acquired by the Shuberts. In the early decades, the Majestic Theatre was filled with transfers from other Shubert theaters, and its tickets were sold at a discount.
The Majestic Theatre is six stories high, with a pair of wrought iron fire escape balconies for decoration. The theater has stadium-style seating in the orchestra and a steep balcony. The boxes are staggered step style on the side walls. The Majestic Theatre has been renovated to maintain its elegance over the years, yet the auditorium looks very similar to the way it did when the theater was originally built.