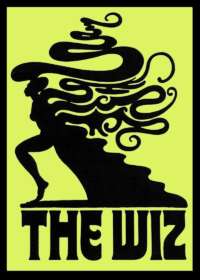 The Wiz (1974)
Broadway Show Tickets: Show Closed No Longer Available
The Wiz (1974) on Broadway: Show Is Now Closed
Show Status: Closed

Genre: Musical

The Wiz (1974) is 2 Hours 20 Minutes long, including an intermission of 15 Minutes

8 Shows per week

Previews Began: December 24, 1974

Show Opened: January 5, 1975

Show Closed: January 28, 1979
A Broadway reimagining of the classic children's novel The Wonderful Wizard of Oz set within the context of modern African-American culture.
The Wiz (1974)

on Broadway Background
The Wiz is a Broadway musical adaptation of L. Frank Baum's classic 1900 children's book, The Wonderful Wizard of Oz, but this time with an all-black cast and added emphasis on the african-american community.
The show is seen by many as a metaphor for black society and its struggle for recognition in the white man's modern world. The show debuted at Morris A. Mechanic Theatre in Baltimore, Maryland, and transferred as planned to Broadway's Majestic Theatre after four months of travelling on the black brick road. The show acted as a stepping stone to later success for much of the cast, including Andre De Shields of Hadestown fame, and Stephanie Mills, who had five number one R&B hits throughout the 1980's.
The show received eight Tony nominations, of which it won seven that included "Best Musical" "Best Original Score" and "Best Direction of a Musical". In 1978, The Wiz received a big-budget film adaption produced by Universal Pictures and Motown Productions. Several of the Broadway actors reprised their roles for the film alongside music icons like Michael Jackson and Diana Ross, who both took on starring roles.
Upon its theatrical release, the film was both a critical and commercial box office failure, but has since become a cult classic amongst black audiences and Oz fanatics.
What's
The Wiz (1974)

Like?
Dorothy Gale is a thirteen year old girl that lives with her family on a farm in Kansas. When a tornado approaches the farm, Dorothy hides in the farmhouse, which is lifted into the air and swept away moments later. When the house finally lands, Dorothy finds herself in the Land of Oz, a magical world full of strange creatures, like Munchkins and witches.
Dorothy is instructed by the Good Witch of the North to follow the Black Brick Road and find The Wizard if she ever wants to return home. During her travels, Dorothy recruits a rag tag group of unfulfilled adventurers comprised of a scarecrow, a tin man, and a cowardly lion.
Is
The Wiz (1974)

Good for Kids?
This show is based on a story that has entertained children for over a century, making it suitable for children of all ages.
Majestic Theatre
247 West 44th Street
New York, NY 10019
Entrance:
44th Street, between 7th and 8th Ave
Theatre Information
Glinda

Dee Dee Bridgewater
General Manager

Emanuel Azenberg
General Manager

Eugene V. Wolsk
General Manager

Jose Véga
Production Stage Manager

Charles Blackwell
Stage Manager

Henry Velez
Music and Lyrics

Charlie Smalls
Choreographer

George Faison