Booth Theatre
222 West 45th Street, New York, NY 10019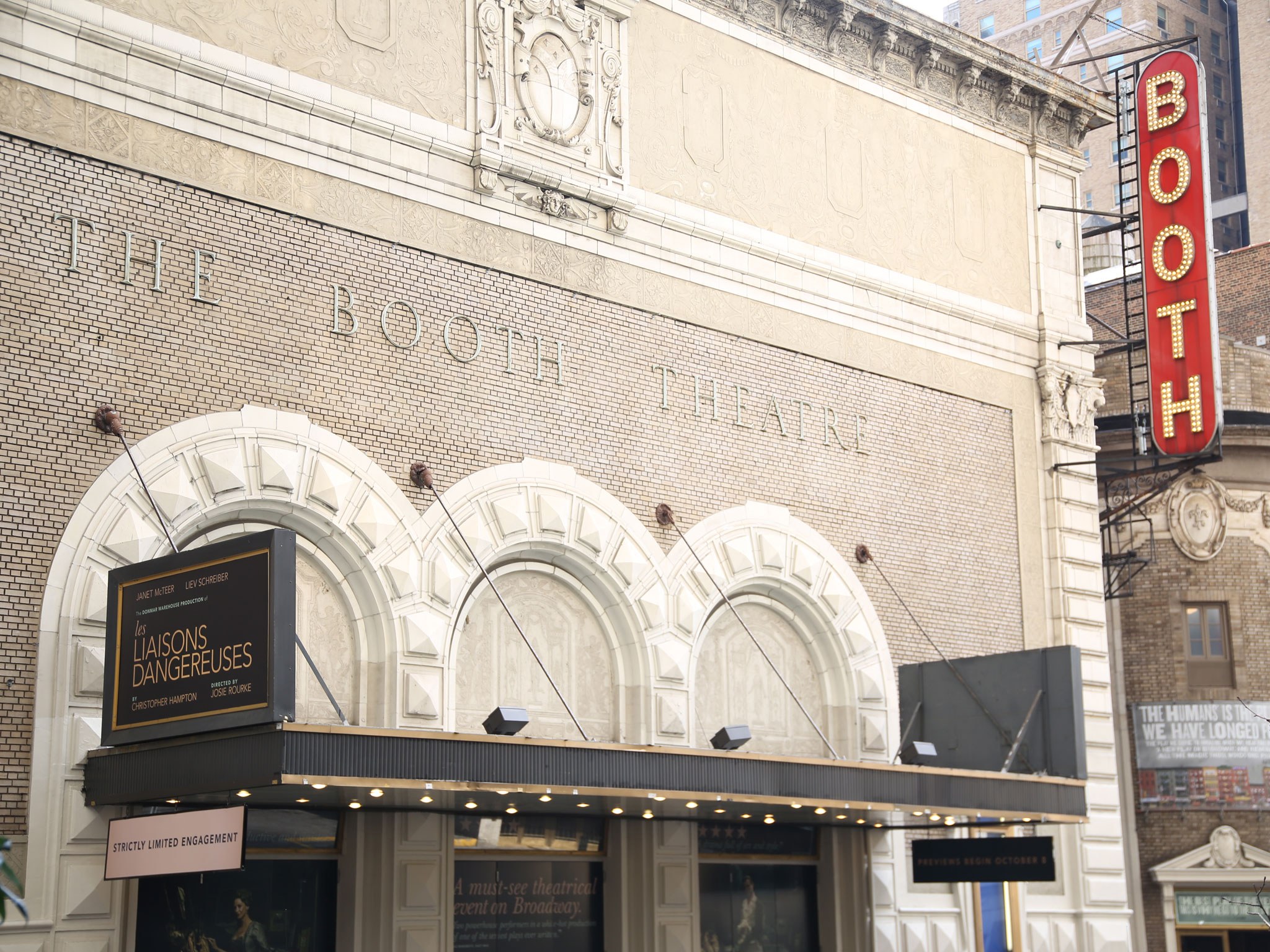 Directions:

By Subway, take the A/C/E to 42nd Street, walk north on Eight Avenue and then turn right onto 45th Street. Or take the 1/2/3 to 42nd Street, walk north on Seventh Avenue and then make a left onto 45th Street.

Entrance:

45th Street, between 7th and 8th Ave

The Booth Theater is located on the south side of 45th Street, between Broadway and Eighth Avenue.

Box Office Hours:

Monday - Saturday:

10am - 8pm

Sunday:

12pm - 6pm
Because of its modest size of only 783 seats, the historic space has good sightlines from almost every seat.
There is a center aisle running through most of the orchestra, so the very best seats would either be right along that aisle or in the center front of the mezzanine.
Some seats in the far back row of the Booth Theatre have very little legroom, so getting a seat closer to the stage or getting a seat next to an aisle is a good idea.
Booth Theatre Seating Chart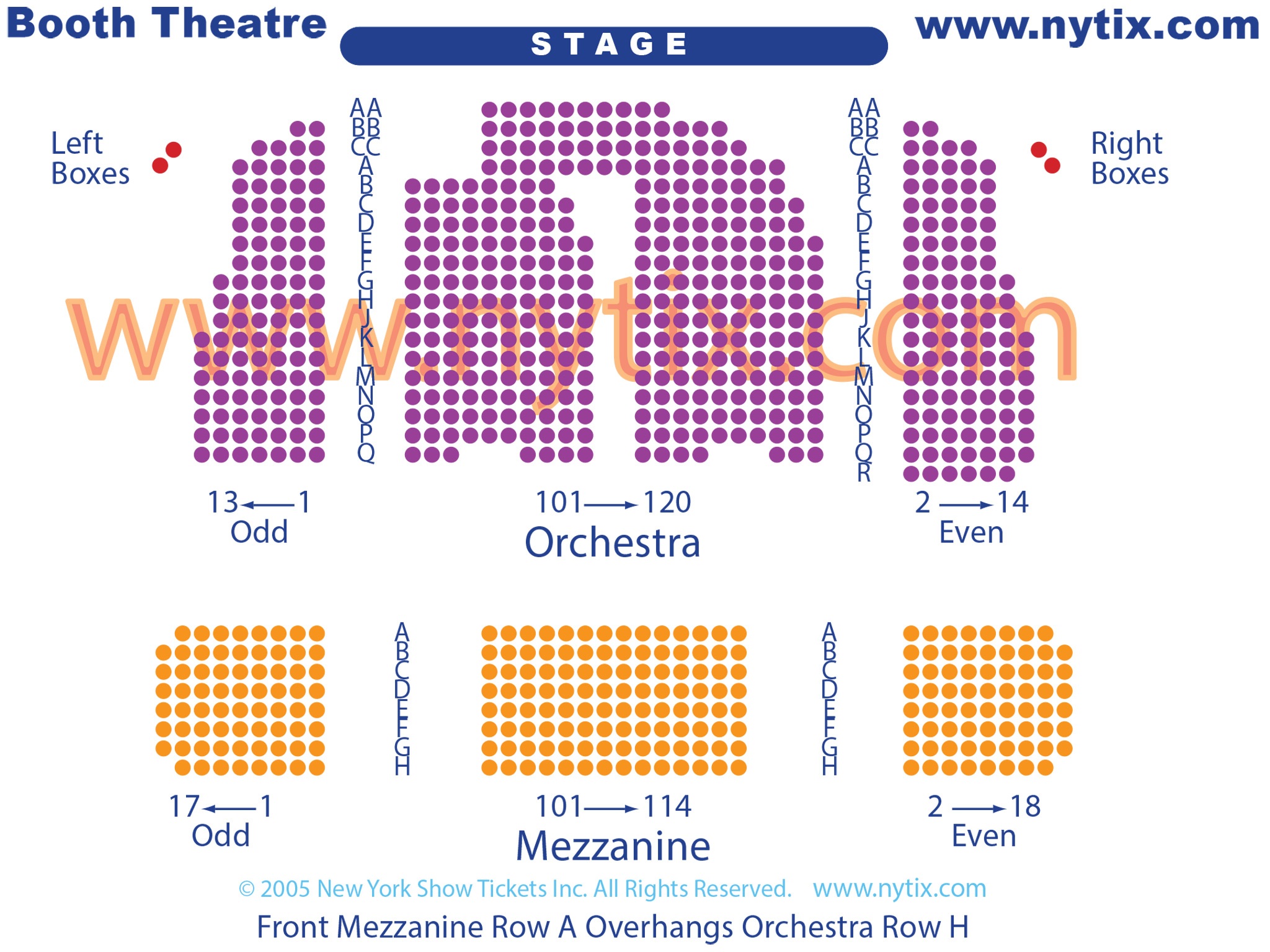 Parking for Booth Theatre
The closest parking garages for Booth Theatre are located at:
Quik Park Garage

223 West 46th Street
New York, NY 10019
212-997-1636
Crowne Garage LLC

215 West 49th Street
New York, NY 10001
212-586-0665
The closest parking is not always the best as it often takes longer to park and retrieve your vehicle as fellow theatre goers have the same idea. A better choice of parking may be the second choice or further away by a couple of Avenues.
Additional Notes
Landlord: Shubert Organization
Official Ticketer: Telecharge
Notes: Frequently houses plays and limited-run shows.
Elevator: No
Escalator: No
No show scheduled to open at this theatre.
The Booth Theatre was named in honor of 19th century actor Edwin Booth, better known today as brother of John Wilkes, but in his time one of the most celebrated actors in America. Built by producers Lee Shubert and Winthrop Ames, the Booth Theatre is actually the second to have that name -- Edwin had erected the original in 1869. It was located at 6th Avenue and 23rd Street and was to function as the actor's theatrical homebase, but financial hardship forced him to give it up a few years later, and not long after the theater was closed down permanently. The new Booth Theatre opened in 1913 and once contained an archive of the great thespian's memorabilia that included items such as props and advertisements for plays in which he had appeared. Running alongside the Booth (as well as the Shubert Theatre) is the famed Shubert Alley, which is filled with current Broadway show posters and provides a convenient shortcut between 44th and 45th streets. Also in the alley is a cozy theater gift shop made from one of the Booth Theatre's old dressing rooms.
Originally designed by architect Henry B. Herts in an Italian Renaissance style, the Booth underwent a restoration by Melanie Kahane in the late 1970s. The theater seats 785 and is owned by the Shubert Organization.